Southwark is a borough in central London. As I shared in my last London post 'London on a Budget: Free and Discounted things to do in London', wandering the streets of London is free, and one of the best things to do in Southwark is a walk along the Southbank of the Thames, from the London Eye to Tower Bridge.
Much of the area of Southwark can be seen easily in a day, but you may want to take your time working your way through all the sights and activities that this part of London has to offer.
Over the last few weeks, I have been exploring, as a tourist and as a local, taking in as much as possible in order to share with you my highlights and recommendations, to help in making the best use of your time in this area.
So whether you're visiting as a tourist or local yourself, I am sure there will be something in my list that appeals for a day out in London's borough of Southwark.
1. Free walking tours
If you fancy taking in a bit of everything, avoiding the expensive entrance fees, and learn a little more about the Southbank, then take a free tour with a local guide. I highly recommend Free London Walking Tours, who's City and Southbank tours start at 14:30 daily from Monument. In 2 hours they will share with you everything you need to know, and it won't cost you any more than you can afford or feel it's worth. Yes, the tours are free, but tips are greatly appreciated if you feel you really enjoyed it.
Sightseeing
Two of London's iconic landmarks reside along the bank of the Thames, literally crossing over it:
Often confused with London Bridge, this is one of London's most recognised landmarks, right up there with Big Ben, and it remains one of my favourites.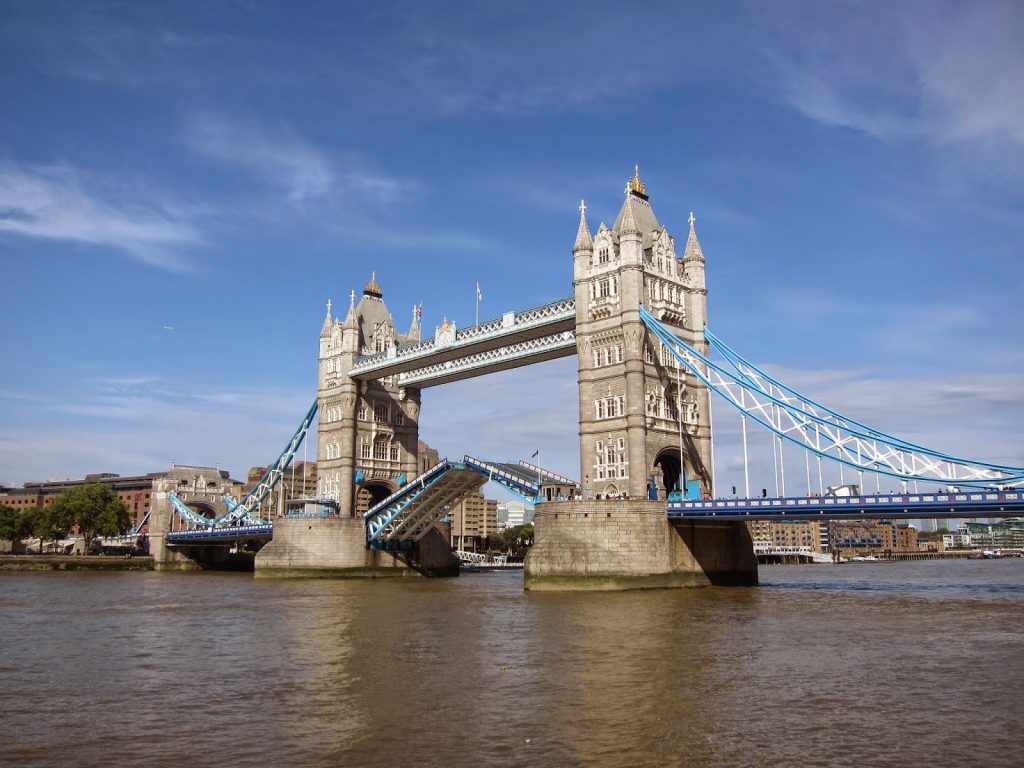 The Bridge opens thoughout the day
Of course, to walk over the bridge is free, but why not go a step further and go inside? A visit here will set you back £9 (children £3.90), which I actually think is very reasonable compared to other London sights.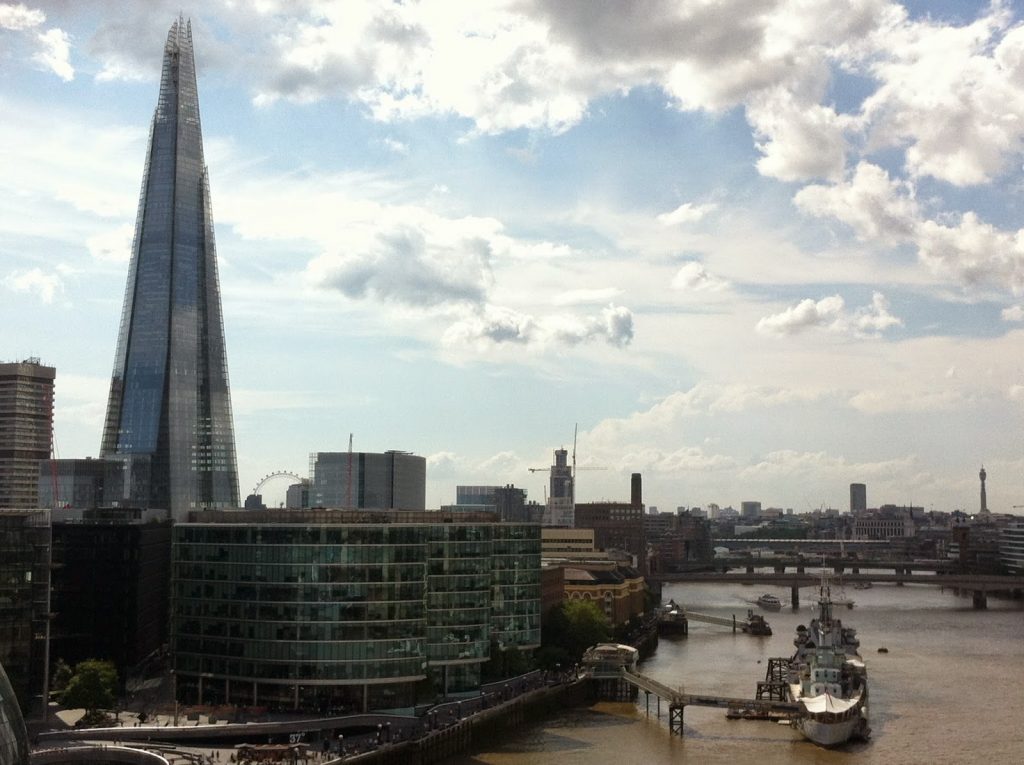 View from Tower Bridge
The views are lovely, and they even make a visit fun for kids (or big kids in my case) with a 'passport' that you can collect stickers for on your way round. The more serious visitors can enjoy the photo galleries and learn a little about the history of the bridge. The highlight for me was seeing the original pump machine rooms, and of course ending the visit watching the bridge lift.
3. London Bridge
The bridge itself is not so much iconic visually, but well known as the site for displaying severed heads of traitors, impaled on spikes, including William Wallace (Braveheart).
The original stone London Bridge, which stood for over 650 years, was actually demolished in the 1830's and the bridge that replaced it was famously sold to an American businessman, who apparently thought he was buying Tower Bridge. Whether the latter is true, the bridge now resides in Lake Havasu City in Arizona.
The London Bridge today, is located slightly upriver of the original bridge location along the Thames, and could almost be passed by unnoticed. There is nothing particularly iconic or inspiring here now.
However, the London Bridge Experience is the best way to learn more about the history and secrets of one of the most famous bridges in the world. It's interactive and great for kids, if a little scary.
There's plenty more to experience that often goes un-noticed in the area so it's worth doing a bit of research to see what's the latest pop-up or events taking place.
For something a little different, plan a visit to Escape Room, also located in the London Bridge area . They offer an unusual experience where you are locked up for 60 minutes. See "Something Unsual: take on the challenge at Escape Rooms London" for a more in depth post on this.
4. The Shard
A stop at London Bridge station will find you gawping up at one of London's newest landmarks. Costing £1.2bn, this skyscraper houses 30 floors of apartments as well as a hotel, three restaurants and 15 floors of offices. The apartments cost between 20 and 50 million pounds, and don't even have their own parking spaces, which seems a huge oversight considering the price!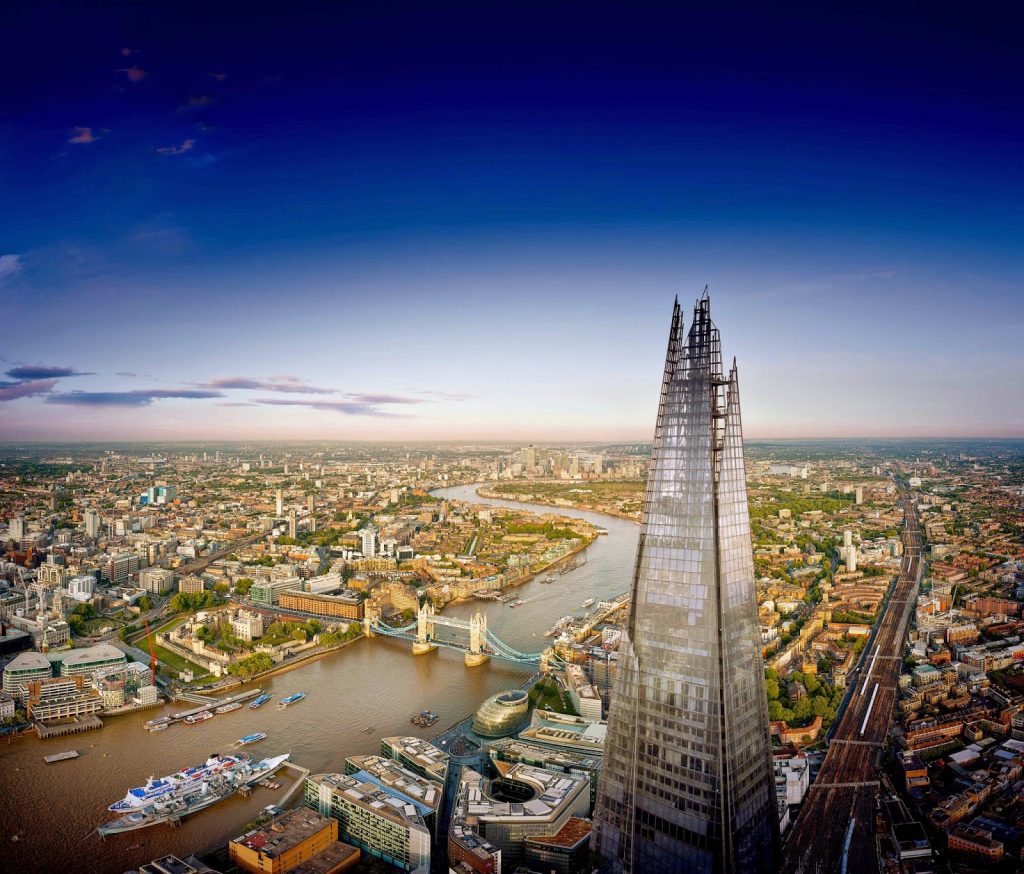 The View from the Shard allows you pretty spectacular views over London, but at a hefty price of £24.95 a ticket (for advance bookings).
There is of course, no guarantee of a clear view. London is often covered by grey smog, or worse… rain. However, tickets come with a guarantee – good visibility or return for free.
5. Museums and galleries
London has numerous museums. Many are well worth a visit, and there is certainly a museum or gallery for just about everyone and everything.
One of my favourites, in Southwark, has to be the Tate Modern. Like many of the large museums, entrance is free, the exhibits vary and it's just a nice place to go, alone, in a group, or to meet a friend for a coffee in the museum's cafe with one of the best views of the city in town.
Check out a longer list of museums elsewhere in London here.
Located in Southwark, close to Borough Market, this museum is lesser known than most.
There is a small entrance fee, but it is a not for profit organisation and well worth supporting, given its so distinctive from many other museums. It is located inside a church roof and although the 'operating theatre' itself is not the original, it is a very well presented recreation.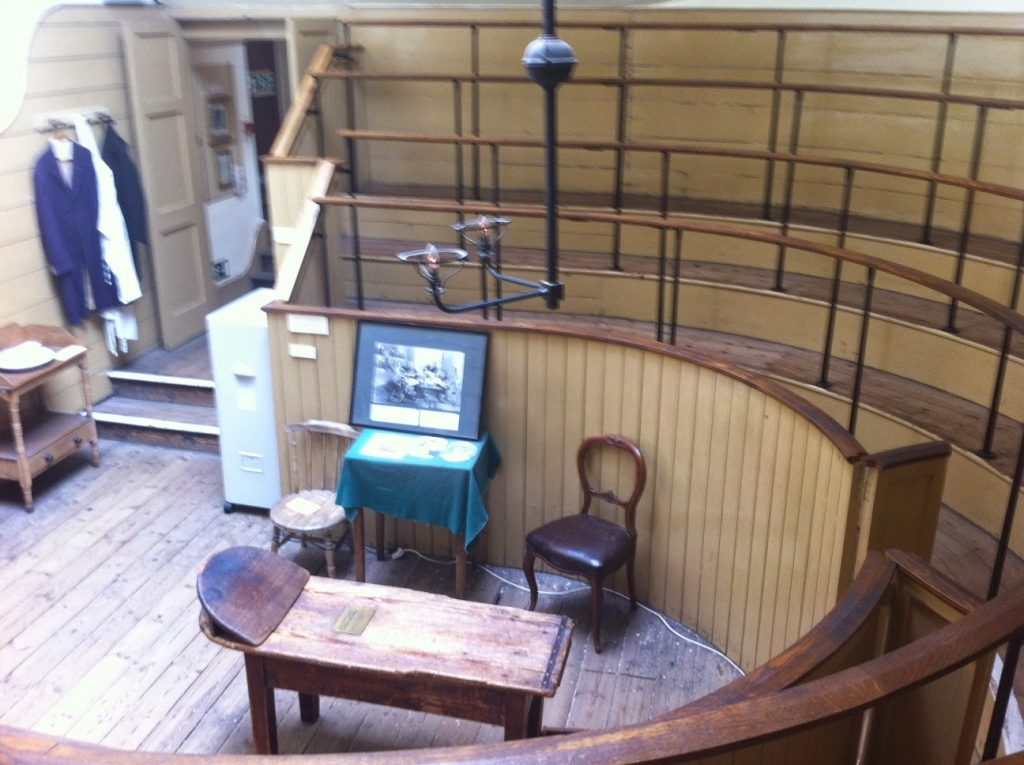 Operating theatre
The Church was part of St Thomas' hospital until it closed for relocation in 1862 and the collection of exhibits is extensive, plus there are plenty of things for kids to get involved in too, which even as an adult, I found quite fun.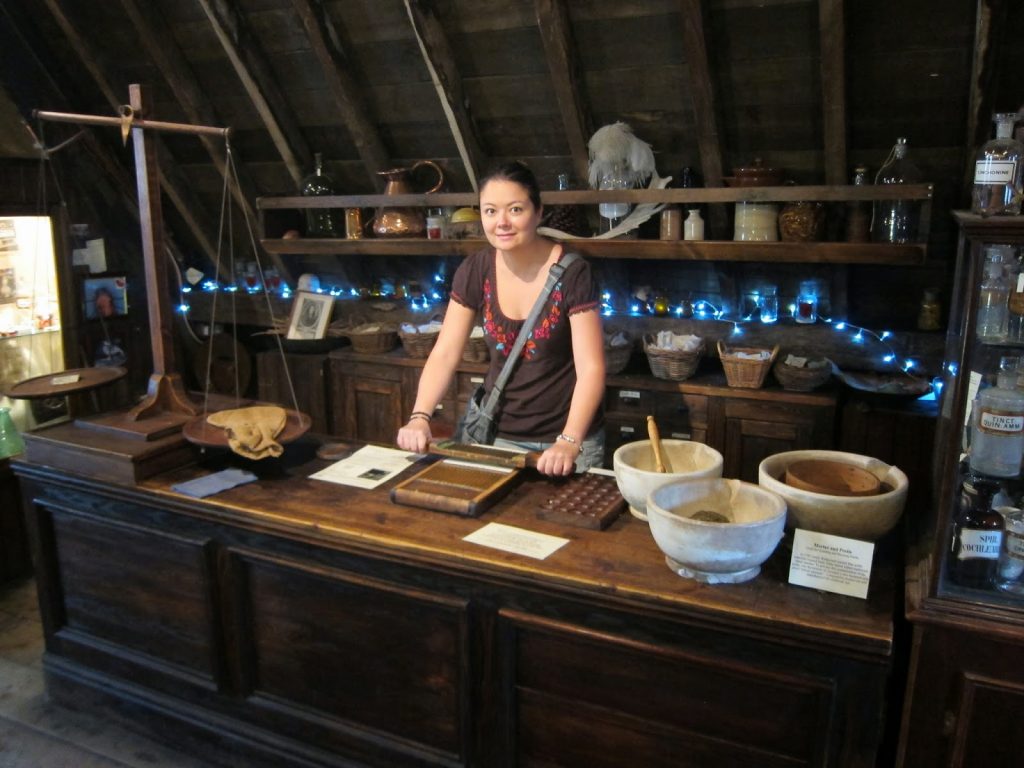 Making pills
Note that National Trust members get half price entry and the is a 2 for 1 offer with a National Rail train ticket available until 31st October 2014.
Another museum in the Southwark area, actually located on the original site of the prison, is the Clink Prison Museum. A quite odd place dedicated to experiencing life in the prison, including very life like smells and sounds.
If you are interested in learning about the various forms of torture and suffering that prisoners would experience in mediaeval London, then you will almost definitely enjoy a walk around the Clink. I found it quite small, but ideal on a hot day to escape the warm weather.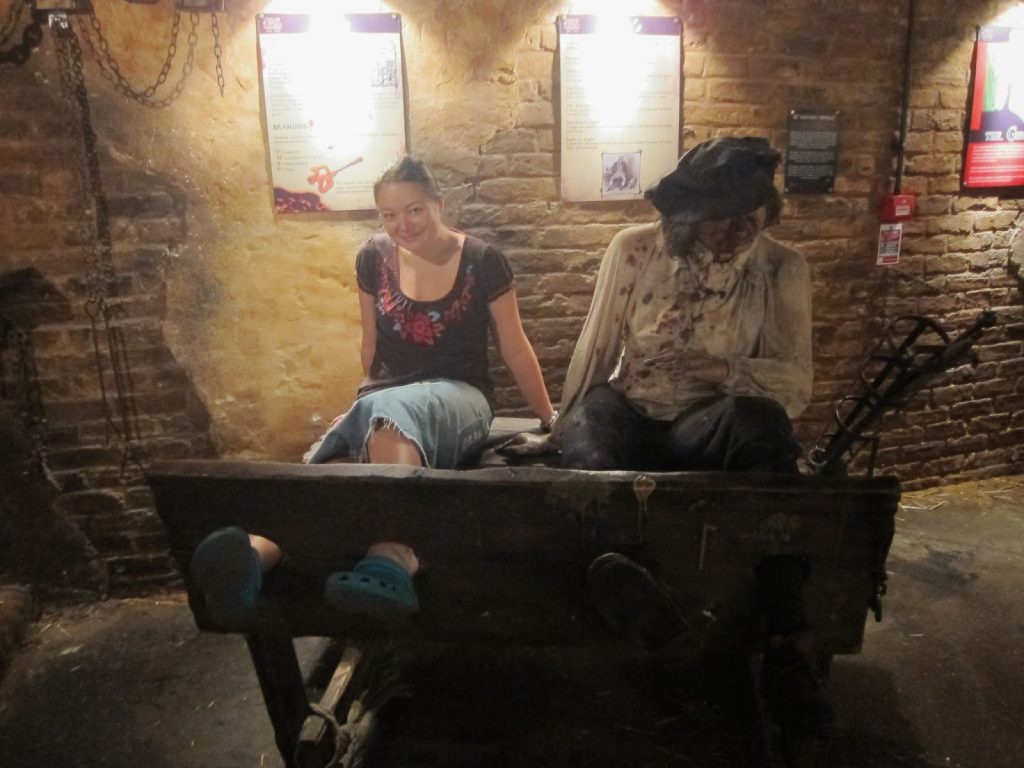 Crocs in stocks
8. Food and drink
There are numerous cafes and restaurant scattered around the area, and on week days some sneakily hidden sandwich shops that cater for the city workers, that make and sell amazingly fresh lunches.
Borough Market is the place to go for fresh produce, and a huge variety of food, ideal for breakfast (Saturdays from 8am), lunch, or even to take home for later. You will not be disappointed with the choice here, although it can be extremely crowded so be careful and watch you pockets.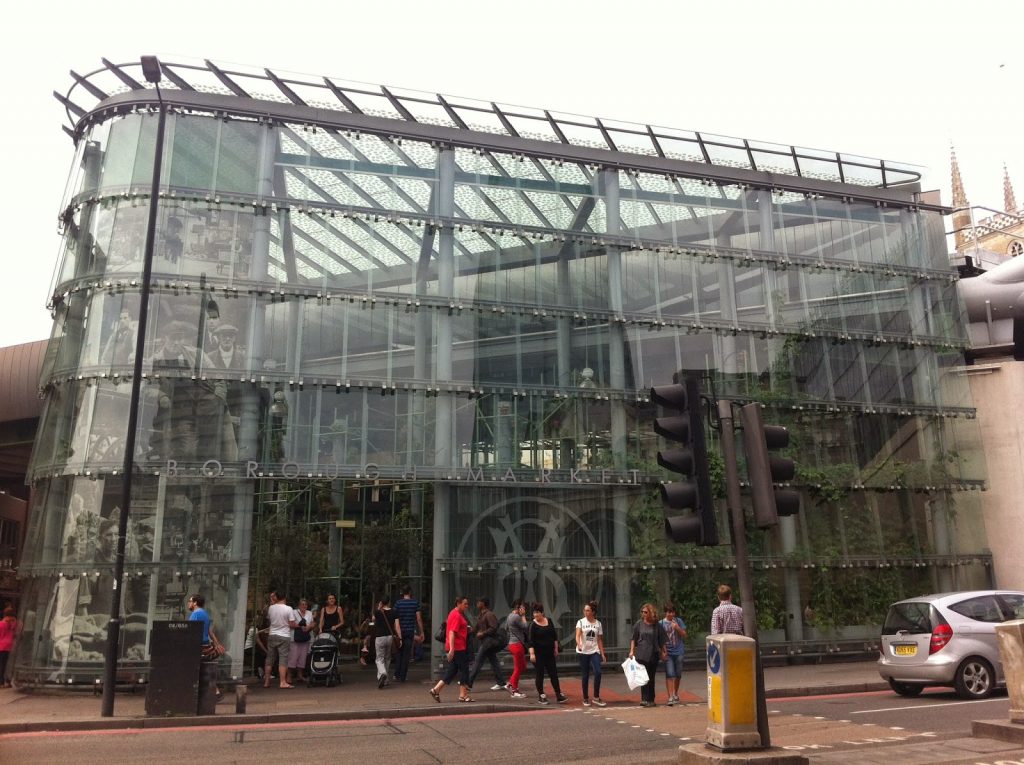 entrance to Borough Market
The other place worth a quick mention, is Vinopolis. Here you can take a wine tasting tour and enjoy specialty beers with a bite to eat in one of their restaurants. The tour has a number of different options, varying in price and of course the amount and types of alcohol involved. A great start to an evening out.
Other things worth considering:
For young kids, I recommend the Golden Hinde. Particularly for aspiring pirates and sailors.
I've wandered past this ship many times, and when I finally went aboard, found myself chuckling at the kids enjoying assisting the captain with bringing in the anchor and preparing the cannon for firing at the on coming ship. For adults it's worth noting to watch your head on the beams above when heading below deck. I disembarked with a bruised noggin.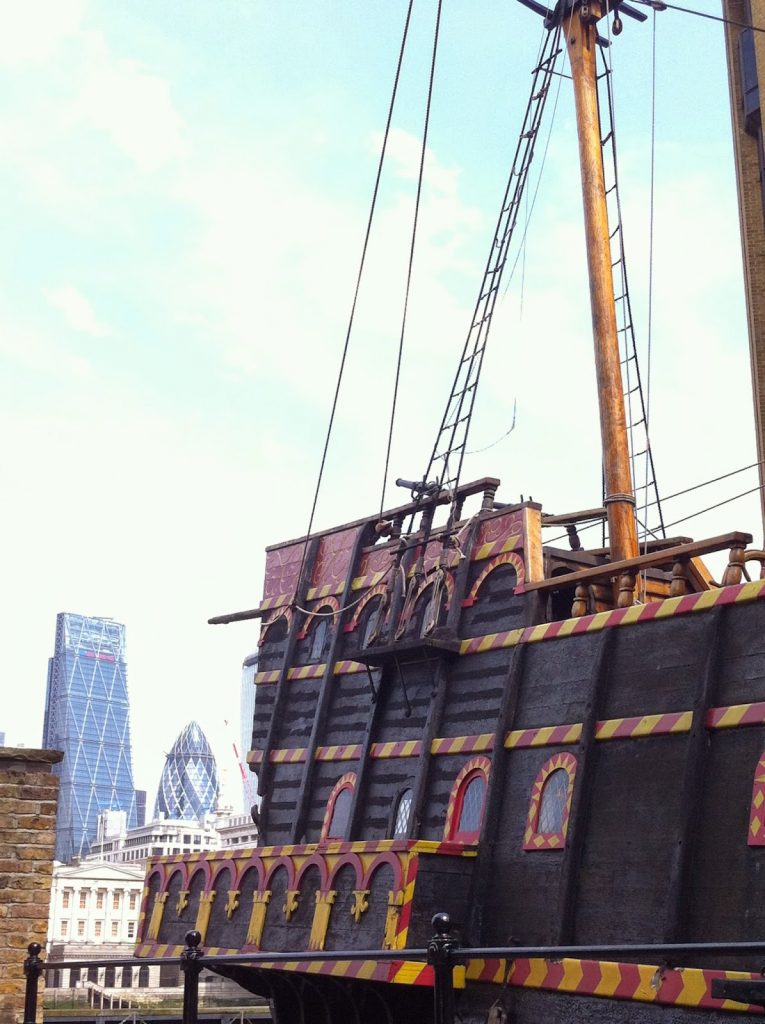 Good view of the Gherkin and Cheese Grater from here
For those that enjoy a play, sitting back to enjoy a performance at the Globe Theatre should definitely feature on your to do list. Particularly in the sunset months, this can be a lovely end to a day.
Getting there
The closest mainline station to Southwark is London Bridge, which is also on the Northern and Jublilee tube lines.