London's busy nightlife lures people after work on week days and visitors on weekend's. Like many other cities, it completely changes once the sun goes down.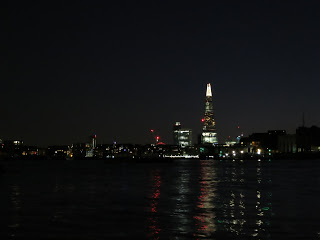 There are many things to experience at night in London, some of which are difficult to get tickets for. However there are plenty of things throughout the year as well. Here are some of my recommendations for the coming months.
1. Museums
You can avoid the need to battle with the crowds and school groups to queue outside the V&A, Natural History Museum, Tate Modern, Tate Britain and Science museum during the day. All of these keep their doors open late on selected evenings for exclusive talks or debates and the opportunity to see current exhibitions. The benefit is that you can get to see things without being elbowed out the way, and some of them are a great place to meet after work for a drink and/or bite to eat.
The natural history museum is certainly my favourite for this… You can't beat sharing a glass of wine with Dippy.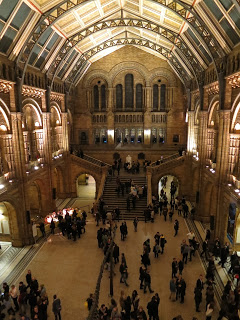 Natural History Museum looks spectacular at night
2. Cinemas
There are so many choices to fulfill your alternative and unusual cinema experience. From drive in to roof tops and of course the secret cinema. Then there's the hot tub cinema, for those who don't mind bearing a little skin, but the most unusual has to be the edible cinema which periodically holds events where you can experience a film through your senses with texture and taste.
Each person is supplied with a tray of numbered mystery boxes containing a bite-sized menu to munch through at appropriate moments during the film.
Sounds completely unusual doesn't it? But be warned, it's not easy to find an event, so check out their website for updates.
If you want to try another unusual cinema experience that runs more regularly, there's always the Prince Charles cinema, near Leicester Square, which aside from their sing-a-longs, holds all-night film marathons where wearing your PJ's is compulsory.
Dining with a difference and guaranteed to provide a full sensory experience for your taste buds. Basically you feast in the pitch black of darkness.
Watch the film "About Time" to see two strangers meet in this restaurant and you'll witness a rather unusual and somewhat extreme blind date. See the clip below for more…
In the real world this is probably a bit extreme to go to for a first romantic encounter, but dining with good friends or family would be a laugh.
Check out their website for more details here.
4. Silent disco, View from the Shard
On selected Fridays and Saturdays, you can enjoy the London panoramas from the viewing gallery of the Shard whilst dancing the night away at a silent disco.
This is not a cheap experience (as you are paying for the view), but with a choice of music available on you headphones, the night will appeal to all the guests, whatever their taste. Check out the Time out website to book tickets.
The oddness of dancing away in silence at the top of the highest building in western Europe is definitely an unusual experience. However, there are a number of other venues offering the silent disco concept so it's worth searching around for alternatives which may be more local to you.
5. Microadventure
In 2011, Alistair Humphreys spent a year planning what he calls "microadventures," embracing the "5-to-9" lifestyle to see how much he could fit into a normal schedule. Using the hashtag #microadventure his idea caught on and his book has since been purchased by many wannabe adventurers worldwide.
I've got to put my hand up, and admit that at the time of writing this post, I've not yet attempted an official microadventure. My excuse being solely the result of awaiting the arrival of my final piece of kit (but actually most of my evenings have been busy researching for this post!). It's on the list for later this month, so check back to see what I get up to.
Update: Something unusual for Summer Solstice: My first Microadventure.
Basically, you don't need to be adventurous to attempt a microadventure, but you might become more so afterwards. And, if it turns out not to be for you at least you gave it a try.
The point being, it is possible for anyone to just go at anytime and have a microadventure. As Alistair Humphrey's suggests: "Escape the city. Climb a hill, cook on a fire, sleep under the stars. Microadventures: a refresh button for busy lives."
Read more stories and inspiration on his website.
6. Tower of London and Tower Bridge
Two of London's most famous land marks can be experienced at night with a difference.
The Ceremony of the Keys is the traditional locking up of the Tower of London which takes place every night at 21.53pm. It's totally free, but an experience you need to plan ahead for, by booking quite a few months in advance. At the time of writing, it's booked up until January next year!
See more details and how to book on the Historic Royal Palaces website.
Tower Bridge viewed from a kayak at sunset goes way up there as one of the best things I have ever done, definitely as far as London goes. The best way to take part in this experience is via the Secret Adventures Meetup group, supported by Moo Canoes.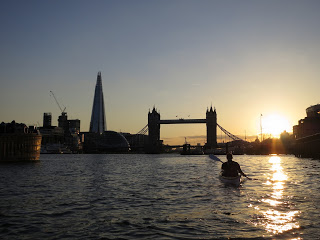 Kayaking the Thames at sunset
7. Kew
For those who like to be outside after dark and enjoy beautiful gardens, Kew opens for a specific selection of late's; this year from  27th May to 1st July.
Relax with a cocktail, book a rickshaw ride and talk to experts. The Tree Top Walkway offers a birds eye view and the glass houses provide a tropical warmth, although the summer months in London are likely to lure you outside to listen to the live music.
Plan a full day at Kew and you are welcome to stay on for the late event in the evening, which will save you the entrance fee of £11. Check out dates on their website.
8. Red Market SS14
Hanging out in a car park with a bite to eat and a few drinks is something you probably did as a teenager, when you didn't have ID and couldn't get in. Most likely minus the drinks!
Less disappointing, and currently open Wednesday to Saturday nights (until the end of August) is an Urban Oasis in Shoreditch, created by Red Market. The rest of the year, this is just a car park, but by up-cycling and reworking natural materials is been transformed into a sun deck, beach and dining court with an extended covered area and several bars.
It certainly beats the usual pub garden, night club options around the city and has the added extra of feeling like you might be on holiday.
Check out their site for more details.
9. Udderbelly
Get your summer festival fix inside a giant upside-down purple cow!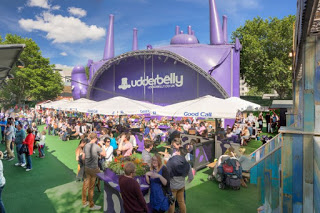 Credit: Kevin Osborne
Udderbelly is an iconic annual fixture of the London (and Edinburgh) skyline. Featuring numerous acts and events such as Best of the Comedy Store and Friday Night Freaks, there's probably something for everyone, if nothing more than a night out in an unusual venue.
See what's showing over the next few weeks here.
10. Gingerline
This nomadic dining experience is difficult to get tickets for. Their events so far have only been short term pop-ups, although they are currently experimenting with a possible permanent location.
If you're lucky enough to book tickets (the current event sold out in 4 minutes), you actually don't get much information on what you will experience. Basically it's a dining experience with a real difference. Added to that you won't know where you will be going until about an hour beforehand, when you will receive a text with the details.
I managed to grab tickets for the most recent event 'Secret Island', but part of the experience is keeping it a secret until after it finishes. However I can assure you that I will be diarising the next event and every other one after that, if they continue to be as good as the last.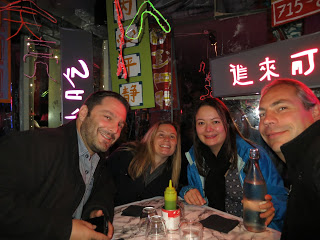 Somewhere secret!
Have you got any other recommendations for unusual things to do at night in London? New things and one off events are popping up all the time so keep a look out for them.
This post is part of my latest series of posts created to inspire people to make the most of their time and try something different or unusual. Check out my other posts which will be linked back to here or follow me on Facebook or Twitter and share some of your own unusual experiences too.