In an attempt to keep to the challenge I set myself earlier this month, see 'Fulfill you travel bug with: something unusual', I've been exploring the area where I live. This also happens to be close enough to an area well known for a famous sporting event at the end of June each year.
Of course it needs no further introduction, but it is encouraging to know that there is plenty to do during the other 50 weeks of the year, when the tennis isn't on. Whether you're a visitor, resident, local or wondering if it's worth passing through, on your way to or from centre court, take a look at the my recommendations and see just how much there is to do and see.
This little market runs every Saturday from 9am until 1pm and is a great place to pick up some fresh produce from vendors such as March House Farm who have the largest selection of free range, rare breed meats on the market, and Ted's Veg who always have seasonal choices that stand out for quality. There are often stalls with amazing breads, cakes and cheeses and even fresh seafood.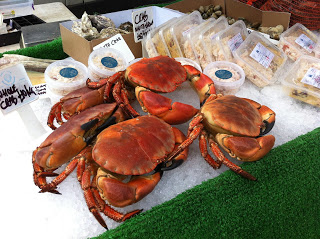 Fresh produces at Wimbledon Farmers Market
The market seems popular with families with young children given the 'onsite' playground area for kids, allowing mum (or dad) to do the shopping in peace.
It's worth checking their facebook page for any potential dates where it doesn't run, particularly during the winter months.
How to get there: Nearest station is Wimbledon Park and it's a short 10 minute walk from there. There is plenty of parking along the side streets and nearby, although it can be a little chaotic during the first couple of hours, given the shoppers wanting to get their pick from the best produce early on.
Address: Wimbledon Park Primary School, Havana Road (off Durnsford Road), London SW19 8EJ
2. Wimbledon Theatre
Performances tend to run for a week at a time, and this potentially also means the opportunity to see a West End show as it passes through. The small size of the theatre guarantees a good view, as well as cheaper tickets than in the centre of the city.
Check out the schedule by searching the web, or try here for details of what's on and to book tickets.
How to get there: It's a 5 minute walk from Wimbledon station/tube
Address: 93 The Broadway, London SW19 1QG
3. Wimbledon Common and Wimbledon Windmill 
Wimbledon Common is a lovely green area which is very popular among locals, and you can often see families out enjoying a walk or game when the weather is fine.
The Windmill houses a museum which is open year round, see their website here.
For outdoors lovers and picnickers, the Common often has events on during the summer months.
Check out the website for an up to date schedule.
Of course for a geocacher such as myself, Wimbledon Common offers so much more. There are some 20 hidden treasures, at current count, which I can personally vouch for as a great way to pass a few hours and keep the kids enthused with something slightly less technology reliant.
Just on the edge of Wimbledon Common, the lesser known Cannizaro Park covers some 35 acres and is looked after by mostly volunteers. Check out their website for more details here.
How to get there: 93 bus from Wimbledon or Putney, or it's quite a long walk from Wimbledon station (1.5 miles) – see Windmill site for detailed directions here.
With free admission and open all year round, 10-4:30pm, 6 days of the week from Tuesday to Sunday, as well as bank holidays; this is a lovely place to visit with your family.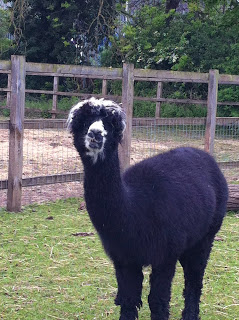 Kimby the Alpaca
Enjoy feeding the animals, pet a rabbit or ferret or ride a horse (for £2) or head along to some of the other events throughout the year. My favourite is the resident Alpaca, Kimby.
How to get there: Bus no 200 stops at Phipps Bridge, close to the farm, there are many other ways to get there – check their directions page here.
If you enjoy walking, Morden Hall Park, owned by the National Trust, is great for getting away from it all. The park benefits from having the River Wandle passing through it and attracting a variety of wildlife.
Morden Hall Park is very close to Deen City Farm so could be combined for a full day out. Bring a picnic or enjoy something from the Potting Shed Cafe, which serves lunch between 12 and 2pm daily.
Morden Hall Park holds a schedule of events throughout the year, including guided walking tours and all sorts for kids. More details can be found on their National Trust page here.
6. Museums
Probably the more famous museum is the Wimbledon Lawn Tennis Museum (WLTM) which is open year round, but restricted to Championship ticket holders during the big event. See their website for opening times and to book tickets.
The lesser known Museum of Wimbledon would be my recommendation, as it avoids the hefty ticket price by being free. The museum holds 3000 years of Wimbledon history, although has limited weekend opening hours of 2.30-5pm, but you really should poke your head in if you're passing by. See website for more details.
How to get there:
WLTM is accessible from GATE 4 of the All England Lawn Tennis Club.
Wimbledon Museum address: 22 Ridgway, Wimbledon, London SW19 4QN
7. London's Oldest Buddhist Temple, Buddhapadipa
Explore London's oldest Buddhist temple and reminisce about Thailand. This is the only Thai temple ever built in Europe and is located in a beautiful grounds consisting of an ornamental lake, a small grove, flower garden and an orchard. The grounds are open daily on weekdays and the temple itself also opens on the weekend and visitors are welcome.
You can call ahead to arrange a tour and find out a little more of the history. Check out the website for more.
How to get there: Located quite close to Wimbledon Common, and easily accessible by car or public transport.
Address: 14 Calonne Road. Wimbledon Parkside, London SW19 5HJ
8. Water sports and more, Wimbledon Park
Wimbledon Park is another worth while park to visit in the area, with the benefit of a water sports centre. See what is on offer here.
I've got my eye on the canoeing course after my recent efforts kayaking in London for an earlier unsual experiences post – see 'Paddling provides and unusual perspective: try a London Kayak Tour'.
The park also is a nice place to walk, picnic or just hang out with family or friends. There is a cafe, play area and of course the pond which is popular with ducks. If you fancy a game of crazy golf it's often possible to just turn up and have a go, although you may want to get there early during the summer months for either golf or the pedalo's.
I have to confess at not having tried this out at the time of writing. The concept of escape rooms is definitely something I would recommend and there are more and more experiences popping up around the city including the Mystery Cube in Wimbledon.
Located close to Deen City Farm, if this is anything as good as the Escape Rooms experience I did a few weeks ago, then I will definitely be recommending it.
How to get there: there is no parking but often it's possible to find street parking nearby at weekends, week days is a little more difficult. Public transport is reasonably straightforward with a 10-15 minute walk involved. See the Mystery Cube site for further details.
Update: I have since tried this out. Ideal for a birthday or special day, or just for fun. It is definitely one of the better escape room experiences we have played, and we have done a lot.
10. Wimbledon Dogs
If you don't mind roughing it a little bit, then a night at Wimbledon Dogs is definitely an unusual experience these days, as one of the few remaining dog racing tracks in the London area.
In my experience the races go so quickly that it's more about placing a few bets and enjoying the social aspect of a bite to eat and a few drinks. Popular with regulars and groups, not really for couples and families, in my opinion.
It can certainly be a good night out. Update: The dog track is now closed.
Update: Unfortunately the dog track closed in early 2017, so it is no longer possible to enjoy a night out here. Watch this space for what's coming next – as the current plans are expected to be of the sporting kind.
11. Shopping
With the Centre Court shopping centre minutes walk from the station, you wouldn't be blamed for heading here before or after the rest of your plans. Quite a few typical High Street stores are located here. However, if you're after something a little more up market or boutique,  Wimbledon Village is a short walk or bus ride up the hill and comes with a countryside charm only found in south-west London.
Or how about checking out Merton Abbey Mills for arts and crafts. See their website here for more.
12. Eat and drink
Wimbledon Village, in my opinion, offers a better range of restaurants, cafes and bars than Wimbledon High Street, although there is plenty on offer whichever you choose.
I can highly recommend a traditional pub lunch too, and where better to walk it off afterwards, than Wimbledon Common.
If you have any other ideas of things to do in Wimbledon please do share them. You can see my full map of experiences.
Feel inspired? Why not try something unusual and explore the area where you live, that is if you haven't done so already.