Can I travel without it? Will I cry if it gets stolen? Can I buy it locally?
These are the questions I ask myself when packing my essentials for a trip. Whether it's an overnight stay, a long weekend, a holiday, or a longer adventure.
Often the items I don't travel without are the same, with a few exceptions, depending on the destination.
Are you planning a trip soon? If so, hopefully my travel essentials may help you in thinking about what to pack.
In my next post, I will be giving my opinion on the things I think are a waste of time and space. It will be interesting to see if anyone agrees with these lists…
1. Passport – Top of the list obviously!
It's simply not possible to travel without it. Add to that the consideration that some countries won't allow you to enter without 6 months remaining before it expires; it's worth digging it out and checking in advance if you need a new one.
I learnt the hard way about the few countries that require you to have at least 2 blank pages; although this isn't likely to be a  problem unless you travel a lot.
Wherever you are headed, check the requirements for entry carefully, particularly the small print. Those countries that require a visa to be obtained in advance often don't issue them instantly.
And finally, don't overlook the need for an ESTA if you are heading to the USA.
2. My tablet – also my lifeline
I have just about everything on it. My diary, my contacts, my emails and everything else I need to connect with people.
Then there's the books, guidebooks, guides, offline maps, translator, and many other useful resources that I keep on there. Without it I would be totally lost… literally!
On the rare occasions I don't have it with me, then I carry my phone, which has most of the same.
Then there's the numerous adapters and cables I need to rig up my tablet for uploading and backing up photos etc. Those are pretty crucial and I've left them behind before – don't do the same.
3. Camera – to capture the memories
The possibilities of what you do with them afterwards is endless.
Of course for me, my first priority for photos is my blog, sharing with friends, family and readers. But how many people just forget about their photos when they get home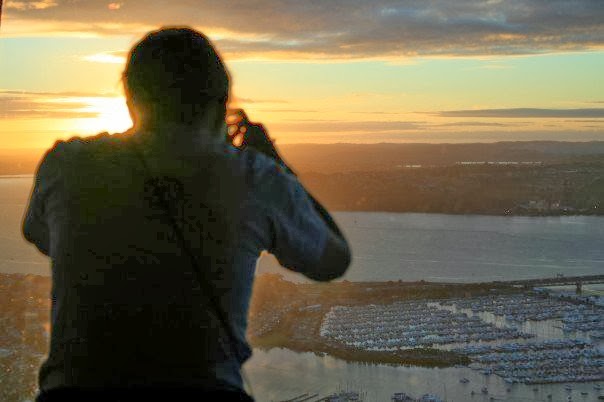 With my blog I am keeping a record of some memories and sharing then with friends, family and hopefully other travellers.
I keep a selection of photos for collages, and scrapbooking with, and then a few favourites will be framed and added to my wall decorations (when I settle down again).
4. Swiss army knife
I use this little tool a lot. To cut and open things, for chopping up food items such as fruit, when geocaching, for crafting and regularly for popping the top off beers and wine.
I go nowhere without it, even when I am not travelling, although I do have to remember not to carry it when boarding an aeroplane as I was devastated to have it confiscated once. Fortunately it ended up with its own boarding pass and was returned safely to me at the other end.
5. Crocs – yes, those hideous plastic shoes!
Before you turn you nose up or laugh at me, please just hear me out. There have been so many times when my beloved Crocs have saved me from something or other. I can't possibly leave them behind.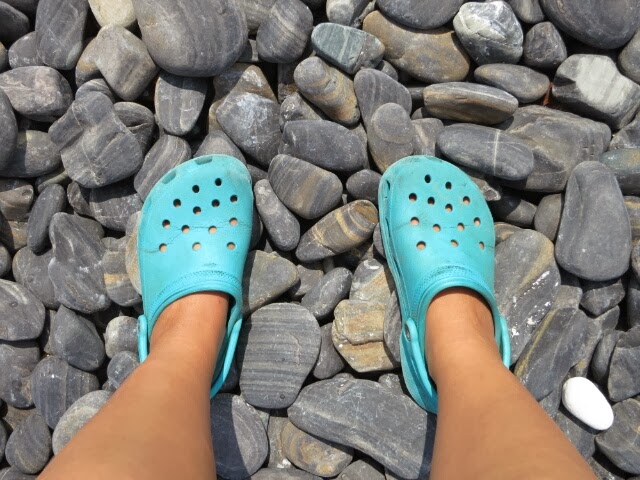 They don't make my feet sweat, I don't have to take them off to pass through the departure xrays at the airport, they wash off easily if they get dirty and they dry quickly when wet.
I've hiked in them, waded through rivers, pushed a boat in them, swam in them, and after nearly 7 years of regular use, they have never let me down.
Yes they are hideous, but they are so comfortable and will no doubt continue to serve me during my travels.
Unfortunately I can't say the same when home in the UK, most of my friends are deeply offended by their lack of style and to be honest I'm too afraid to wear them in public due to the risk of being sectioned ;).
6. Insect repellent and tiger balm
The repellent is obviously only a necessity in countries with mosquito's or midges. The latter I understand are a particular issue in Scotland at certain times of the year.
My choice of repellent ranges from the deet free product, that I purchase in batches from Avon (Skin So Soft) and use as a moisturiser, and the deet products that I find burn less, and smell the least offensive. More on these to come in a later post.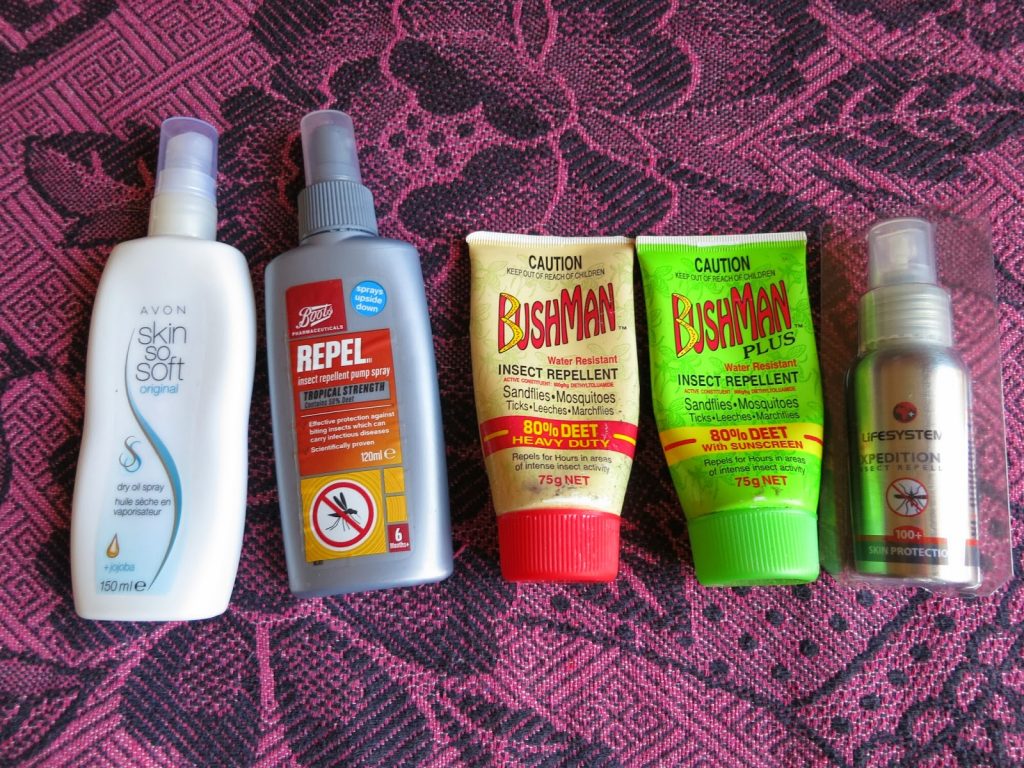 The other important product is Tiger Balm which helps ease the itching after you have been bitten.
However anyone who has used this will know it has many other qualities: eases aches and pains, apparently works for headaches, can be used for massaging, and I find it useful as a smelling salt substitute when entering very unpleasant public toilets.
Don't forget to wash it off your fingers as it can 'sting' if you get it in your eyes or other sensitive areas.
7. Sarong – so many uses
It can be used as a sarong obviously, but how about a skirt, scarf, shawl, head scarf, bandana, makeshift dress, towel, picnic mat, tablecloth, blanket or for carrying things.
This item gets a lot of use. I find it particularly useful as a towel when there isn't one available, and it is a necessity when visiting temples and other religious sites where you need to cover up.
More people should carry one.
8. Tissues and wipes (antibacterial)
Particularly in SE Asia I find the absence of toilet paper and often serviettes, results in the need to carry tissues more often than not.
I also like the idea of the hand sanitiser gels, but prefer the antiseptic wipes that tend to remove the residue unlike the liquid gels.
Let's face it, the level of cleanliness, anywhere that isn't your own home, isn't the greatest. Then if you are a geocacher like me you will inevitably find yourself getting dirty hands more often.
I trialled the "Good to Go Anywhere" wipes some time ago, and really would recommend these (see review here), but it is possible in most places you go, to find antibacterial wipes if you look for them.
9. Stuffsack and/or packing cube
I have one of each and will never pack for a long trip without them. The ability to save space by condensing down my clothes and being able to organise loose items in a cube makes life very easy. I can take out all my clothes in one go just by taking out the stuffsack. Likewise, the cube allows a lot of the loose items I carry to be moved easily.
Both storage solutions really help with the speed of packing and unpacking. The only issue I encounter is not always being able to find everything straightaway, particularly if it's stashed at the bottom.
10. Umbrella
I travel with bad luck. But if I travel with my umbrella, at least I am prepared to deal with the bad luck.
The important thing to remember is that when it's hot you don't want to be wearing a hot steamy jacket which doesn't allow much breathing. And even in hot countries, it rains…
An umbrella is a God send when it's sunny and warm. Providing shade can be the difference in getting (or avoiding) sunburn or sunstroke.
11. Journal – each one is different
A note pad, a cute book I picked up in a market in India, whatever I can find. At least, I used to be traditional and hand write it all, but as my travel writing has progressed, I now keep it all on my tablet, more as notes initially.
Personalise it and write notes if you don't have time to write all the details, I promise you, you won't regret keeping one, as it's always fun to read back in years to come and if you chose to keep a blog, others can read it too.
On shorter trips or road trips, where I have space in my bag, I also carry my beloved "Smash Book" (see here: My must have travel item, for more). Of course I collect memorabilia to stick in it, such as ticket stubs, so I have a small plastic organiser too.
12. Fleece – I have many
Despite having several, I do only carry one, unless the weather is likely to be cold. My favourite had been with me all over the world, as you can see from the photos over on this post: Have you seen my fleece?
Air-conditioning these days, at airports, on buses, or inside boats, can be almost considered freezing at times, so having a fleece avoids the discomfort of being cold.
It also serves well as a pillow when screwed up, and if you haven't enough space to carry it, you can tie it around your waist.
13. Headtorch – ignore first impressions
I thought it was a bit poncy the first time I saw someone with one. But as I've learnt, these things are so much more practical than a normal torch. Just try hiking or climbing in the dark or using a toilet at night with no electricity. Hands free lighting is the way to go.
So what do you think…. Have I missed anything?
As I mentioned, in my next post I will be giving my opinion on the things I think are not worth taking on a trip, so check back soon.