Leaving Singapore after almost 4 weeks was a real shock to the system; made harder by the fact we had felt at home there staying with my aunt and uncle. I know their house will seem a little quieter without us coming and going, and we miss being there a lot.
I'm currently crafting the many things we saw and did, whilst in Singapore, into a number of posts. The first, Singapore's misfits, features some of the places that I found were rarely visited by the average tourist, but which really should be. There's more recommendations to come so check back soon.
***
Johor Bharu across the border was a complete contrast with it's grimey streets and smelly drains. My first instinct was to get on a bus back over the Causeway, but of course we would get used to being on the road again, and back in Malaysia, soon.
Now we are in the city of Kuching, over on the island of Borneo, which is much more modern than I expected it to be.  There is enough to see within the city itself to occupy a couple of days, in between excursions out to the many national parks in the area.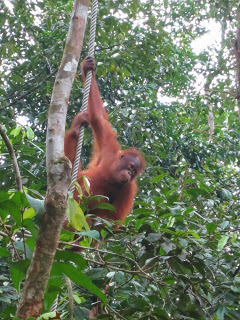 We have already trekked through Gunung Gading national park to see a Rafflesia flower and enjoyed a morning at Semmengoh National Park with wild orangutans.
Phill was happy to find so many museums in such a small area, within the city, and even I was pretty impressed by some of the exhibits.
Once again we are taking our time somewhat and enjoying experiencing more than just ticking off the sights.
As we head into the beginning of a new month, and what appears to be the monsoon season, we may start to experience something more.
I have yet to read the guidebook fully and time for research is limited, so as always all recommendations are appreciated as we head West into more of Sarawak and up towards Sabah. I've been monitoring the ongoing 'war' in parts of Sabah as best I can, but the press blackout isn't making it easy. I'm sure more information will come to light as we get nearer, so don't worry… I'll keep you posted.