It's been a busy week, cramming in visits to national parks and  the many other things to see and do around Kuching (last stop). I've seen a lot of wildlife, as expected, so I'm looking forward to something a bit cultural as we begin to head up river through the gateway to the 'wild interior'.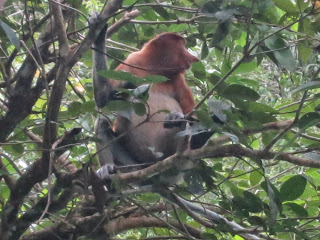 Proboscis monkey, Bako national park
Arriving into Sibu yesterday on the ferry, we are taking a day to pause, and determine if the next leg is actually doable.
Number 1 on the list for the Malaysian piece of Borneo for me, is Mulu national park. I want to take a 3 day trek to the Pinnacles, but there are a lot of safety issues associated with doing this with a knee injury; which unfortunately I am still sporting. Perhaps I will just have to settle for visiting the "most spectacular caves in the World" instead?
In other news…
Due to being out of the UK for almost 6 months now, I've had to resign from demonstrating for Stampin' Up! But that doesn't mean the crafting will stop. In fact I hunted out a scrapbooking supplier in Kuching to make a customised travel journal for me, for all the bits and pieces I've been collecting, but unfortunately there wasn't time for it to be made before I had to take the ferry out of there – bad planning on my part! I'm still on the look out for crafting opportunities however ;)!
Finally, just in case you missed my last few posts:
– Don't forget to check out the free eBook download available today and tomorrow, which has a short article by me:
Free eBook, 5th and 6th October
PS it seems it is also available for free on the US Amazon page too.
– There's still more from my time in Singapore to come, but do check my run down of the less visited places in Singapore, if you haven't done so already: