After a couple of days resting up in Sibu, sadly a rather uninspiring city but with great accommodation, we headed up the Rejang river.
You can read more about Sibu in my Travelpod post here:
It took two 'flying coffins' (boats), and an overnight in Kapit to obtain a permit, before we could get to the village of Belaga. However, it was a fun adventure travelling with the locals, along a route that seems to no longer be popular with tourists. The locals don't speak much English so communication involves a lot of smiling and making gestures with hands… a lot of fun on a 5/7 hour boat journey.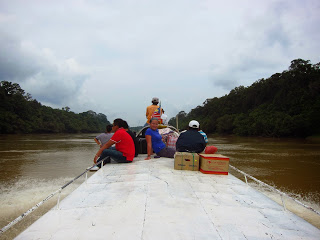 Enjoying the roof of a 'flying coffin'
Read about the journey here:
Flying coffins to Belaga and pointless permit
We had planned to base ourselves in Belaga, a small town along the river, to visit a couple of longhouses. The guesthouse was simple and lacked decent plumbing/lighting, so we perhaps should have stayed in one of the longhouses as they seemed much nicer, and cosy.
We spent a day travelling further up river and visited a number of different longhouses, stopping at one to cook and eat lunch with a family there. It was really lovely meeting the locals and sharing food and arak (a root based wine that we brought in town). It certainly helped break the ice and language barrier.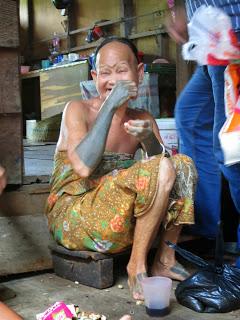 Laughing with locals, she was lovely
Another day we went to a school, down river, armed with stationery items for the kids and also stopped by at a number of other long houses.
Our visit coincided with a spiritual celebration in aid of a new bridge in Belaga. This meant more local interaction, as well as a lot of chanting and the sacrific of a wild pig.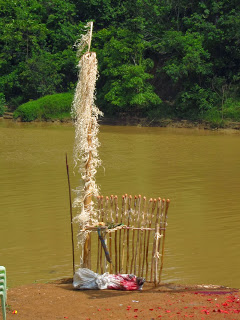 Sacrificed 🙁
We are now in Miri, close to the border with Brunei. It's been raining hard each night but fortunately the weather has remained relatively dry during the day, so we have managed a day trip down to Niah national park today to admire the famous cave paintings.
Tomorrow, we are flying to the UNESCO world heritage site of Gunung Mulu national park.
In other news… Do check out my last post concluding on the parks and garden I visited whilst in Singapore last month: