I've come a long way since my last update from Chiang Rai (North West Thailand), just a couple of weeks ago. Here's a quick run down of what I've been up to:
Hill tribes
Whilst exploring the Northern area, we visited a number of hill tribes, including one of the well touted 'Long Neck' villages. There are some very mixed reviews of these villages, and I can certainly confirm that they are subjected to significant exploitation. But there is always more to it. You can read more about what I found here: A visit to: Huay Sua Thai (Long Neck village) and those trapped by tradition.
Then there are the other hill tribes, each with their own culture and often speaking another language or different dialect. We found the experience of visiting villages, in some cases, was enhanced by learning a few words of their preferred language. See this post for more: Touring Thailand's Northern hill tribes
Golden triangle
There is a lengthy history resulting from the cultivation of opium in Thailand, and although it is now more controlled, the Golden Triangle remains an area scarred by its past.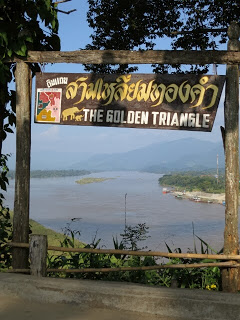 Tourists also flock here to view where the countries of Myanmar, Laos and Thailand meet. So we couldn't resist a short boat trip to Don Sua, an island belonging to Laos, just for a geocache and a souvenir.
Back to the capital
After that we beelined it South, passing through some lesser known towns on our way back to Bangkok. Disappointingly both Nan and Phrae had little to offer and the weather was still somewhat cold, so there was no incentive to explore further in this area.
Bangkok somehow feels like a 3rd home (after KL in Malaysia) so of course staying a few days was not unwelcome.
We took the opportunity to visit Chatuchak market and Sampeng in Chinatown for a few craft supplies as I had/have a few cards to make including one for my Mum's birthday (you can see the card over on my craft blog).
Phill has even got into the crafting and made a few things.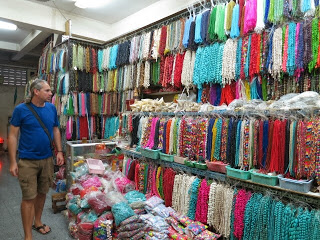 Bead supplies
You may be aware of the ongoing demonstrations in Bangkok currently. It was actually totally peaceful when we were there, and I was a little disappointed that we were only able to watch the crowds and take photos. The atmosphere was quite something.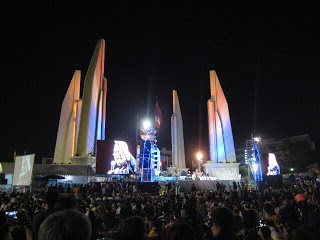 Bangkok's democracy monument, the centre of demonstrations
Despite enjoying being back in Thailand's capital, we did take a day out to escape the city, exploring the area known as the 'green lung'. It's a complete contrast to the polluted streets of Bangkok, so check back soon for my upcoming post on this.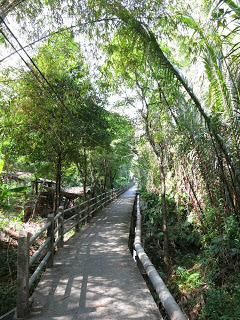 Bang Krachao, it' green and it's in Bangkok!
A short flight on Wednesday had us back in Southern Thailand, in Hat Yai, and arms length from the ongoing adversity of the continuing deep south fighting. It's still unsafe to venture further, and we are too much in need of a few lazy days on an island, and some warmer weather. So that's where we are now. Koh Lipe to be exact!
Last time I was on the West coast of Thailand, a bit further North from here, it was rainy season. See my previous post here: Getting wet in the West, for more. Now, it's high season, and extremely warm, albeit a little windy.
I'm looking forward to doing nothing and having a holiday, but there will no doubt be, a chance to catch up on some blog posts as well as explore the island and those close by.
So, as internet access is limited, all that is left for me to do, is wish you all a very happy Christmas and leave you with a few moments from my 2013 travels.