A first time visitor to the UK's capital will of course want to see the key sights. The choice of organised and guided tours is endless and the quality and price can also vary quite a bit.
What about those who have been there, seen it and done it all already, or perhaps would rather avoid the popular tourist traps and want to venture off the track.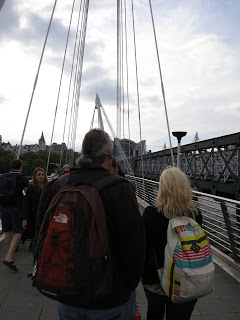 Then there's those who probably live reasonably close to the capital but don't take advantage of this enough.
For me, it's all about getting under the surface of a destination and doing something a little bit different and unusual. As regular readers will know I have been running a series of posts focusing on unusual experiences, more of which you can read about here: Fulfill your travel bug with: something unusual.
As part of this series, for this post, I have been scouting out some of the best tours in London with an unusual theme. Whether you're visiting London to see the sights, or like me, want something different, then some of these really should not be missed
"Liar liar" Square Mile Tour
This tour would be ideal for family, friends, work colleagues or anyone who enjoys a little bit of competitive fun. The tour will not only have you sometimes puzzled and stumped, it will have you desperate to get to the next stop to hear more.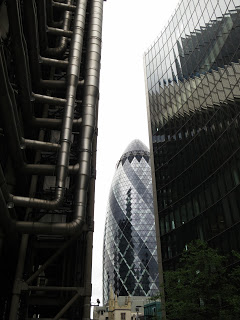 London's square mile holds many secrets
Matt is an extremely knowledgeable tour guide who keeps his tour groups hanging on to every word.
What I particularly liked about this very unique idea for learning a little more about the city, is that the theme of 2 truths and 1 lie at each location ensures you actually take it all in as well. Amazingly this is the first tour that I remembered everything I heard and most of it was completely new to me; despite thinking before the tour that I knew London's square mile quite well.
This tour really opened my eyes and the quirky and fun stories left me wanting more. I only hope Fun London Walks will be introducing more tours with a similar theme to other parts of our capital soon. In the meantime make sure you give this tour a try, even the kids will want to play along.
Family fun – absolutely something for everyone
Go it solo – a great way to meet others
Fact builder – plenty interesting that isn't covered by other tours 
Night out – the tours run during the afternoon, so would suit pre dinner or drinks.
Cost – very reasonable at £12pp.
Check out the Fun London Tours website, as there are lots more tours: http://www.funlondontours.com
A surprisingly informative and interesting tour which I am sure I will be benefiting from for years to come; now I know where all the best/free toilets are.
As a regular to the capital I didn't know about the network of community toilets, although I did know about the most expensive toilets being located in the borough of Westminster.
From hidden toilets to very British toilets and a gas lamp fueled by sewage. Following our guide around whilst she waves a plunger in the air, certainly gets some funny looks, and is definitely an unusual way to spend an afternoon.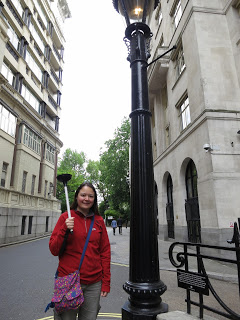 Plunge that sewerage!
Ending up at a suitable watering hole for a drink at the end if the tour, was an optional extra bonus, with of course more toilets and a chance to reflect on the simple fact that men really do have more toilet options available to them and always will!
I didn't know what to expect with this tour and was pleasantly surprised. I would definitely recommend it for something different to do, with plenty of insights and plenty of toilet humour.
Family fun – more fun for the adults but kids will be quite happy given the 'toilet' theme
Go it solo – plenty to talk about
Fact builder – a lot of relevant history and facts 
Night out – with discounted drinks at one stop it's a bit early for a night out, but a good place to start
Cost – with a free toilet stop and discounted drinks £12pp is very reasonable
Check out the Loo Tours website to book on the Waterloo tour, or for more details on the upcoming tour around Bloomsbury: http://lootours.com
I have only seen one side of Camden, so an afternoon spent with a local resident who has spent many years here and has seen it change, was bound to be money well spent.
Mike, really knows his stuff and unlike the majority of tours that just share facts and information, he was continually able to bring each location to life. From recalling stories of old times and new spent down his local, with celebrities such as Robert Plant and Andrew Matt to the times spent at the the food bank.
Music lovers in particular will really enjoy hearing about Mike's bizarre moments over the years. Having personally experienced unemployment, and homelessness he is now sharing his story and experiences by guiding through some often unseen areas of Camden.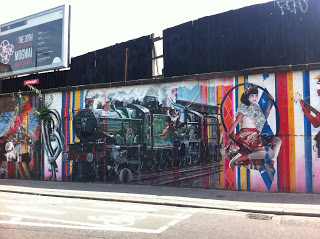 Camden, often unseen
I will definitely be trying out some of the other tours with this not for profit social enterprise, particularly as they pay 60% of ticket revenues directly to the guides, all of whom are, or have been, homeless. So not only a great way to see the unseen parts of London but for a great cause too. Take a look at the Unseen Tours website for more details: http://sockmobevents.org.uk 
Family fun – this might be a little heavy for the young ones but eye opening to others
Go it solo – take a friend, its for a good cause after all
Fact builder – music fans would be in their element
Night out – a good way to start the evening
Cost – £10 of which 60% goes to the guide
I've often look at street art with adoration, knowing just how hard it is to paint; let alone on a wall and with a spray can.
This tour isn't just for those who appreciate the arts, but is a chance to really get under the surface of this culture in the area around the East End.
Our guide shared some interesting insights into the world of street art as well as the culture of tagging and some of the varying styles of artists such as Shepard Fairy and of course Banksy. There were some opportunities to debate over our views of street art versus graffiti and plenty of specimens from controversial pieces to commissioned work.
I will honestly never look at graffiti in the same way as I did after experiencing this tour. And of course my favourite part was giving it a go for myself and learning, hands on, the difference between a fat cap and a skinny cap.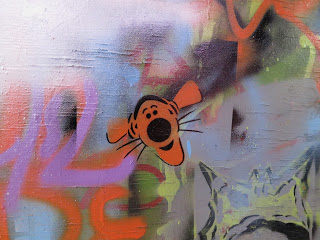 Tiggerbird-sy
There are other tours run by AlternativeLDN, worth checking out too. See details on their website: http://www.alternativeldn.co.uk
Family fun – get creative and learn 
Go it solo – one of the most interactive tours I have done
Fact builder – lots of insight into the world of vandalism
Night out – more suited to a half day
Cost – for a half day with tour and workshop £25 is money well spent
This tour is guaranteed to deliver exactly what it says it will. Absolute bullshit!
What's intriguing is Reubens' ability to craft factually inaccurate stories from true facts and info involving some reasonably famous landmarks and locations. From gross-mistruths to bizarre and odd tit-bits that often have you laughing out loud in complete awe.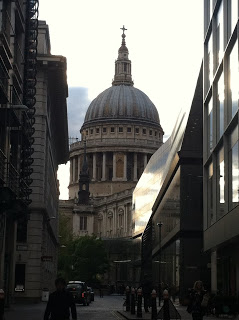 You definitely won't have heard this version
This tour would probably best suit a stag or hen group and would be well accompanied by a couple of beers.
The random moments where I found myself holding hands or looking into the eyes of strangers, was definitely topped by the on the spot singing of the blues along the Jubilee Bridge; whilst looking out at the London Eye.
If you want to experience something completely unexpected and totally absurd, it really is like no other tour I have ever done.
Family fun – the language won't suit young children
Go it solo – maybe
Fact builder – a few facts are actually true
Night out – start a night out with friends or for a stag or hen do
Cost – about the going rate for a tour of this length

What other unusual tours have you experienced in London?