As I continue with my series of posts covering Unusual Experiences (see post here), I thought I would cover some of the more unusual experiences and events that take place at some of the popular tourist sites in London.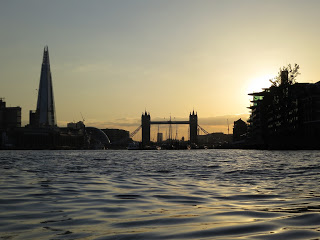 So, if you're a visitor to the capital you might want look out for some of these more unusual choices whilst planning to hit the key sights. Or if you've done the tourist bit in London you might find some of these appeal instead.
1. London Eye
Thousands visit this key landmark every day for the views. Of course it's touristy, which usually also means queues. However. It is possible to take a spin on the Eye privately and avoid the crowds. This means having a pod all to yourself which is ideal for a special occasion such as a birthday or just because.
There are plenty of different options available throughout the year where you can hire a private pod, to enjoy the view, including the option to dine in peace and quiet. Is not cheap but it's certainly going to be unusual as spaces are obviously limited, particularly on select dates.
More details can be found on the London Eye website here.
2. Buckingham Palace
The ever popular Changing of the Guard takes place daily at the front of Buckingham Palace.
More unusually the Palace opens annually between July and August to welcome visitors to access the State Rooms.
Most unusually, the garden parties that take place at Buckingham Palace, are by invitation only. So, if you are lucky enough to get an invite, don't miss out.
3. Tower of London
Visit during the day, along with the crowds of tourists and if you get there early you might be able to get a decent look around with being shuffled through with everyone else.
Visit at night, by applying for access (several months in advance) and you will be treated to the traditional Ceremony of the Keys.
As already mentioned in my post '10 unusual things to experience in London at Night' the ceremony starts at 21:53 every night and is totally free.
4. The Shard
Europe's tallest building, at the time of writing, A View from the Shard is another great place to view London.
At currently £25.95 a ticket, the British Summer Garden that is in place on the viewing platform, until September, certainly makes it a little more worthwhile and unusual. However, shell out an extra few quid at night for one of their Silent Disco events and you get a choice of music to bop along to as well as a guaranteed view of London at night.
Or how about a yoga session on a Saturday morning. A class, goody bag and view for £40. Certainly unusual. Keep an eye on the What's On page for details or other events.
5. Museums
I've already covered the alternative way to visit some of London's many museums in my "10 unusual things to experience in London at Night' post. But it's just such a great way to see the usually often crowded displays, catch up with friends or spend some time solo, that I have to plug this idea again.
Other museums are starting to get in on the idea, with more as more opening their doors in this way. For example the John Soames museum has a schedule of candle light events on the first Tuesday of the month, that will certainly provide an unusual perspective to what is already an unusual museum on the tourist trail.
6. Royal Parks
There are so many regular and one off events that take place in many of London's Royal Parks. From Proms in the Park (12 Sept) in Hyde Park, to Open Air Theatre in Regent's Park and other concerts and events. Check out the Royal Parks web page for what's on here.
How about enjoying some of the other experiences on offer such as Kayaking (see my post 'Paddling provide an unusual perspective'), skating (see my post '5 wheelie unusual UK experiences') or even a microadventure (see my post 'Something unusual for Summer Solstice: My first microadventure' ) where you sleep out under the stars. Obviously the latter requires a park that stays open after dark, but there are some.
7. Sightseeing bus tours
There are so many to choose from, so for something unusual you either need to look for something special like the WW2 or James Bond tours run by London Ducks, or how about a spooky tour with The Ghost Bus Tours or a bus tour with afternoon tea run by BB Bakery.
There are plenty more, depending on your personal interest, Harry Potter, Sherlock Holmes and even a Pedibus also feature.
And the others
There's so many other different and one of events that take place throughout the year in London, at the usual tourist places.
I'm sure there is a full list somewhere but here are a few ideas which I will be checking out soon. If you have others please share:
Madame Tussaud's – currently featuring a Star Wars exhibition for something a little different or especially for Star Wars fans.
Theatre – seen the show or seeing it. Then consider a back stage tour to one of the West End shows or even the National Theatre.
London Zoo – regular sketching events are held on Saturdays and the year there are other workshops and unusual events taking place. Check out their website here for more details of upcoming events.
The Thames – definitely one not to be missed is a kayaking experience along the Thames. Not only is this a great way to see some of London's landmarks from a different perspective, it's one of the best things I have done in a long time. Check out the Secret Adventures new website for more and similar experiences.