Last year I finally made a trip to Norway, after having avoided it for lack of inspiration, time and money.
Definitely one of the most expensive countries in the world, but some what beautiful, so I had to take a short break there.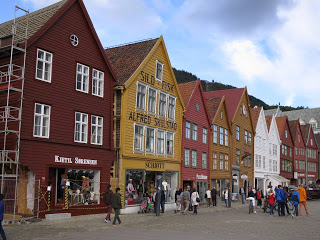 Rather than the capital, I visited to the coastal city of Bergen. A beautiful maritime destination which is compact enough to explore on foot. Head to Bergen with a little pre-planning and you will not be disappointed.
As well as preparing for cooler weather consider these tips to make the best of a visit to Bergen.
1 Visit in summer
It's not vital to plan your visit for the summer months, but it will certainly be advisable. At this time of year the temperatures are a refreshing cool, and the rain slightly less likely to wash out your weekend. Most importantly you shouldn't need to take your winter wardrobe which may be required during the rest of the year, as it can get chilly.
I was there at the beginning of September and a light jacket and fleece was adequate, even during a visit to the fjords.
Top tip: take a hat, particularly if you're headed out to the fjords, as you will be grateful for it on the boat. If you get cold easily take gloves and a scarf.
2 Take a raincoat and/or umbrella
Bergen is apparently one of the rainiest cities in Europe, averaging at 231 days a year. Believe it or not this actually contributes to it's beauty, with year round green.
Even in the summer months the rain will be guaranteed at some point in Bergen, and therefore being prepared for this, with an umbrella and/or raincoat will ensure it doesn't put a dampener on your visit.
3 Plan ahead to manage your budget
The earlier you book your flights and accommodation, there is a better chance of making savings.
If you're planning a trip from Oslo, take the train but get the tickets in advance and save a little with a 'minipris' fare, subject to availability.
Planning what you want to do whilst there can also mean time to track down deals and discounts. The Bergen card saves money if you are planning on visiting many of the museums or other places on it's list, and there are other discounts available on tours etc.
There are however, many things you don't need to plan for, you just need to know where to look for cheaper options, and reading this post and others ahead of your visit will certainly help a bit with that.
4 Save for the fjords
Surprisingly a trip to the fjords is not as expensive as you would expect. For a half day tour you're looking at around 450-600NOK. The over night and lengthier tours however, will definitely make a dent in your wallet, so it's worth saving up in advance for these.
Whatever you decide I recommend you include some sort of fjord visit in your itinerary. The views and experience of sailing through them is something very unique.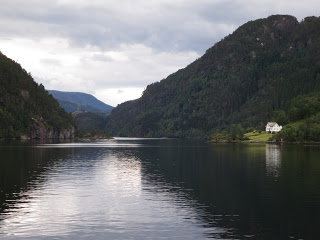 The short tours can be booked fairly easily on arrival but it's always worth shopping around and in advance to find those savings.
We took the fjord cruise to Mostraumen which takes around 3.5 hours return and passes through some of the narrowest points, including several waterfalls.
5 Take in a view from above
Viewing any city from a different perspective is always satisfying, even if it's just a case of following the tourist trail.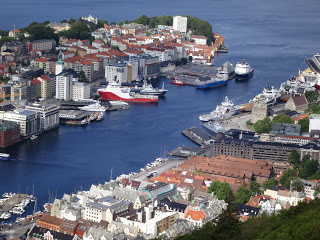 As well as views from the water I recommend taking Bergen in from above. The funicular to Mount Fløyen or bus to Mount Ulriken cable car, both promise views of the city that you will not regret. It's also possible to hike up or down, both mountains, which will save you a bit on getting there.
6 Visit the fish market
It's not a big market by any means, and it is certainly impossible to miss with its central location and bustling stalls.
The fish market offers more than just seafood, and much of it is reasonably priced and certainly an option for a bite to eat. There are stalls selling fresh fruit and cured meats and best of all you can try most of it before you buy.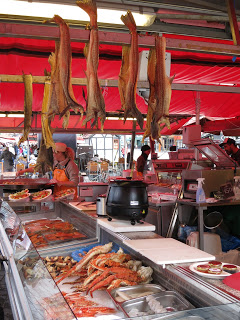 Make sure you try the whale meat, be it fresh or cured. There are often other delicacies on offer and heaps of hand-crafted souvenirs which would make reasonable gifts.
7 Have a hotdog
Eating out in Bergen is way up there on the expense scale and drinking out is almost beyond reach for a budget traveller. However, despite this, it's worth seeking out at least one local restaurant for a hearty meal as after all, you are on holiday!
In between the expensive choices, there are a few other options besides the fish market. Non vegetarians must give a reindeer hotdog a try as it's not only tasty, it's cheap. Plus there's plenty of other hot dog options available as well as some adequate other fast food options including reindeer burgers.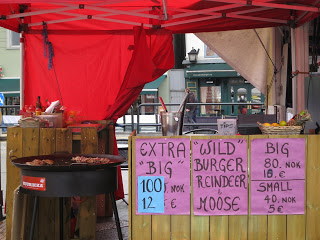 8 Drinking
Save money on drinks and drink the water. It's safe and can be easily decanted into a bottle to sip on during the day, hopefully avoiding the need to stop at too many of the numerous coffee shops scattered around the city.
Alternatively head for a 7/11 which is cheaper than buying a drink in a cafe.
Still on the subject of drinks. It's worth considering that buying your own alcohol will save you even more. However note that you should ensure you buy it before 8pm (6pm at weekends) in supermarkets or seek out a shop that specialises in booze, particularly if you want a choice.
9 Camp for free in the wilderness areas
Absolute budget accommodation and it's free. Whether you are an avid micro adventurer or just fancy saving on a night or two in a hotel, the experience of sleeping out under the stars in any country doesn't suit everyone but can be a lot of fun.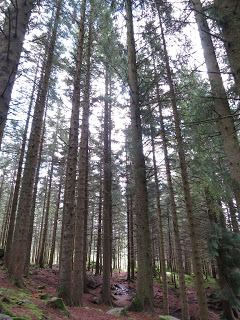 If you're seeking out places to camp, you can actually do it anywhere in Norway's wilderness but I would recommend heading for one of the camp sites which has facilities on hand.
Have you been to Bergen? Have tips out recommendations?