Being back in the UK has been surprising, as the renowned grey and rainy skies have started to clear and Spring shows signs of Summer.
Regular readers will already know about my geocaching hobby, which has often taken me to places I would never have ventured otherwise, such as the islands of Don Sao in Laos, which required a boat trip over the border from Thailand.
There are many others (see here), but the UK, where I live, is where you will find me at my geocaching 'best'.
You can read more about what geocaching involves over on the official geocaching site here. In simple terms, it is a game, involving hunting for treasure with the aid of a GPS device. It can be enjoyed by all and, as I have mentioned, often takes me to places I would never have gone otherwise. The best thing is, it's free, unless you include the time that you will spend once you really get involved.
The UK is pebbledashed with these treasures, and many enjoyable walks, so whatever the weather, it can often be a treat to venture outdoors.
Hop farm and oast houses
Last weekend, I went along to a geocaching meet, and one of significant size, a Mega meet (meaning at least 500 attendees). A collection of geocaching hobbyists, of course, had also headed here, from all over Europe it seems.
What was particularly exciting for me is the fact it was based nearby to my home town, at a place I haven't been for years. The hop farm in Beltring, Kent, is a prime example of some of the beautiful oast houses, that only exist in this part of the world.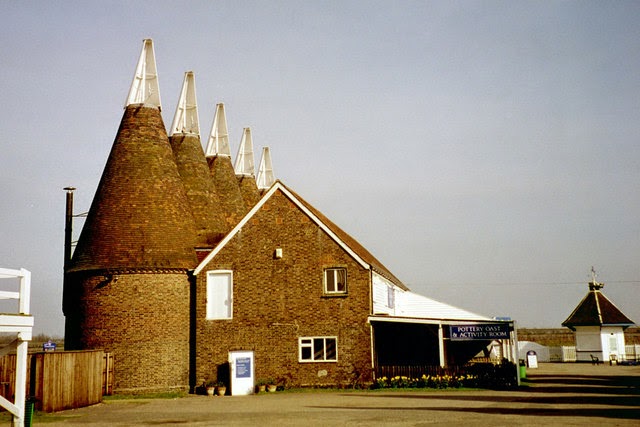 Hop farm, Beltring, Kent
The afternoon before the main event, we stumbled our way around a nearby circular route, and were rewarded with a oast house shaped trail of smiley faces on my Geocaching map. Being a huge lover of the iconic oasts, I was already sold on this and would have happily departed without further involvement.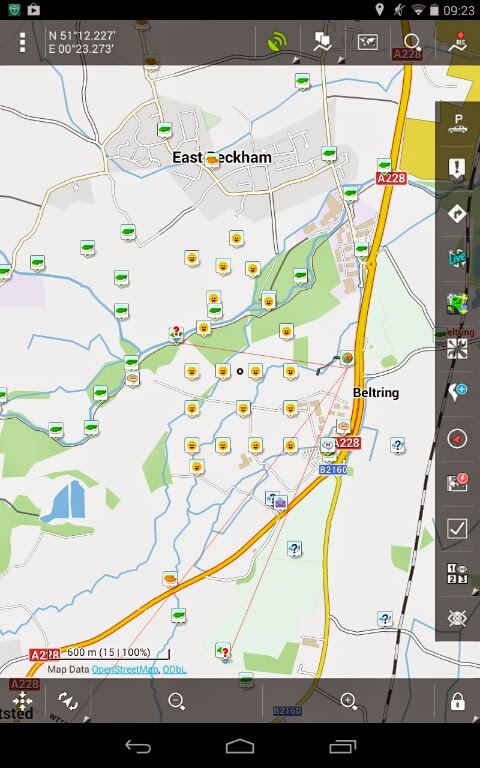 Oast house trail
OK, so I'm lying! Of course there was plenty more to come, with an evening filled night caching by torchlight, along with many others, it really was quite something.
Night [geo]caching
The trail of torchlights, were mostly behind us, as we remained in the pack at the front. Trudging across the field in darkness reminded me of something out of crimewatch; and how I would imagine a significant search party at night would look.
Frustratingly, we managed to walk past the hidden geocache initially, and repeated this for the bonus hide… leaving us feeling a little deflated.
We were soon distracted again as we signed ourselves in. Logging our names in the log book we felt a slight relief at the sight of being the third team to sign. There were, we were informed later, 200+ people taking part, so this seemed quite an achievement.
We rewarded ourselves with a huge ice cream sundae before retreating to my parents for the night, with weary legs, to prepared for an extremely early start the following morning.
The icon challenge
I have never been keen on extreme geocaching, which basically can vary from climbing trees, to subjecting yourself to something far worse; an underground air shelter with some sizable arachnids is my limit. Fortunately that's another story.
The day of the Mega meet had come, and we had our work cut out, trying to find and collect a number of different types of geocache hides. Aiming for 11 different geocache icon types plus the "Lab" caches (still in beta testing stage) was going to be an interesting challenge.
We didn't really plan things too well, having only pulled up the map of the area the day before and thinking it might be fun to give it a try.
If you're not a geocacher, the details that follow will probably appeal to you as much as trainspotting or birdwatching. Unless of course you are a trainspotting twitcher…
We started at 7.30am with a short hike up to a trig point (for a "virtual" cache), followed by an arm waving session at a "webcam" cache (we also got ourselves in the first picture recorded by the cache owner).
By 10am we had 4 icons, so headed off to the Hop Farm to meet my good friend Vicky, collect the "Mega" meet (GC4PKB2) icon and also pick up a special "Mystery" cache known as the Cuckoo Cache – GC4C35 (which we had been watching for months as it travelled around the country). We spent time mingling with the meet attendee's, then sat through the "meet the reviewers" session, and afterwards enjoyed collecting a few more trackable codes from the back of geocachers' cars in the car park, as well as the "Lab" caches.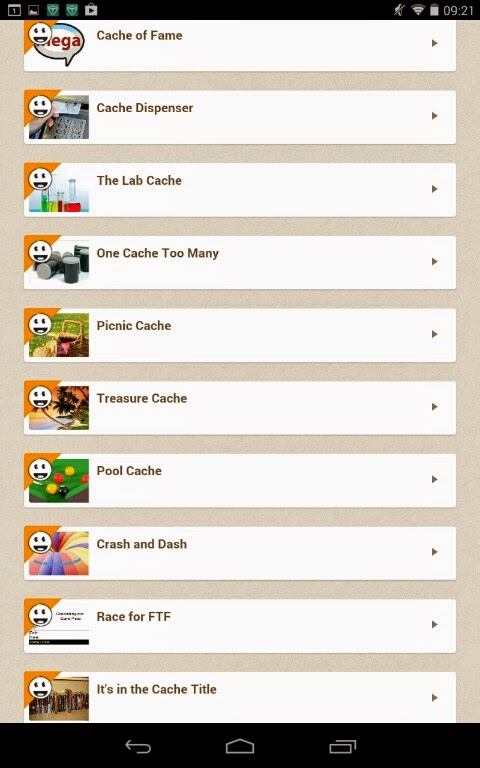 Lab cache smileys
Lunch in the nearby pub gave us time to plan our next move, as we headed into the nearby village of Paddock Wood, armed with technology for a "Wherigo" (GC53RHZ) trail.
By early afternoon, I was flagging. Learning about the first speeding ticket ever issued was enlightening, but the number of churches (for "Church Micro" caches) I had visited that day was starting to grate a little.
We picked up the "Letterbox" hybrid (GC4KK01) cache back at the Hop Farm and stopped for a drink in the beer garden, then said goodbye to Vicky.
After this we headed off on a wild goose chase for the parts of the rather difficult nearby "Earth" cache (GC510XG). This was the hardest one today. We became frustrated at the lengths required to achieve it, but fortunately there were a few additional caches to collect enroute.
I was extremely relieved as the sun showed signs of setting, and we headed off to clean up.
Mum came up with a winning roast dinner, which soon had us feeling more human again. Then I was ready to head to the barn dance for a glass of red, and to claim our "Event" cache, the final cache of the 11 icons challenge for the day.
Barn dance fun
Thanks
The amount of time and effort contributed by the team of organisers had clearly paid off. This was indeed my first Mega meet, but it is unlikely to be my last after enjoying the efforts of the local geocachers involved.
My only regret is not having had the chance to meet a few more faces and thank people in person… but I was too busy trying to get all those icons and finish the game!
Give it a try
If you're not already a geocacher, why not get involved. Try something small to start… just look up your home on the map at geocaching.com and see what you find.
I'd love to hear how you get on, and if you attended the event, and are reading this, Did you get all those icons?