After reading up on the long neck and big ear villages in Thailand, I was surprised to find it a lot less like a human zoo than I was led to believe it would be. Perhaps this was due to our attitude towards them and actively trying to talk with them and engage with them rather than just snap photos and move on.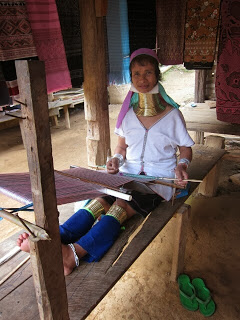 Us having learnt the words for hello and thank you in Burmese, before we arrived, immediately broke many barriers, as the smiles came in response at each and every stall.
The first lady I spoke to, willingly dressed me in neck rings and local style dress. Maybe she was expecting a tip in return, but she certainly didn't indicate this. I had every intention of either buying something or tipping in return for photos,  as everything I had read seemed to conclude that they do not receive much in the way of support.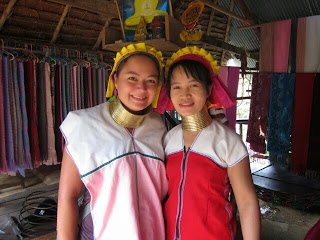 traditional dress
They are refugees, unable to work anywhere outside of the village. It is highly questionable whether the money from entrance fees does actually get distributed to those that reside here, despite the statement on the document that we were presented with when we arrived. The rings that adorn the women, trap them here, but yet they seem loyal to their tradition.
I brought a tacky keyring, and moved on to the next stall where I was subjected to some face painting with a nice smelling powdery cream known as Thanaka.
More photos followed, of course, and a small tip.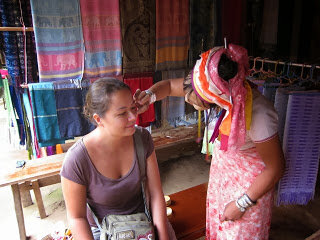 Thanaka painting
This routine continued at each stall, although I reduced my input to chatting to the ladies and looking at their wares.
A couple of the ladies were not wearing rings, and the first that I asked after, spoke very good English. She continued to tell me that she was "very happy" and felt "free" at no longer wearing them.
She introduced me to her daughter, who was wearing the infamous rings, and was busy weaving scarves. Perhaps this was why she was so happy about removing the rings. Had she just passed down the tradition to allow her freedom.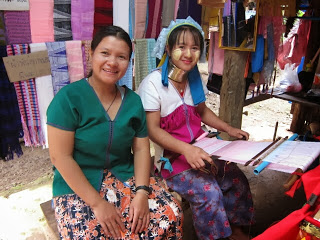 Mother and daughter
Her daughter spoke no English and I wondered why she had not taught her a few words to assist in interacting with the tourists and improving what was deemed her livelihood.
Towards the end of the row of stalls, the 'big ear' ladies were hanging out. There were fewer of them than the 'long necks' and most seemed to be selling a few different items on their stalls. Other than the scarves and shawls that appeared to be woven on site, it did look like a lot of the other items had been imported from elsewhere.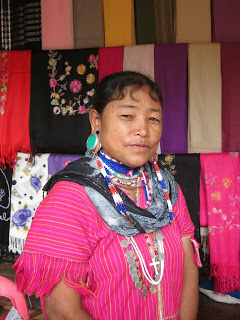 Check out the ears
I reminded myself of something I'd read earlier, about them having no choice. Having fled Burma (Myanmar) as refugees from the civil war in their country to Thailand, they were now trapped in these places.
In Thailand, local authorities and businessmen had taken them from the refugee camps on the border to a number of locations where tourists visit, paying 250 baht (approx £5/US $7) to stare and take photos.
This was of course where we were, Huay Sua Thai in Mae Hong Son province is one of those locations. Despite the controversy and my reluctance to visit, I decided that to not do so would only contribute to what is already a difficult life. The simple fact is that they need tourists to visit, to survive.
Some of these women have lived in the same place for almost 20 years, earning a living from the tourism industry. This is largely the result of local authorities refusing them permission to travel or apply for resettlement elsewhere.
It's very sad. But in all honesty it is worth a visit. If you go, here are a few suggestions of how you can make the experience a more positive one:
– learn to say hello and thank you in Burmese, or Thai at the very least.
– always ask before taking a photograph and wait for agreement.
– show your gratitude by buying something or leaving a small donation in return for a photo.
– show an interest. Talk to people where possible, don't just stare, take photos and leave.
Trust me you will feel better for it.
Side note: I have read/heard that Huay Pu Keng, which is only accessible by boat, doesn't charge a fee. Apparently some long neck people have been invited to move there to have freedom from being exploited. The income is solely from items they sell. I would love to hear from anyone who has been there.
If you are interested in reading more about the lives of these tribes, I found a very informative post here.