With possible plans for some more extensive travels in the coming months I thought it was time to determine whether I should give solid shampoo bars another go or continue to decant my favourite products into those cute ickle bockles that I recently shared with you.
I've tried solid shampoo in the past, and have always been largely impressed by the lifespan of these little 'pucks'.  However I personally found it necessary to arm myself with a decent liquid conditioner as well in order to address the 'drying' effect that the solid shampoo bar seemed to have on my hair after a period of time.
Now, it seems Lush have a solid conditioner bar as well, so I had to give this a go.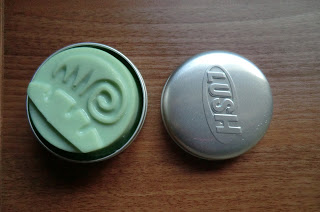 My first impressions were that not only did the conditioner bar not fit in the 'purpose built' tin (it was about a cm too thick and impossible to get the lid on!) but the shampoo bar was also slightly too big and would cause issues when trying to get it out.  However I wasn't going to let that deter me from giving it a go.  After all these things will reduce in size in time and eventually fit into the tin, or I can find an alternative container, which incidentally might avoid the product fixing itself to the inside of tin (as I had previously experienced) when it is left wet.
There are definitely some pros and cons to these products, which leaves me debating whether the extra weight of liquid alternatives or a combination of the solid and liquid options might be my best approach:
Shampoo
Pros

– Lathers up very easily and you don't need much product.
– Lasts for ages, definitely outweighing the lifespan of a small bottle of liquid shampoo.
– Smells great, and the smell is retained in your hair for longer compared to most shampoos I have used.
– Is lightweight and ideal for travel.
– There are plenty of different choices for different hair types.
Cons
– Initially didn't fit in the 'purpose built' tin – disappointing but soon overcome once used a few times.
– Used alone, did leave my hair dry albeit 'squeaky' clean.
– Can disintegrate if left wet or not dried before storing.  Tends to stick to the container and would become messy if left in the shower and not dried out properly.
Conditioner
Pros

– Fabulous smell.
– Leaves hair reasonably well conditioned, although drier than other products, which may be due to my hair being very fine.
– Created a flyaway/static feel to my hair unless I used other products when styling afterwards.
– Is lightweight and ideal for travel.
Cons
– Issue fitting in tin and still doens't fit after over a week of use.
– It is necessary to use liquid conditioner intermittently – may be a consequence of my hair type.
– Like with the shampoo bar it needs to be dried fully before storage.
So in conclusion I would say that as long as you are not moving from location to location and have time to let these bars dry out properly they do provide a lightweight alternative to liquid shampoo/conditioner.  I personally find that a few days use whilst in one location can be alternated with liquid products when you don't have time for the bars to dry and this also allows the drying effects of the products on your hair, which became evident after 3/4 days of use, to be controlled.
The frustrations of these products not fitting in the tins can easily be overcome by finding an alternative container, which also means it doesn't end up stuck to the inside of the tin – I recommend something plastic instead.
So perhaps there is some value in taking these bars along on a extended trip, but you can't beat the liquid alternative.  I highly recommend the ickle bockles range of shampoo and conditioners as they really are luxury and left my hair feeling completely replenished.
I finish work at the end of this week and then will be looking to recuperate for a bit and get a few things done for myself that I have neglected these past months.  After that my plans are to get away and take a break – call it a career break of sorts.
Check back for more on this soon, or if you have any suggestions of where I should go for Christmas (bearing in mind I am not planning to celebrate this year) I would love to hear them.