I've seen batik fabric in many countries during my travels. Originating in Indonesia, this technique of dyeing cloth to create a variety of styles of fabrics involved the use of wax to create a resistant pattern or image, which can then be dyed or painted.
I spent some time in Koh Lipe, one of the southern islands in Thailand, and was excited to find a workshop to create my own batik. Something a little different as Thailand isn't known for batik, and a great way to spend an afternoon and escape the sun.
Once I'd picked my design idea, I set about drawing this onto the white cotton with a pencil.
After this, it was a case of being brave and drawing the outline using hot wax, with a special tool called a canting. This is bit like a pen, into which you put the hot wax. You need to work quickly as it drips out of the tiny spout. You can see how easy it is to get blobs of wax in the video.
Once the wax is completed, the coloured dyes then need to be applied into the areas inside the outline. This identified a few areas where the wax hadn't fully isolated sections, and therefore the dye started to leak into places I didn't want it to go. Fortunately this was all rectifiable as I had started with the lighted colour first. However, it's certainly not as easy as it looks.
Finally the background, which can take time as it's a large area. It's then a case of leaving it all to dry fully, and then the wax can be removed. This is usually done via a boiling process.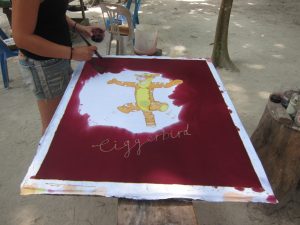 I really enjoyed my batik making class, in a lovely rustic setting. If you are visiting Koh Lipe you really must give this a try, at the Lipe Art Garden, which also offers accommodation if you are looking for a place to stay on the way to Sunset Beach.