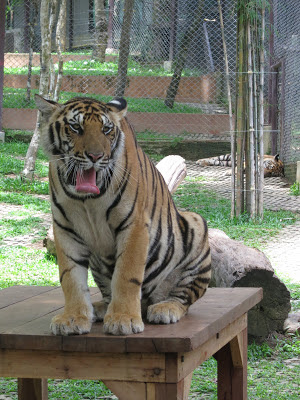 They advertise everywhere throughout town, with photos of tigers looking cute and friendly in up close and personal poses, which of course lures people in. What Tiger Kingdom doesn't fully advertise, is the cost of all the different options to actually get inside the cage with one of these beast. Prices start at 420 baht (approx £9/US$14) for the big tiger, through to 620 baht for the smallest cubs, and to see them all it's a wallet bulging 1,900 baht (will leave you to work out whether it's worth it for yourself – but read the rest of this post first please).
In the words of Tiger Kingdom "the tigers are born in captivity and are therefore used to humans, which is why you can pet them". However, from what I saw the likelihood of them not having been drugged is as remote as the fact that I am not currently backpacking around Asia! It's the first thing you read on entering the building, what you see on a poster in the waiting area and is also noted on various boards around the caged areas. They are adamant that they need to keep reminding you of this, and I can totally see why!
Whilst I was there the animals did appear like they were sedated, seeming floppy and tired and are quite simply very slow to respond. They are completely non reactive to much more the than the keepers pushing and pulling them back and forth to have their photo taken by the next excited tourist.
Of course the explanation for this is also evident on the posters and boards, as well as the extremely detailed leaflet. Apparently it's because they are nocturnal animals and they are just sleepy throughout the day when visitors stop by. But seriously, if you were tugged, pulled and slid across the floor to pose when you would much rather be curled up in the corner snoozing, do you think your response would be little more than laying down, dropping your head to one side, yelping sadly and obliging without a fuss?! These are predatory animals…?
I've read other reviews of this place since visiting, many have a similar view to mine, some however rave about how amazing the experience was.
I'm sorry, I was completely appalled, and felt extremely uncomfortable posing in the photos with these poor little creatures! Although if I'm completely honest they are absolutely beautiful and did have me smiling with a moment of excitement as one of the cubs padded it's way towards me.
Despite their beauty, I couldn't get out of there quick enough, and the obligatory walk around the other cages after the encounter with the cubs left me feeling even more deflated. The park appears very well kept and the animals looked after but after the sight of 2 or 3 of the bigger tigers inside small cages I started to have more doubts.
The words "what the customer wants they usually get!" rings in my head after reading the leaflet explanation of why the keepers wake the tigers up from their sleep to have pictures taken. No government funding is received and Tiger Kingdom relies on the income from visitors, so, without the tourist herds, there is a risk that the animals will not be fed and looked after.
It becomes a catch 22 scenario, which situation is worse and is the opportunity to see these beautiful animals face to face and allow people to experience their beauty, something that should be avoided?
The experience has left me thinking very seriously about whether to visit any elephants and taking a course in mahout training that I so seriously had my heart set on whilst in Chiang Mai.
For now my further research into both these attractions has left me looking for ways to spread the word and ensure that as many future tourists seeking out these types of experiences, go along fully informed about it and are aware of what they may see… so, don't just jump on the band waggon. I chose to visit for research purposes, with a view that whatever I saw, I would share to help others decide for themselves, whether to visit – please pass on and share this post.
As I spend a few days mulling this over, I have moved across town to the Old city area and a more reasonably priced guesthouse. I have plenty more to share with you in terms of experiencing Chiang Mai, but have chosen to take a few days out of the tourist trap with a traditional Thai massage course and some time to reflect.
To keep tabs on what I've been up to check out:
Previous Travelblog entry: 2 days from Laos to Thailand along the Mekong
Next entry: Not same same, Chiang Rai, Thailand