The recent changes announced by Ryanair in January, removing the ability to take 2 cabin bags on board, were quite controversial it seems. The 1 small bag allowance (roughly the size of a hangbag or laptop holder) is tiny. In fact it potentially restricts most people from taking a bag at all; even a foldaway bag you would now carry to avoid the carrier bag charges in the UK, is too big!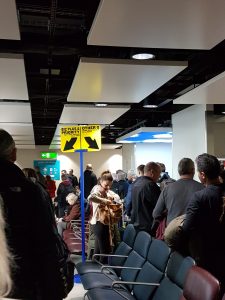 Travelling on a Ryanair flight is something I actively try and avoid. Particularly after the cancellations of flights at the back end of last year that left passengers stranded and stuck making alternative arrangements.
Of course, for research purposes and, because I'm tight and didn't want to shell out a couple of extra quid at the time of booking (before these changes came in), I accepted the inconvenience of travelling with Ryanair, just this once. Now I'm regretting my decision.
As I sit crammed into the middle seat (I like the window), on reflection, I can now honestly say I'd rather pay the extra and fly with another airline, than forego the frustrations of Ryanair's new policies.
Famous for its controversial approach to customer service, Ryanair is a popular choice for destinations such as Dublin and Barcelona. Mostly flying from Stansted. This is also another reason why I rarely fly with them.
As we queued up to board it was interesting to see just how many passengers had been impacted by the changes.
Carry on restriction
The priority boarding side of the waiting area was bursting. Most passengers had paid their extra £5 or €5 to take 2 bags into the cabin. Those few waiting in the normal queue, were sporting yellow baggage tags, and were held back so their wheelie bags could be put in the hold (free of charge). Most seemed fairly accepting of this, but I assume they had been made aware of the changes, at booking.
Surprisingly, very few priority boarders were stopped due to their 'small' bag being outside of the new size restriction. Plenty seemed to be carrying standard rucksacks which were significantly larger than permitted. The Ryanair staff appeared to have enough to deal with, rather than bother themselves with small print details; but no doubt these limits will eventually be strictly applied.
Split seating allocations
Chatting to a fellow passenger confirmed that we were not alone in our frustrations at being split up when checking in; Ryanair's efforts to charge extra to sit with loved ones didn't seem to have worked however. An hour and a half of peace to read or sleep is a given if you fly with me. I felt sorry for the family of 4 that were scattered across the aisles both in front and behind us; as they had decided against paying out the extra per person for their family getaway.
If you can work out who is travelling with who you can descretly switch out with people, and sit next to your companion. The girl seated next to me was travelling with the girl next to Phill, so we swapped places. Simply a case of being observant when boarding and the benefit of being able to communicate in the same language.
Subtle removal of the tell tale yellow baggage tag, might allow you to bypass the carry on arrangements. However you will need to be careful sneaking past the crew with your boarding card so they overlook the 'priority' indicator. It's worth a try as I'm sure they would rather avoid further delays.
Efficiency improvements are costly in time, inconvenience and money
We were 45 minutes late departing on a 2 hour flight. This isn't Ryanairs best way to prove that the new policy will "speed up the boarding of flights and eliminate flight delays".
It's 1 month since the changes were introduced. Can things really get any better if they force the small bag restrictions onto passengers in the coming months? I'm not planning to fly with them again to find out so do let me know how it goes if you do.
Comparison
When you consider the alternatives of the likes of Easyjet's 1 bag (unlimited weight) restriction with the slight risk of your bag being taken and put into the hold. Then most other airlines allowing 2 bags within size limits. Ryanair is only going to be a safe bet if the overall cost of all the extras outweighs the inconvenience. Do the calculations and assess for yourself:
Flight price
£5/€5 extra for priority boarding – allowing 1 carry on bag (55 x 40 x 20, as before) and 1 small bag (20 X 20 X 35cm)
£3/€3 extra to sit next to your travel companion
£25 (previously £35) extra for a hold bag up to 20kg's
It can get expensive.
In conclusion, I personally found the stress of offloading a pair of shoes and 2 items of clothing just isn't worth it. Even in light of prioritising my laptop when working overseas.
Ryanair's "Always getting better" slogan leaves me some what miffed. Things continue to worsen as small bags really are tiny. Perhaps a re-brand is in order, if they even last much longer.