Outside it's raining hard, the temperature is apparently 4 degrees with threats of snow tomorrow, but I've spent the day catching up on numerous blog posts on my Travelpod so am feeling like I'm still on my travels!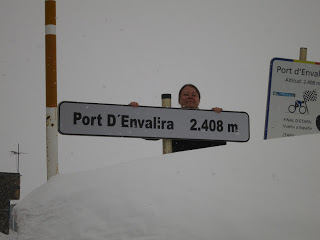 Sad that I'm not in sunny Portugal or Spain, or snowy Andorrra, France, Luxembourg or Belgium, I have just got back to the UK after 5 weeks travelling through all of the above.  If you have been following along here or on my Travelpod then you will know that I had to cut my travel plans short and return to the UK after having my car broken into, but there's a little more to it than that of course :(.
More to follow with highlights and summaries of Portugal and Spain, where I spent most of the trip. For now I just wanted to share with you the rather belated posts from the Algarve, in Portugal and the last couple of quick stops in Luxembourg and Bruge (Belgium).
The Algarve – this really is a touristy place, but I would go back there for more of the same, especially as the weather improves. Check out the 3 posts during my time there: Porches, Lagos, Tavira.
Luxembourg – it's a small country but not as small as I thought.
Bruge, Belgium – full of chocolates and charm.
For those of you who I haven't had a chance to catch up with, I'm working on it. Currently I'm residing at my parents house… fighting with insurance companies and the like, but I will be in touch soon.