Seville is famous for its Azulejos – ceramic tiles. They adorn many buildings, walls and floors. Some great examples can be found at Plaza de España, with it's 48 tiled alcoves; each representing a Spanish province. The area of Triana is particularly known for it's ceramics, although there are few manufacturers here now.
History
The origin of these Spanish tiles goes back thousands of years. Most likely stemming from an introduction by the Islamic culture, where enamelled effects were added to tiles; as previously tiles, mosaics and bricks were all unglazed.
Ceramics were widely produced in Spain during medieval times, with some great pieces appearing in churches and palaces. Most of these originated from Seville and Cadiz, with slight adaptations being made across the country as time passed.
Later and now referred to as Azulejos, these tiles continue to be used to decorate and cover walls, floors, ceilings, pavements and fountains. However, many of the factories have gone.
The name apparently, does not come from azul (blue) but Arabic for al zulaycha, meaning "polished little stone"
Development
In the Alhambra, in Granada (approx 250 km's from Seville), the mosaics were formed from assembled pieces of tile – known as Alicatado.
King Manuel I of Portugal, was so impressed by the Alhambra he decorated his palace in Sintra, with the same style of tile, apparently imported from Seville.
Fragments of tiles were and still are used in countries such as Morocco to cover walls etc. Known there as Zellige.
Due to the expense and in order to reduce wastage tiles developed over time, into larger pieces. One tile would incorporate a number of coloured glazes separated into patterned zones, which avoids the mixing of colours
Getting creative at Barro Azul
I really wanted to find out a little more about this craft, so after a little research I also found somewhere to give it a try for myself.
After a short history of the origins of Seville's pottery tradition, we were shown the 2 different techniques.
Cuerda Seca/Arista
Traditionally the technique known as Cuerda Seca was created with coloured glazes. These were separated by drawing contours with a fatty substance. The same effect can be achieved with a graphite pencil. The line disappears after firing. More recently this technique has been replaced by Arista. These tiles have a clay ridges made by a mould.
When one of the factories, which had closed down, was cleared, a number of unglazed tiles were found and passed on to the team at Barro Azul. So we were lucky enough to get to glaze one of these tiles each as part of the class.
I personally found this technique a bit like icing a cake. At least in the sense that you are working with a very liquid material. I've done a fair bit of pottery glazing in my younger years, but this technique was really quite hard.
Fortunately it turned out ok after being glazed: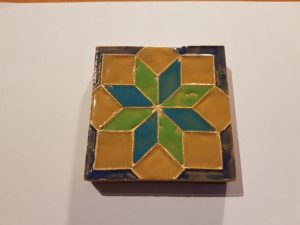 Azulejos
There were a choice of templates for this technique, so the hardest part was making a decision about which one to use. In the end I chose to create something of my own instead.
I was told the colours would improve after firing, but it's important to layer up the paint/glaze carefully to avoid having brush strokes
And here is the finished tile… I'm quite pleased with this :).