Note: it is also possible to obtain a 60 day tourist visa ahead of arrival into Thailand for US$30 (or equivalent) from an overseas Thai embassy.
For such a large country, this seems a little disproportionate to other countries in SE Asia, for example UK residents can visit Hong Kong for 6 months or Malaysia for 90 days.
I had already utilised my Thai 60 day visa back in May/June and overlooked getting a multi entry one. So arriving by air this time, I was only permitted 30 days. This was more than likely going to mean a border run would be necessary at some point before heading into the next country.
I'd pencilled in Myanmar the next destination, which requires a visa prior to entry, and consequently a couple of days stay somewhere with a Myanmar embassy.
As we headed through Northern Thailand and the clock ticked down on our visa, we looked at the options for obtaining a new one. 15 days was going to limit our movements somewhat as there were still a few places in central Thailand to tick off, and the chances of the trains from Chiang Mai to Bangkok being up and running as planned on 1 December are still unknown.
Crossing into Laos or Myanmar were really the only options unless we wanted to fly somewhere, and the Bangkok or Vientiene (Laos) Myanmar embassies were the closest choices for obtaining a Myanmar visa.
Decisions decisions?!
We have since debated:
– flying to Hong Kong from Chiang Mai;
– heading into Laos for a couple of weeks before coming back into Thailand;
– heading into Laos and travelling through and into Cambodia and then entering Thailand further south;
– taking a day trip into Myanmar and coming back to Thailand.
It turns out that the visa rules changed earlier this month, and on 1 November 2013, although not formerly announced, G7 member country residents (UK, USA, Japan, Germany, France, Canada and Italy) can now obtain 30 days when arriving overland rather than 15. This is not currently showing on the Thai embassy website, or Wikipedia, and the usual sources such as Thorntree show mixed views on whether this is likely to be confirmed anywhere anytime soon.
We decided, just the day before our visa expired, to give the Myanmar border at Mae Sai/Tachileik a try. At least that way if all else fails I can tick Myanmar off my list and personally confirm the situation regarding a Thai visa obtained at the border.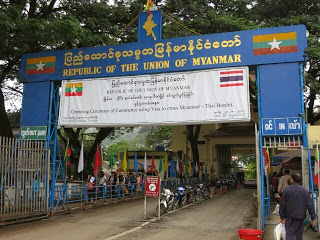 Tachileik border entry, enter on the right
We could have done the visa run to the Laos border but the cost is substantially more. To get a Lao visa it's US$30 plus the additional payment if $1 or $2 for the border staff (!), whereas Myanmar is just US$10 (if you can convince them to accept dollars as opposed to the requested 500 baht, which converts to a much higher fee).
How to get there:
-Take a bus from Chiang Rai = 39 baht on local bus takes just 1.5hrs (from Chiang mai = 4 hrs).
– Then take a Songtaew from the bus station in Mae Sai for 15 baht, to the border.
– Walk to Thai immigration building and get stamped out. Then walk across the bridge and cross over to right side to enter Myanmar.
– Have your visa payment fee ready with passport. We had no issues paying in dollars unlike many websites suggest.
– They ask if you want to go shopping and take your passport in return for a permit. Walk down the road and prepare for the enslaught from the touts offering tours.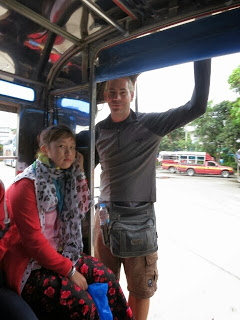 Songtaew travel with the locals
Local bus or minibus (green bus)?: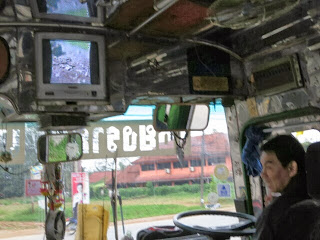 The driver was indeed watching the TV, not the traffic!
The local bus is a little slower and somewhat rougher (seats are tight and windows/doors provide air con which is cold – take something warm to wear). There not much in it in terms of cost and the local interaction is much more fun on the local bus, we saw long neck Karen ladies on the way to the border and enjoyed watching parcels being dropped off at random addresses along the route on the way back.
Day trip to Myanmar border town
I didn't expect much for a border town. It is surprisingly different given Thailand is so close. The roads seem dirtier, dustier and with more pot holes. The men wear sarongs and the women have faces powdered with Thanaka.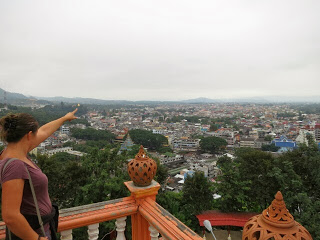 Myanmar view from Shwedagon temple
We ended up wandering around on foot for a few hours taking it all in. Definitely an interesting way to spend the day, but you have to almost stop, look, listen and absorb… Or you may just miss it. The locals seem to just stare initially, but a smile and a hello in Burmese soon has them beaming back at you.
The market at the border is worth a look but there isn't much that tourists are likely to want from here, unless they are after a fake bag, sunglasses, counterfeit cigarettes, Viagra or pirated dvds.
The Shwedagon temple on the hill offers another chance for local interaction and the view isn't bad.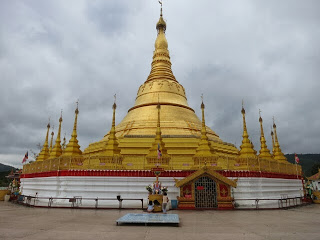 Shwedagon temple, not to be confused with the one in Yangon
Other points of note:
– There have been some recent (Oct 2013) changes to certain Asia countries residents eg Thailand and Laos no longer requiring a visa to enter Myanmar for up to 14 days, most likely resulting in it being busier now.
– They drive on the right in Myanmar (the opposite to Thailand).
– Pick up cigarette and alcohol bargains at duty free just before obtaining you passport back from Myanmar immigration.
– Remember it's 30 days not 1 month. Many overlook this and overstay, incurring a 500 baht per day fee. It's not a lot but potential problems entering other countries may result in the future (?).
So, in conclusion… I do indeed have 30 days visa free travel in Thailand once more…