With the last few days of the Christmas period fast approaching, what better than to visit the Christmas markets for those last minute gifts, where you can relax with a glass of something warm.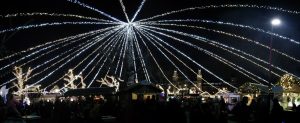 The best Christmas markets in my opinion are by far the German ones. However, if you can't quite stretch to a trip to Cologne or Nuremberg, there are more and more markets scattered around the globe, and maybe just close enough to stop by in the coming days…
1 Check your local events – notice boards in newsagents and supermarkets often advertise local events. Or check your local newspaper or neighbourhood news. My go to place for up to date info regarding what's on is Twitter. Just search to see the latest tweets in a particular location.
2 Plan a day trip – some of the largest Christmas markets in the UK this year can be found in Birmingham, York, Manchester, Bath and Winchester. Lincoln is apparently the largest in the UK with 250 stalls, but it's only open for 4 days (1-4th December this year) so you will need to plan ahead for visiting this one in 2017.
We managed to get to both Bath and Winchester in the same day, although Bath was larger and had more non Christmas market things to do, so I would definitely recommend this one to fulfill your Christmas needs.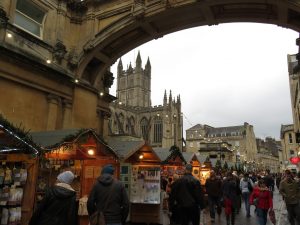 It is possible to visit a German market on a day trip, and booking last minute flights early in the morning and late at night can be very reasonable compared to booking ahead.
3 Wander at lunchtime or after work – if you are fairly close to any of the Christmas markets, for work, which many who work in the big cities will find they are. Then check out where the market stalls will be and plan a short visit at lunchtime or head there after work. Those in London will find numerous small markets scattered around the city, and there's a new one this year in Leicester square which promises Christmas shopping and Santa's grotto.
4 Check schools and churches – you will find more markets at schools and churches taking place around Christmas time. Again best to check local events information for details, but smaller events that are often not advertised too far afield, so it's worth searching with this in mind.
5 Meet a friend/take another – the run up to Christmas is a busy time of year and it's hard to find the time to catch up with everyone. Kill two birds with one stone and plan to meet a friend at the markets, take a friend or family member (although I would recommend limiting the number of people as it can be busy) or simply just arrange other plans so you can visit the markets in conjunction with other things.
6 Plan ahead – spend a short amount of time making a list of potential things you want to try and get. Couple that with listing some of the other Christmassy shopping you need to do. The more focused you are the more likely you will find all the gifts you need, and more.
7 Carry bags – avoid the possibility of collecting unnecessary (plastic) bags during any shopping spree. Take a tote bag or rucksack to carry your purchases in and you will find it much easier to collate your shopping as you go.
8 Stay warm – make sure you wrap up appropriately for the weather. Layers are best.
Unless heavy rain is expected you can probably pass on the umbrella. Afterall markets are likely to be busy and there's often plenty of shelter if the weather isn't too cheery.
9 Have fun  – Christmas markets often have side events such as ice skating and live performances. A great opportunity to have some fun in between the shopping.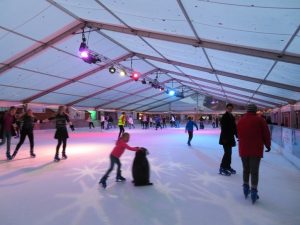 Have you been the some Christmas markets ahead? Got recommendations to share, I'd love to hear them.