Over the years I have been collecting on my travels. When I'm actually travelling, if I can find something creative like Souvenir stamping in Taiwan or even fun trails, like the Gromit Unleashed one, that is currently on in Bristol in the UK, then I can't resist. Of course anything I can collect and take home is a must, but it's often difficult to find space to carry much more than the necessities.
I think most people like buying something from each place to remind them of a trip. My collections tend to have a creative/crafty theme, as do my travels. Here are some of the things I've collected and continue, in some cases, collecting on my travels.
Handmade papers
When space permits I like to collect craft supplies such as handmade papers – for example parts of Asia I found are good for these.
When I've been away from long periods of time I've needed to get my craft fix, especially when I've not been able to find something creative to experience locally. I often pick up a few bits when I see them and make the odd card to send back home to someone.
Scrapbook/Smashbook
Typically everyone finds themselves with ticket stubs, leaflets, entry stickers and other bits and bobs along the way. So what better way than to travel light but keep memories from your travels, than a scrapbook or similar.
My must have travel item is my smashbook, although on shorter trips I tend to leave this at home. Instead I collect everything in an envelope to bring back and put in my smashbook when time permits. Check out some of the posts on my craft blog for some of the pages I've put together from past trips.
Photo Albums
Of course photos are a popular choice to take/collect and for me to include in scrapbook pages as well. Although traditionally these are printed and kept in albums. Perhaps considered a more boring choice these days? As an alternative I select a few photo's from each trip and put in my Project Life album. More on that and some examples in an upcoming post.
Magnets
From the beginning I have avidly searched out magnets, and even now that I don't have a fridge (because it is fitted) where I can stick them, I still look out for one in each new country that I visit. In fact I think I'm only missing a few.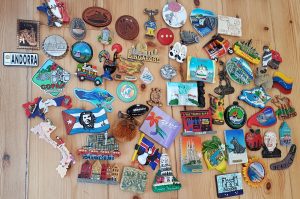 Postcards
Finally, quite a popular choice for many people, although these days less and less postcards are actually written and sent. For a time I collected postcards specifically from every destination, but now I tend to just pick up a few from time to time. Many end up in my smashbook.
So, what do you collect on your travels – anything particularly unique? Do you like to get creative/crafty like me… I'd love to see some of your ideas…