This time tomorrow I should be packed and ready to embark on yet another quick break.
Not as last minute as some of my trips this year, I actually booked this a month or so ago, when I stumbled across a special offer for 3 nights that turned out to be unavailable, but did in fact have me frantically searching for an alternative having got my hopes up of adding another country to my collection.
So, where am I off to… did I forget to mention that bit!  Lake Garda … Italy…
Oddly enough I'm actually struggling to find much in the way of information about Lake Garda on the web.  There are the usual sites advertising accommodation and packages, but there seems to be very little in the way of info to help the independent traveller, and that includes details of how to get around without hiring a car.  Worry not – I think we have the getting there from Verona airport, partly sorted.  I'm more curious to determine how we get back to Verona and enjoy the city on our last day… :)!
Of course I'm very much looking forward to putting my feet up a little after the last few weeks at work almost forcing me into an early retirement (I wish!).  Most of all I am looking forward to the walking, as I have heard the surrounding area is a walkers heaven, and I can see from the geocaching site that there are plenty of tubs to keep me occupied too.
We will be staying in Riva del Garda, at the Northern end of the lake, but I'm already promised a trip down to the South and Sermione to sample some of the ruins and reminisce over my fellow traveller's last visit there.  By my calculations she was actually on her honeymoon… but I will grill Cat over the weekend for slightly better details.
The good news is I have some new shoes to try out that I won online and which will accompany my now well worn Crocs.  My travel companion, Cat, will be glad that the Crocs will be put away at least whilst I give the new Cheekyshoes a try.  Fingers crossed the weather doesn't remain as forecast or I will be needing a new umbrella, and my trusty Crocs will have to come out to play anyway!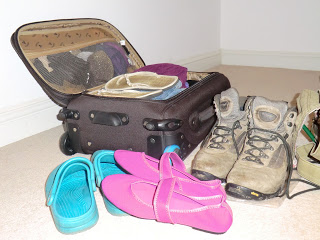 Edit: Photo added after deciding the walking boots were necessary too!
All recommendations and tips to ensure we get the most out of our trip to Lake Garda (via Verona) would be greatly appreciated, even after departure as we have 4 days to fill!