Few people have heard of it, many can't pronounce it and most have never visited it. Despite this the city of Brno has quite a lot to offer any visitor who chooses to head here as an alternative to the capital, Prague, in the Czech Republic.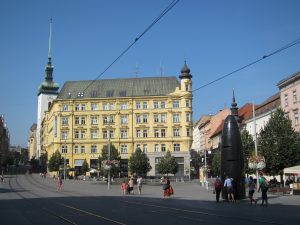 Much of the city can be covered on foot very easily and the biggest draw has to be the be the lack of tourists and the quirkiness of some of the sights.
If you are looking for a quiet European city break, that wont break the bank, Brno is the place I would recommend. This historic city is woven with Gothic and Baroque architecture and has some rather interesting places to visit underground. Recommendations to follow in another post.
Weather
The Czech Republic lies in the temperate climate zone, which tends to have mild, humid summers with occasional hot spells, and cold, cloudy and humid winters.
Good weather can be expected in late spring (early May), June and September. Whereas it's often hot in July and August which also brings the drier weather.
We visited Brno in mid September which was a lovely escape from the changeable weather back in the UK.
Language
Despite their first language being Czech, I'm pretty sure everyone we spoke to, in shops, restaurants and bars spoke very good English. There were always English speakers at the key sights and even when tours were in the local language, there were audio guides or subtitles in English.
Other languages such as German and Russian are also commonly spoken.
The Czech language closest relative is Slovak, but it's also related to other West Slavic languages and apparently has roots with Germanic languages.
We gave a few of the basics a try when we could, but couldn't help but feel welcomed by the ease of communication everywhere we went.
Currency
It's not possible to use you leftover stash of Euros here, as they have their own currency, the Koruna.
However exchange rates seemed very favourable when we visited despite the pound being down, and prices are in my view generally cheap compared to the UK and a lot of Europe.
It's straightforward to obtain currency from an ATM, much like in any European country these days, so no need to change money in advance. The great thing is that most places accept cards so purchases are convenient and you don't potentially end up with unspent cash.
Food
Czech food options consist mostly of meat (predominantly pork), potatoes and fried cheese.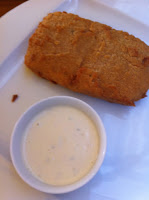 Also it seems Brno menus are influenced a little by Germany and Austria, with Sauerkrat and Snitzel appearing in many of the restaurants we tried.
I recommend the pub's as the best places for traditional Czech dishes, as they are reasonably priced and plentiful. For something quick and cheap there are numerous fast food places offering cheap and cheerful bites. Of course there are well known chains offering other familiar foods as well.
Drink
Beer drinkers will be in their element with the local brews. There are many micro breweries who produce their own range and prices are well below the equivalent in the UK.
However beer is not the only drink popular with the locals in Brno. As the capital of Moravia, which is renowned for Moravian wine, there is no shortage of opportunities to glug down some other home fermented alcoholic refreshments.
In September the young wine is available from street vendors on many squares or street corners. Look out for Burčák (pronuounced boorchaak) stalls on the streets where you can get the young Czech partially fermented wine. Known as Federweisser in Germany, bourru or vernache in France and in other places it is know as must.
The law here only permits wineries to sell Burčák from August 1st to the end of November so plan your visit to Brno around the availability of this carbonated alcoholic drink that apparently continues to ferment in your stomach.
The first St. Martin's wines every year are opened on the feast day of St. Martin, 11th November. This wine is the Czech equivalent of French Beaujolais and recommended for consumption before Easter by winemakers
St. Martin's degustation is held in a number of places and Brno has been known to offer over 100 St. Martin's wines to sample during this festival.
Finally, for the non alcoholics, Kofola on draft is well worth trying. This coca cola equivalent is extremely refreshing.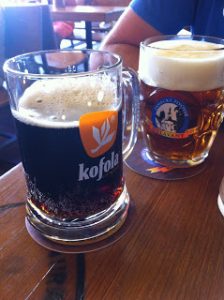 Have you been to Brno? Got any recommendations? If not yet, do put it on your bucket list, definitely different and the lack of tourists is a must experience.