Dublin is the home of Guinness and U2. But what else does this city offer, and is it possible to get away from the cliché night out in Temple Bar surrounded by stags and hens?
I've been to Dublin twice, although it seems I went another time; an old friend and my mum have since reminded me of that. I don't remember it, although perhaps it simply was an alcohol fuelled visit and has been blurred into the pile of raucous weekends away with work colleagues, during my training days, that I try to blank out.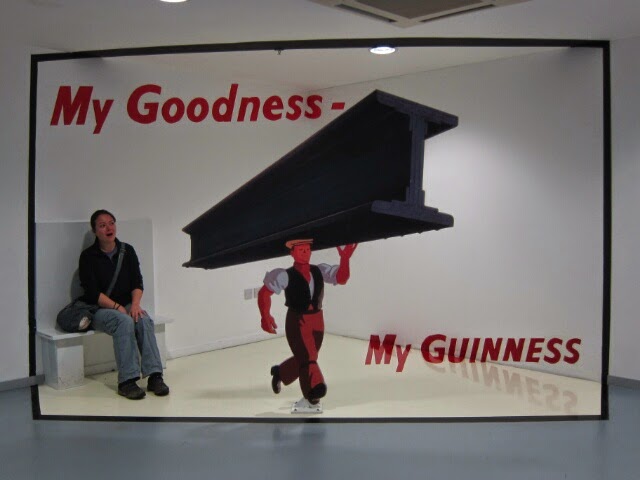 I've been here before…
It is clearly quite difficult to visit Dublin and not get absorbed by the pint swilling or partying nature of its night life. But in an effort to have a quiet weekend away, and escape the grind now that I am back in the UK, I was up for the challenge.
We enjoyed at least one beautiful day of sunshine and blue skies during a visit last weekend, but of course, Dublin is renowned for grey weather. If you are prepared, it won't get in the way of sightseeing, cultural drinking or geocaching exploits; as we found…
So, what were the highlights and what do I recommend?
1. Free walking tour – these run daily and are designed to suit any budget. They will give you a thorough overview of a city and its history, but although they're advertised as free, this is not entirely true.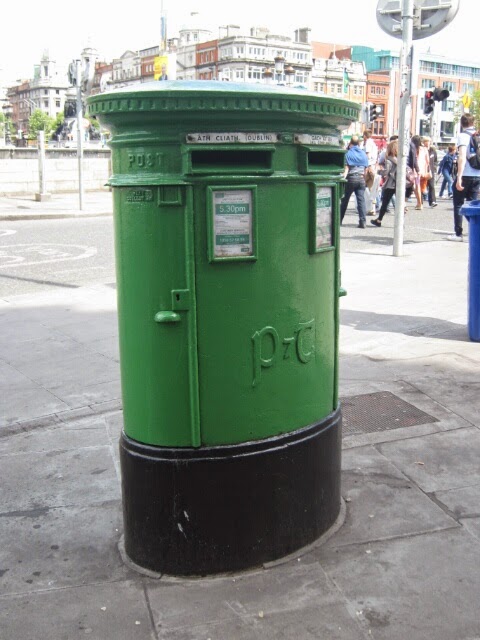 You will see lots of these
The guides are freelance, and they simply work for tips. Tip what you think it's worth and what you can afford… it will still be cheaper than a pre-arranged or ticketed tour. You can of course wander around the city for 2-3 hours with a very knowledgeable local guide, and give them nothing. But if you are able to do that I would question what you think your own time is worth.
The most popular company running these tours is Sandemans, and they appear in many cities around Europe. I often try to avoid them as I'm not a fan of how they treat their guides, but sometimes, when they are the only free tour company operating on a particular city, there is no other option. But this also tends to mean they have the best guides.
We took a tour with Sandeman's in Dublin which was really very good, our guide, Stephen, was extremely knowledgeable, humorous, enthusiastic and enjoyed gently berating the British for their contribution to Irish history.
The alternative free tour company, www.maccooletours.com, turned us away the day before as they felt there was not enough of a turn out. Literally passing off 8 people to their competitors; so as much as I wanted to support an independent company, Sandeman's came up trumps this time.
2. Temple bar – do not make the mistake that this is a landmark, it actually refers to an area of the city, although there is a pub located there of the same name that cashes in on this fact.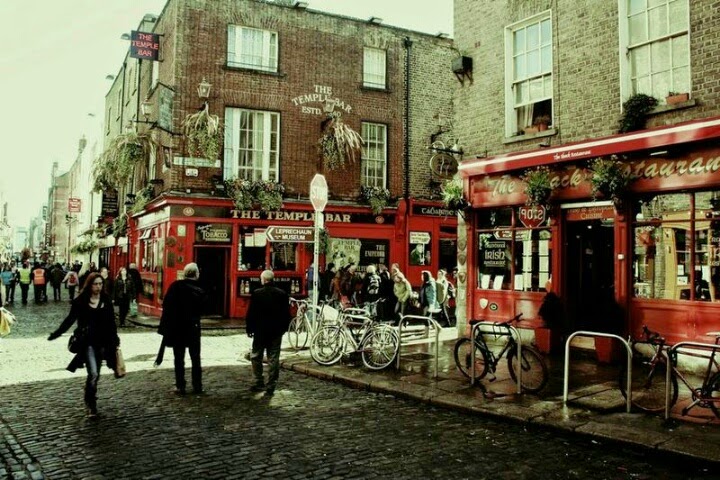 Source: Wikipedia
With its cobblestone streets, bars, cafés, art galleries and great architecture. The 'bar' part does not refer to the obvious choice of namesake, but is believed to relate to a sand bar or walkway by the river.
The main motivations for the Temple name is likely to be related to the imitation of a London Street name and the commemoration to one of the areas most prominent family's. Despite the history behind the name being a bit unclear, this is the cultural centre of Dublin, with an art-house cinema, project arts centre and a number of galleries.
Of course there are pubs and bars scattered throughout the area too, and the live bands, numerous restaurants and pub crawl scene will no doubt provide something of appeal, particularly in the evenings. Be warned, that prices are high, and you are much better off heading to some of the places around the edge of the area, which will also be less touristy and quieter, as well as save you a few Euros.
3. Trinity College – a popular tourist attraction, with a central location and strange, almost tranquil atmosphere, this is worth taking the time to see. The library and the famous Book of Kells is a stop on just about every city tour but you may find yourself feeling disappointed at how much you actually see for, what I feel is, an over inflated entry price.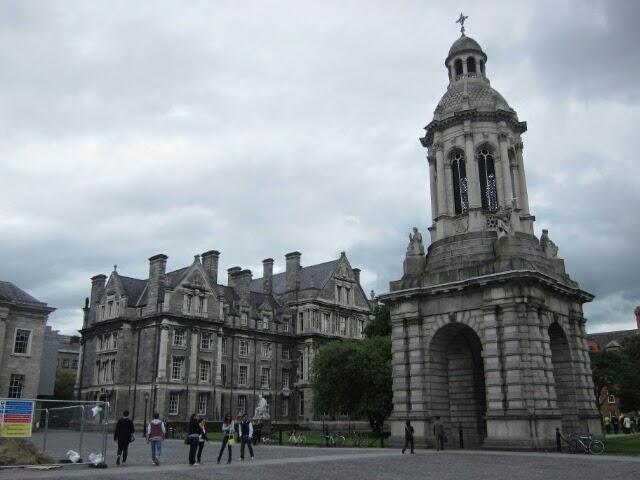 The exhibition leading up to viewing the Book of Kells is very interesting, but the book itself is obviously small and it's disappointing that you only see a double page from each of 2 of the volumes. There is more to see in the gift shop books to be honest, and they really should share more pages, perhaps on an interactive screen at the end of the tour, if not from physical copies. As for the price, there should be a more reduced rate for students, at the very least. This is an important piece of history, why charge so much to see it?
If you still want to see the book and library, and have time I would recommend taking a tour with one of the students which we saw priced at the reduced rate of €10 (advertised as €12 on their website: here) as this will give you some information about life at the university as well as some background on the library and Book of Kells, plus the price includes entrance to the book/library which is normally €9.
What's interesting and lesser known, is that the college has some great literary connections, with Oscar Wilde, Bram Stoker and Samuel Beckett having studied here.
4. Dublin Castle – the heart of Dublin's history and the site where Dublin got it's name. The black pool (in Irish, Dubh Linn) now resides under the garden on the castle grounds and is free to explore.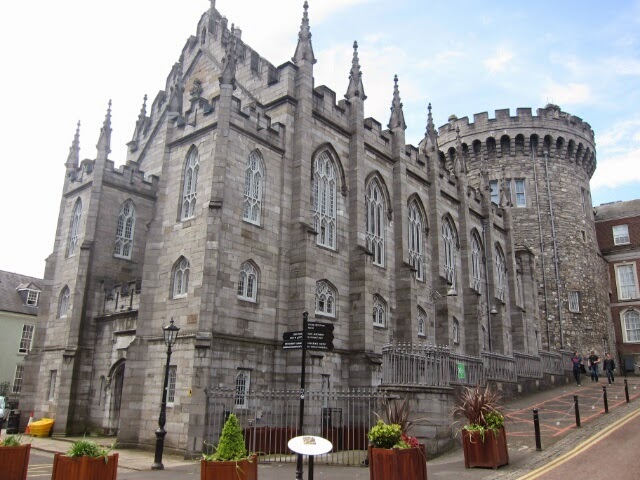 A collection of Georgian buildings arranged around a cobblestone square, an old church and a nice garden are shadowed by the sole surviving tower of the original medieval castle. The tower dates back to 1226 and was originally a prison, with some interesting stories. It is now the Garda museum but remains the most photogenic part of the castle.
The castle has had many roles during its life. Originally a defence fortification, then the royal residence and parliament office. It was more famously the seat of the British rule until 1922. The main use today is the Government Buildings and the State Apartments as well as the museums. Note that the museums are closed on Mondays.
5. Beer – it is impossible to determine the best place to enjoy your chosen beer, after all everyone has their own taste. My recommendation would be to keep away from the centre of the Temple Bar area and maybe keep a lookout for the following:
The Porterhouse – Dublin's oldest microbrewery, which only serves it's own label of beers on draught. They have an extensive list of imported beers from around the world, but most of which I didn't recognise, particularly those from the UK.
The beer here is very good and if you're not a big pint drinker, they do a taster tray of 'mini pints' that you can create with your own selection and enjoy tasting alone or share.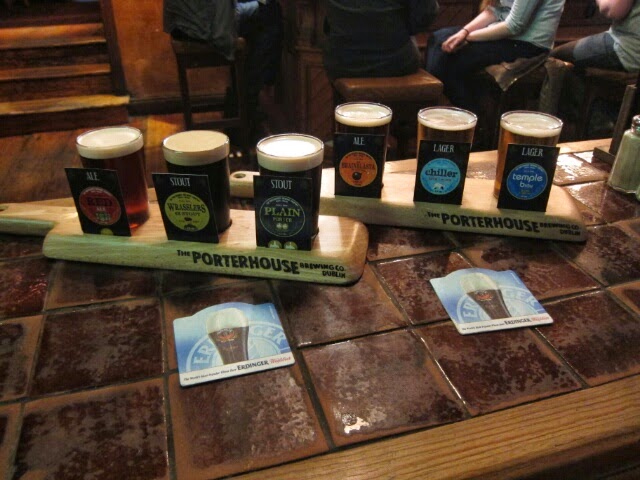 I definitely preferred the lagers to the stouts!
This is also a good spot to hang out or eat, with it's rustic interior and very reasonably priced food.
Clarence Hotel – virtually next door to the Porterhouse, this hotel is worth sticking your head into, as it's owners are somewhat famous, and I've heard the cocktails at the Octagon Bar and the afternoon teas are pretty good (note: the reviews on TripAdvisor are mixed).
Check out this video filmed on the roof of the hotel in 2000, with glimpses of the city. This was a great moment in history – the live recording of U2's Beautiful Day, about one month before the album was released, and which I remember featuring on Top of the Pops on the BBC in the UK.
There's a curious story behind how Bono and the Edge (from the band) ended up part owners of this hotel, but I cannot confirm whether it's true …
The Brazen Head – oldest pub in Ireland. It is quite a quirky place on the High Street, just off the Merchant's Quay in the city centre. You can find more information about it here. I found the food good but a little disproportionate to the size of the portions, but the table service is a nice touch.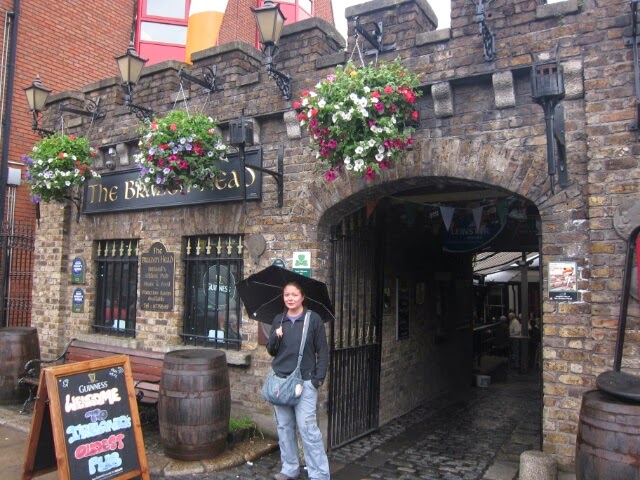 The Brazenhead
6. Jameson Distillery – an interesting alternative, or compliment to the Guinness Storehouse. This was a very pleasant surprise, particularly as I am not a whiskey drinker.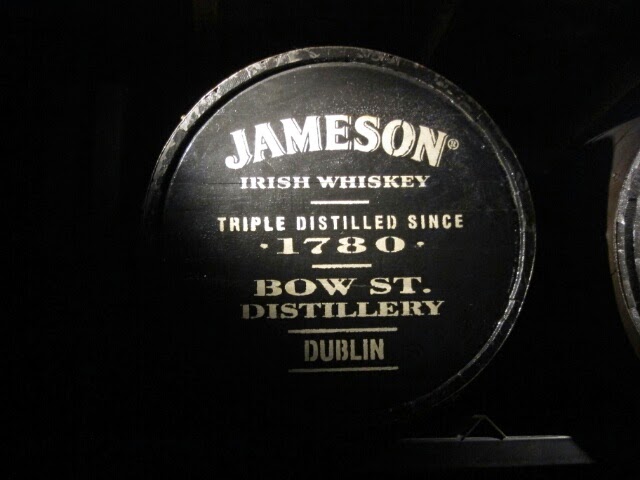 Yup, it's triple distilled…
Set in the footprints of the original distillery, the tour is guided and includes a short introductory video. It's definitely a good idea to get involved and volunteer to take part in the tutored tasting at the end, as this is normally an extra €8. This was the highlight for me as I carefully lifted each shot of whiskey to my lips and tasted it. I knew I wasn't a Jack Daniels fan already, but played along to be sure. The Scotch whiskey was definitely smokey tasting, as had been described as the main difference to the Jameson brand.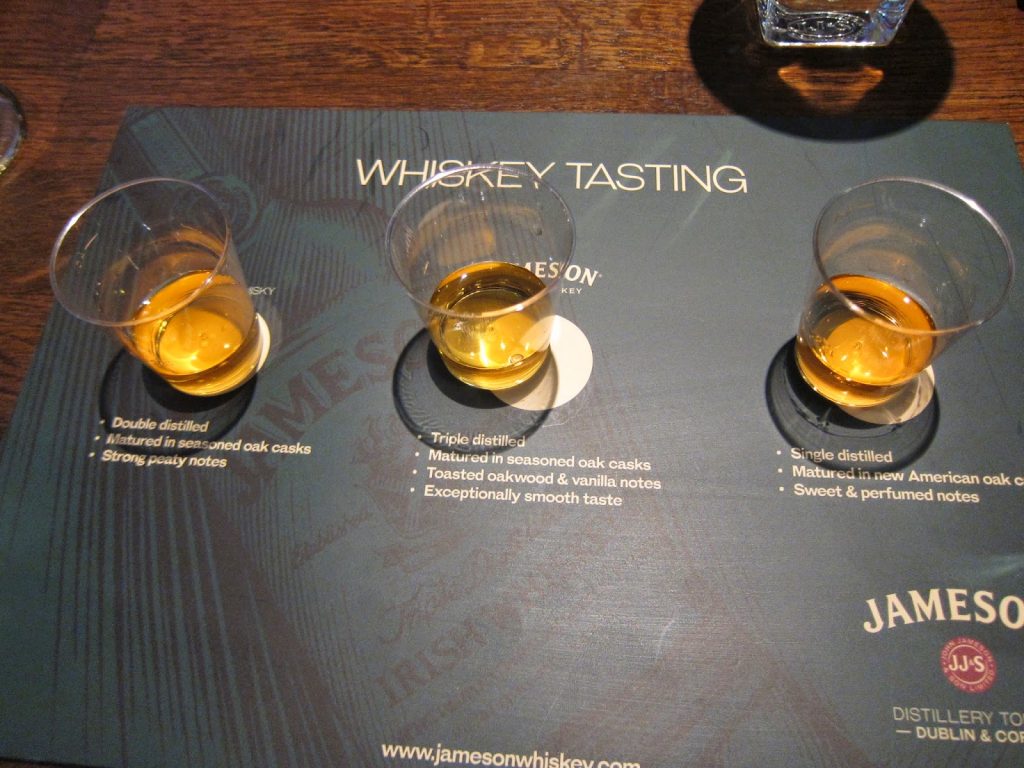 I'm on the Jameson all the way…
Maybe I was just completely taken in by the tour guide, or had one too many whiskey's, but the Jameson triple distilled whiskey was by far my favourite. I'm not suggesting I'm going to be a whiskey drinker, but mixed with ginger and lime (one of the complimentary drinks that everyone receives at the end) it was really very good.
I'm now the proud owner of a certificate declaring my tasting skills, and I will certainly be adding this tipple to my list of highlights from this visit to Dublin. It's a must do, but be warned that it get's busy and the queues can be long (currently Dublin Pass holders get free entrance).
7. Guinness Storehouse – it's where everyone goes when they visit Dublin, so is virtually impossible to avoid (also another FREE entry for Dublin Pass holders).
The tour is spread over 7 floors and is self guided, so you can take your time to learn about the process of making Guinness, the impact the factory had on Dublin, how barrels were traditionally crafted and pose in a Guinness advert.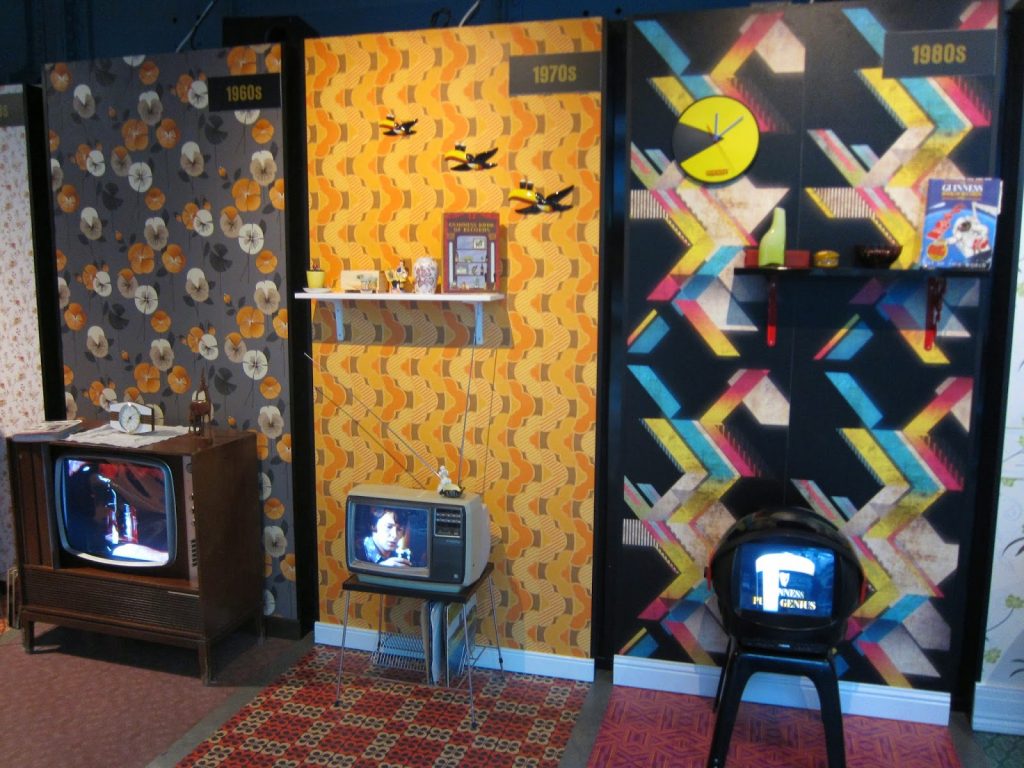 Guinness adverts through the decades
It needs a couple of hours if you take part in the tasting session as well as experiencing the Academy, where you learn to pull a pint. The Gravity bar at the top is certainly a good place to enjoy your complimentary pint of black stuff, with great views, but the restaurant and other bars scattered throughout the building are a good spot to rest as well.
It is a really interesting, informative and fun experience, however, to be completely honest, the fact that it feels like Willy Wonka's factory and that you barely get a glimpse of the actual factory out the window, was a bit disappointing.
8. Writers – Dublin was once the home of some famous writers. The Writers Museum features some of those who have made an important contribution to Irish or international literature or, on a local level, to the literature of Dublin.
Scattered around the city are many plaques which mark the former homes of many of the writers who lived here. Look out for them, it's probably going to be more enthralling than a museum: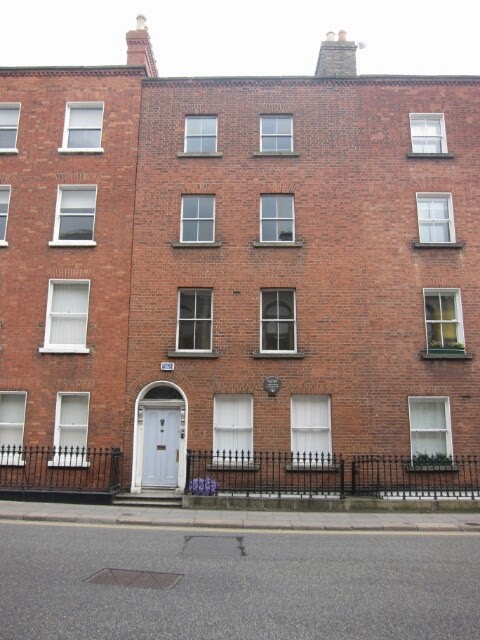 Bram Stoker stayed here
Abraham 'Bram' Stoker – best known for his Gothic novel Dracula, he lived in Dublin until he moved to London;
Roddy Doyle – who wrote the Commitments, a tale of a group of unemployed people from North Dublin who start a soul band. Now a movie and a musical;
Jonathan Swift – the writer of Gulliver's Travels who was also less famously the dean of St Patrick's Cathedral, Dublin;
Oscar Wilde – writer and Poet, his famous play The Importance of Being Earnest, new production will be debuting in London's West End next year.
9. Phoenix park – is known as one of the largest city parks in Europe. With a visitor centre, cafe, and tea rooms it's a great location for a picnic, assuming the rain holds off. With events and activities throughout the year there is always a reason to spend some time here, plus there's a plethora of geocaches.
10. Crypts at St Michan's church – if you want to get up close and personal with the mummified remains of some of Dublin's influential families, this is the place to go.  The dry atmosphere underground, coupled with the natural methane produced below the crypts has caused the mummification and preservation of numerous bodies and coffins.
I found it quite dry and claustophobic, but well worth getting spooked a little to see this for yourself. The guide here loves to tell a story and relishes the truth a little, but he was also keen to let us touch the remains of a 'Crusader' which is meant to bring you good luck. I'm sure it was just a gimmick, but I did it anyway, as it seems unlikely that this would be possible in many other places.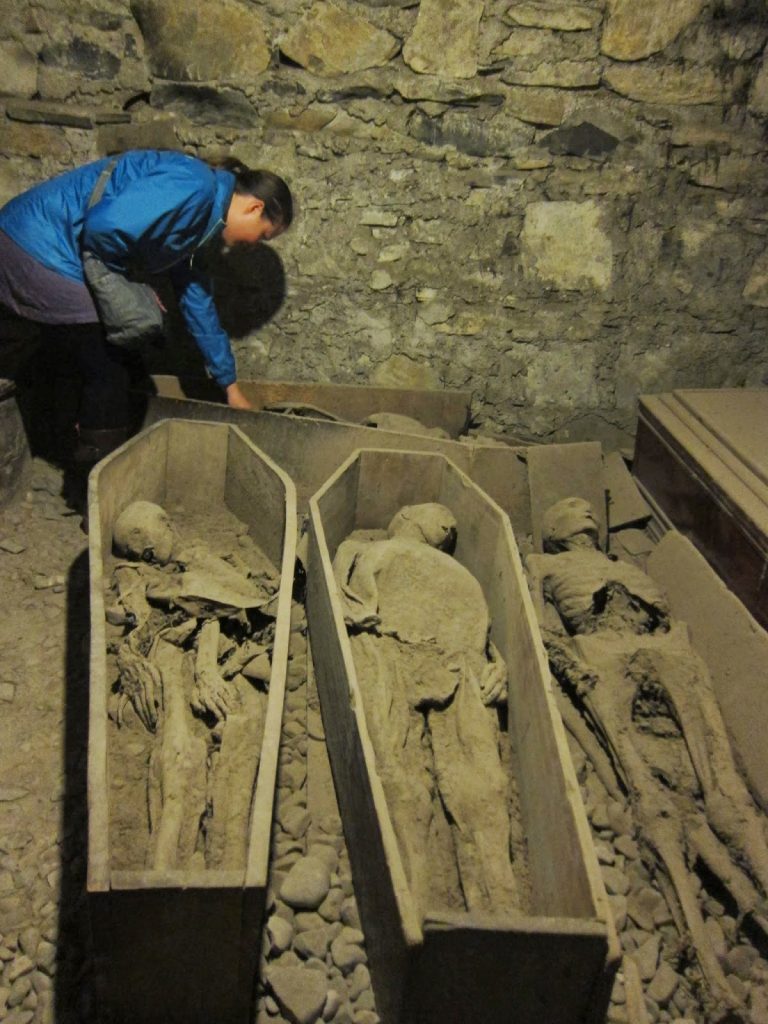 Even the 'Crocs' got a look in 😉
Getting around
We travelled everywhere around the city on foot over the 3 days we were there, but I have taken the hop on and off tour bus on a previous visit, which I found really helped cover off a lot at speed. If you book online here there's currently a 15% discount being offered.
The Dublin pass is also quite a good deal, depending on where you want to visit, and is also offering 15% off during May if you book online here. The great thing about this is that you get discounted entry to a number of attractions and a number of them are included for FREE.
We found that getting to/from the airport was fairly straight forward using the local Dublin Bus route, which is significantly cheaper than the Airlink bus, although takes slightly longer.