As I packed away my things and headed out the door, I felt a surge of freedom rush through me. It had been a very long week and finally it was Friday!
Not wanting the hassle of needing to plan ahead, the ability to just jump in the car or catch a train a short distance out of London was the main appeal of my latest escape.
To continue with the theme of unusual experiences, I've been trying out some unusual accommodation. With a choice of tree houses, windmills and even a prison cell, the first: Surrey Hills Yurts offers something a little bit different.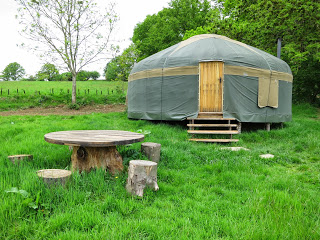 This Eco friendly camp site, doesn't cater for those that like to rough it. In fact the little details make it well above average when it comes to luxury. Glamping doesn't get much better than this in my experience.
As we passed through Dorking and the nearby villages, I was reminded of just how quick and easy it can be to get out of the city and enjoy the country life.
We had cheated a bit by bringing the car, as we could have just jumped on the train and taken advantage of our hosts offer to pick us up from the station. Or there's the horse and carriage option, which would have been something even more unusual in this day and age.
Close to the Surrey Hills Yurts camp site are numerous walks, and  there are good selection of pubs in the nearby villages.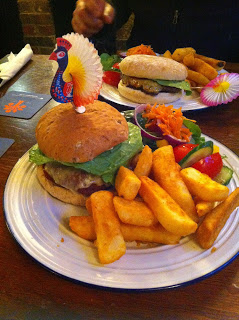 If you don't want to cook, head to one of the nearby pubs
If you have a bike, the area can be explored even further, but alternatively you can hire one.
The secluded location appeals to walkers and those who just want to get away from it all, without having to go too far.
Each night you can retire to your luxury ash yurt, enjoy toasting marshmallows round a camp fire or just crash out on the beautifully hand made furniture whilst watching the stars.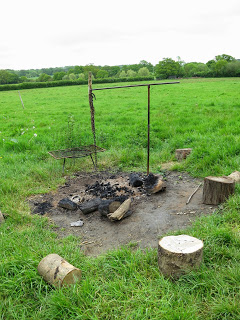 Perfect for marshmallow toasting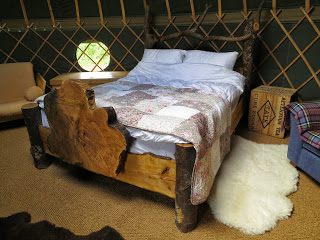 It was as comfy as it looks :)!
What I particularly liked about staying here, was waking to what felt like the middle of nowhere, and finding everything you need at your disposal.
There is no shortage of creature comforts with a pretty impressive kitchen, that has everything you could possibly need to feel at home, including a great selection of books and board games. The site is also equipped with well designed rustic facilities, complete with luxurious (environmentally friendly) toiletries and steaming hot water.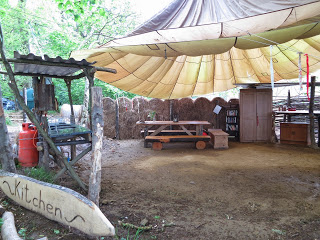 Well equipped kitchen facilities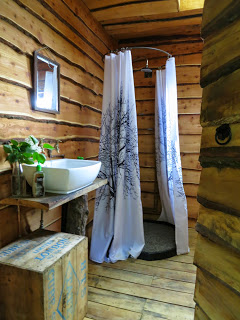 Eco friendly yet steaming hot
For animal lovers, the pig pen is a great place to visit and make new friends, as you feed them, and if you're lucky the owners dog Bob might stop by to say hello.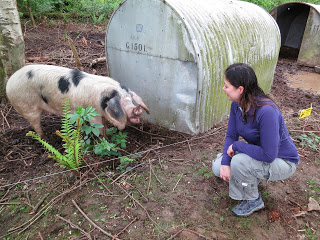 The hosts, Joanna and David,  are as available or discreet as you need them to be and made us feel very welcome.
So, if you're in need of that quick getaway, want to get close to nature, but don't necessarily want to rough it, and also want to enjoy something a little different and unusual, then this might be the place for you. Whether alone, as a couple, family or group of friends, I can highly recommend booking a stay at Surrey Hills Yurts.
Check out their website at http://www.surreyhillsyurts.co.uk for more info or to book your stay.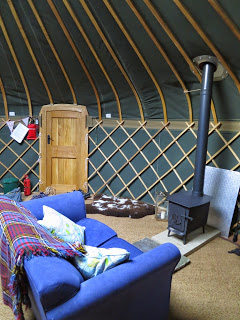 It's home from home
If you're looking for other unusual accommodation ideas in the UK, maybe a tree house or windmill, then quirky accommodation is a good site with a variety of options. If you're travelling overseas you might find something quirky with Airbnb.
For other unusual things to do and experience in the UK, check out my series of posts 'Fulfil your travel bug with: something unusual' and keep checking back or follow me on Facebook or Twitter to see what I get up to.