I perhaps recently had my fill of archaeological and religious opulence and needed a change of scenery.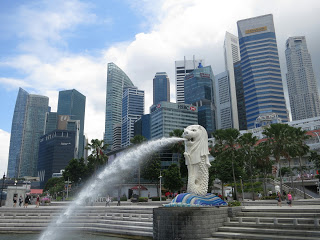 Escaping to Singapore was certainly a good way to overcome that. We've been here 2 weeks now and haven't eased up on the sightseeing. I have found that the architecture and temples here are some what more grand, and the levels of cleanliness almost superior. Singapore certainly shows Asia in a different light, and one that I could get used to.
It also lives up to it's name 'the lion city' as it is roaring with things to do. My cousin, who lives here, seemed surprised we thought that, but I guess living somewhere is not the same as visiting, and I used to say the same about my own country.
Maybe to fully appreciate it all, I would have to live here for a time, but for now I'm getting around and working my way through the sights; whilst hoping for better weather (it's been quite rainy the last few days) and maybe a chance to catch up with friends if time.
In other news, and on the subject of getting around…
I have recently been accepted to blog for an online magazine, so there is now another place to find me sharing my travel experiences. Hopefully this will increase the interest in my ramblings and maybe even generate some other writing opportunities. Fingers crossed.
If you are interested, my weekly contributions can be found over on the Kiss from the World site. I will of course endeavour to continue to update my site here with 'where I am' as opposed to 'where I have been' with periodic interjections about travel in general. As always, I would greatly appreciate any suggestions and recommendations that you have along the way.
The latest on my Travelpod blog now includes Melaka (in Malaysia), and as the title suggests, I saved the best for last.
Finally, my other news: I have had a piece published in an anthology (eBook). Totally unexpected, particularly as it was the result of a competition entry over a year ago.
Consisting of a slimmed down version of an adventure that originally exceeded much more than 500 words (the entry limit), I'm still proud to see my work in print. You can purchase the anthology from Amazon UK (£0.70), US ($0.99) and get your hands on a stack of other short travel stories at the same time. If that doesn't sway you, perhaps the fact that all income will go to charity might help.