I've been meaning to share this post for some time, but like Wikivoyage, it seems to get forgotten and pushed lower down the list.
So, have you used it? Or better still, have you contributed? Or are you, like many, yet to be clued up on what I'm referring to?
Officially launched in January 2013, the free online resource from the Wikimedia Foundation, Wikivoyage initially attracted a bit of attention, although most likely because it was free.
However, despite this fact, and being advertisement free as well, I haven't met a single person on my travels who actually uses Wikivoyage.
Post updated: December 2018 – this seems to be the same…
Many travellers share my view that carrying a bulky guidebook is a thing of the past. Electronic information seems to be the way forward. However, electronic downloads can become expensive, and become out of date quickly. Wikivoyage, in theory, will solve those frustrations and not cost you a penny.
I'm hoping that by writing about it, and challenging people to give it a try, we might contribute to increasing its shelf life.
As a traveller, whatever your destination, you can benefit too…
Wikivoyage is written by the users for the users, meaning the information is likely to be more up to date than the latest guide book.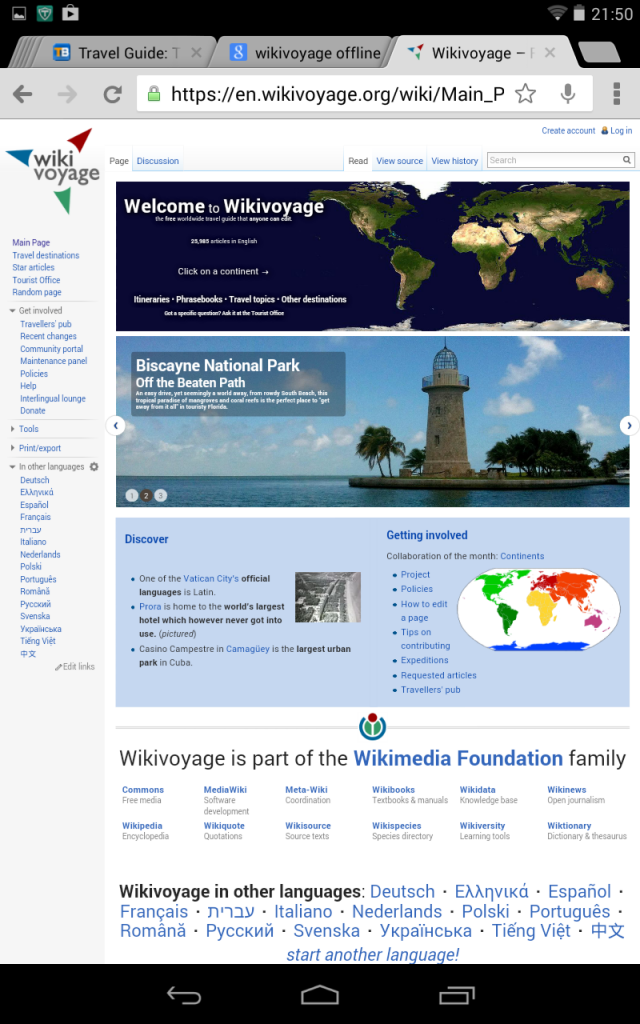 But is it really that useful. Here's three reasons why I think it is, or will be:
You can create your own offline guidebook in one of
9

20 languages

The English site has the most articles, and much of the content was originally pulled from Wikitravel (following a not very nice legal battle).

Users are able to create a book for free by selecting pages which can then be downloaded to print or saved to an e-reading device.

Ideal for a one-off visit, or to save space and avoid carrying books. There is a useful list of Apps available – included here. I personally quite like the Android App or often use Pocket.
The info is up to date and very detailed
It can vary from location to location and is reliant on the users who write and edit the information, but there is often a lot more information than the average guidebook. Find hotels, restaurants and other useful information such as details of exactly where to catch the bus from. All the info is updated/shared by travellers.
As I say, the quality can vary, but as the data can be updated easily; if more people contribute to the changes, it will improve.
It could benefit from more input by travellers and travel bloggers
As mentioned, despite the ongoing collaboration of global volunteers and users, it isn't being used enough. Travellers and bloggers have a wealth of knowledge that they could easily share via this media, and as a result they will also benefit from the up to date information.
I challenge you to use it, and then update a page for your next destination.
Can you do that – I'd love to hear how you get on?
Unsure where to start… it's as easy as 1, 2, 3:
1. Download the page for your next destination (or destinations).
This can be done by using an App such as Wikivoyage (for Android users). Or one of the other offline saving options here. I often just use Pocket to save the relevant page. Note: if you do this, you will need to open up each section fully on the web page so that you can see all the content before saving it.
The easiest way to find a specific destination page is to search on the web for "[destination name] wikivoyage" or of course go the Wikivoyage main page and enter your destination in the search box.
2. Refer to the information whilst at that destination. Make note of any changes or additions that you feel would be useful.

3. Sign up and amend the page online after your visit.
Changes will be approved by a moderator, and formatting will be tidied up if needed.
There is further information available on the Wikivoyage site here.
Don't stop there, share your pages with friends and fellow travellers, and get more people using this valuable resource…