As Harry Potter fans prepare to descend on the British capital over the next few months for the upcoming Harry Potter and the Cursed Child play, that previews this month, they may also find they are spoilt for choice in terms of other Potter themed things to do.
The Warner Brother's Studio Tour of course is an absolute must do. But there are also numerous filming locations in and around London that, with a little research, you could easily visit independently. Or you could of course learn a thing or two extra and take part in one of the many Harry Potter tours available.
If you are trying to decide from the many different Harry Potter themed tours, here's a quick round-up of some of the options and what to expect:
They only do Harry Potter tours, offering something a little bit different to many of the other companies; so they have certainly done their homework. Their guides are known to compete with each other on their Harry Potter knowledge, and our guide, Joseph Lockhart claimed to have read one of the books 10 times. And I can confirm he really knows his stuff.
In fact this tour was really good fun. Despite covering a lot of the same film locations as other available tours, the content was made really interesting with some great insights into JK Rowling's motivations for certain references throughout the books. There were a couple of locations   that were a little different to other tours and I learnt quite a bit that I didn't know already.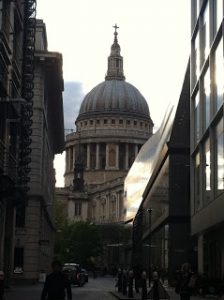 What I really enjoyed about this tour is that there were a few really fun moments which had me laughing out loud, like a child… and this particularly stood out to me when comparing to some of the other tours that are available.
If you're a die hard Potter fan then the guides will really give you a run for your money… their knowledge is outstanding!
Quick info
Price: £14 (updated June 2018)
No of pax: varies
Length of tour: 2.5 hours
Covers: key spots
Most likely to appeal to: those who want to learn that little bit more than just tick off the locations. Die hard fans will enjoy the detail provided by the guides.
Brit Movie Tours specialise in television and movie themed tours in and around the city.
They have a Harry Potter walking tour, which is fairly comparable to Muggletours Tours' offering, but have also adapted this into a bus tour, which allows them to cover a lot more locations than is possible on foot.  As well as having the added benefit of staying dry when the weather turns. They are the only one of the tours here that includes Lambeth bridge and Kings Cross station (Knight bus and platform 9 34).
Being on a bus has the added advantage of being able to show the relevant movie clips on the way round, and our guide, Michael, seemed to time these perfectly between destinations and commentary. Whether that was luck or judgement based on his knowledge of the ever increasing traffic spots, it really did seem to work well.
The movie clips shown whilst in the bus, brought the locations to life, more than just with the stills, which were also on hand at the locations where we disembarked to take a closer look.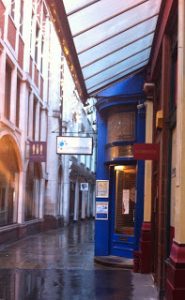 The detail picked out of the film during the commentary was really interesting and the interjection of historical information along the route, as well as fitting this with the Harry Potter theme, was a refreshing mix.
Quick info
Price: £28 (updated June 2018)
No of pax: approx 30
Length of tour: 2.5-3 hours
Covers: key spots
Most likely to appeal to: those that prefer to avoid walking or are less familiar with the film's
Of course, a London Harry Potter experience wouldn't be complete without a visit to the Warner Brother  Studios.
With 2016 being the 15th anniversary of Harry Potter and the Philosopher's Stone there are a number of special features taking place throughout the year.
Therefore it's bound to be extra busy over the next few months, so why not avoid the crowds a little and take a unique guided tour with City Wonders.
You will be accompanied on the train directly to the Warner Bros. Studio Tour and on arrival will have a dedicated Studio Tour guide. There's an opportunity to enjoy a frothy Butterbeer ahead of the crowds. You will also have the headset and access that an ordinary entrance ticket provides… it's just that little bit more exclusive.
Quick info
Price: From £139 (updated June 2018)
No of pax:
Length of tour: 5 hours (including travel time)
Covers: more than the standard studio tour
Most likely to appeal to: those that want to avoid the crowds and hassle of visiting independently
Update – June 2018, this tour is unfortunately no longer available. However if you're specfically interested in this I can put you in touch with one of the London guide's who previously did this tour and who may be available to do a private tour.
Fans of both the modern series of Doctor Who and the Harry Potter movies will be overwhelmed by the similarity of the locations used in both.
The special walking tours run by Andrew and Jess are something very different and definitely a fun way to spend a couple of hours. The competitive 'quiz' environment created by the guides makes this tour great fun for fans. Depending on whether you're more into Doctor Who or Harry Potter… you get to choose whether you join Dumbledore's Army or UNIT.
The tour only runs once a month, but true fans of either Harry Potter or Dr. Who, or both, will definitely enjoy this one.
Quick info
Price: £11
No of pax: varies
Length of tour: 2 hours
Covers: a balanced mix of info for a number of locations
Most likely to appeal to: those who like to get competitive. Or those with non-magical significant others.
If you're on a budget, or your trip to the Warner Brother's Studio's plus souvenirs and tickets to the theatre have left you a little poor, then I can also recommend Andrew's company: Free London Walking Tours, whose tour is based on tips, so you can pay what you can afford or think it's worth. Edit: Sadly this tour is no longer available.
Have you been on any of these tours? It would be interesting to hear what you thought of them and any others too.
Now I just have to get my hands on some Theatre tickets and my Harry Potter experience list will be almost complete.