With a lifetime of adventure, south-east Asia is way up on my recommendations list. At this time of year as we start preparing to scrape ice off our windscreens before work, it's the palm fringed islands that I would suggest if you are planning an escape.
Throughout south-east Asia many islands are becoming so popular they are falling foul of over development and this sadly applies to some of the smaller, lesser known islands too.
Backpackers can still find budget accommodation, but more and more islands are becoming less and less affordable, unless you are looking a little more towards the top end and often all inclusive options.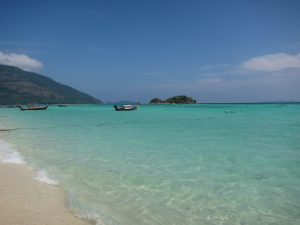 When planning an island visit I recommend you consider some of my favourites, before they become over developed and unrecognisable.
1 Koh Lipe, Thailand
This tiny island, located some 60 kilometres off the Thai mainland, which was once inhabited by native sea gypsies, is now served by speedboat from both Pak Barra (Thai mainland, all year round) and Langkawi (Malaysia, high season only) as well as being on the island route.
Lipe was originally listed in the Lonely Planet with just three places to stay. Unsurprisingly these and the the bush trail across the island is now a flurry of activity as travellers descend into the multitude of resorts.
I always hear other travellers speak of Koh Lipe with admiration, and I loved it there.
When we stayed there in 2013 (see 'An 'almost' paradise island', we struggled to find lodgings, opting for the very rustic Viewpoint Resort, almost hidden from existence. I'm not sure it will be there for much longer.
The 7/11 situated on the main Walking Street had stolen the remote feel of this island location from what it once was. In December 2016 a second store was opened. There was one ATM when we were there, and now there are apparently several on the island.
Fortunately, development of Lipe's neighbouring islands has been limited. In 2010 a privately owned resort was built illegally on Koh Adang and it was positive to see that the enforcement of laws against national park land had restricted any further encroachment.
Elsewhere, the untouched beaches and jungle are just a boat ride away and well worth exploring. Lipe is part of the Adang Archipelago, which is a cluster of about 10 uninhabited islands in which Koh Lipe is the only inhabited one.
2. Koh Hin Ngam, Thailand
Not strictly an island escape, as you can't actually stay there, only visit. However, if you are visiting Koh Lipe you really must plan a trip to the supposedly cursed island of Koh Hin Ngam. Perhaps even head out on an island hopping boat trip around the Archipelago and include this obscure little island on your stop off places.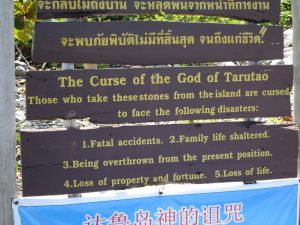 You will need to charter a boat or take an arranged tour as there is no accommodation on this island or any of the others nearby. Most  importantly, when visiting, the beautifully polished stones should not be removed.
I've heard some crazy stories about people having to return stones to this island following the curse inflicted on those that have taken them away. Avoid the curse and instead, build a tower of rocks that doesn't fall until you step off the island and it is apparently good luck.
3. Perhentian islands, Malaysia
Given the restriction on building here, this little island might last a while longer than some of the others, but only if visitors leave the stones alone.
Malaysian islands have a very different vibe to the Thai islands I have visited. There is a focus on food on many of them, and one of my favourites, Perhentian Kecil had a lovely rustic atmosphere avoiding big hotels that exist on other Malaysian islands such as Lankawi and Penang.
For something a little bit exclusive, Perhentian Besar is accessible by boat from Perhentian Kecil, and here you can visit the turtle project or volunteer (as we did – see 'turtle conservation in Malaysia and how to help'), which is run by the all inclusive Bubbles Resort.As a backpacker you will love it here, but visit while you can as there are already plans underway. Currently only accessible by speed boat from Kuala Besut, it can be a bumpy journey getting there.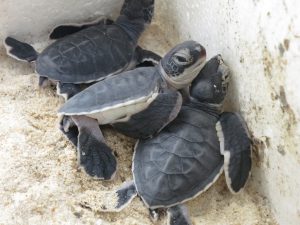 There are some interesting hikes around the island but not much else here, so Perhentian Kecil is definitely better for a base.
4. Railay, Thailand
Close to Ao Nang in Krabi Province, Railay is not actually an island, but a peninsular, again only accessible by boat. So I've had to give it a special mention, in this post, as it's one of my favourite remote places.
Seasonal with climbers this peninsular is only currently accessible by long tail boat.
It's charm includes the difficulty getting there, particularly out of season, when we chose to visit.
Phra Nang beach is stunning and a great spot to relax or climb. The adventurous should take a hike (climb) to the lagoon where the turquoise waters are sheltered from the tourists who prefer to take it easy. This is not a climb for the faint hearted – read more about it in my post 'Beautiful, even in the mud', you will not be disappointed.I'm sure it won't be long before the high speed boats get introduced and the remoteness of this beautiful spot will be lost.
I can totally see Railay becoming overrun with holiday makers in a few years as the likes of Phi Phi and Samui are overpopulated.
5. Tioman, Malaysia
This island would not have come up on my list if it hadn't been for the turtle project that we volunteered at on the East of the island.
Another fairly remote place only accessible by ferry from Mersing, just off the East coast of the Malaysian peninsula.
The majority of places to stay on Tioman are situated in the main village, Tekek, with its duty free shops and the larger resorts. The small fishing village of Juara, is scattered along the East coast, and is much more my kind of place. The accommodation here is often rustic, and access to alcohol, let alone duty free is quite restricted, so stock up in Tekek before heading cross island.
The highlight for me was the Juara Turtle project where you can visit and learn about the endangered species or volunteer and get involved in turtle talks, egg collection and whatever is the latest project needs. I really enjoyed my time here and could have stayed longer, read more about the experience in my post 'Volunteer life at JTP'.
There are many other small islands in south-east Asia, I'd love to hear your recommendations, particularly of where to head at this time of year?
I'm planning a slightly different island trip, to Hong Kong and Taiwan, so watch this space and check back for more on my upcoming travels.