Thai massage is an intense and sometimes painful experience, which somehow left me feeling energized. It's a bit like yoga, but more like someone doing yoga to you, "Yoga for lazy people," I read somewhere, and which sums it up nicely.
There are several variants of Thai massage, although only 2 main streams: the 'northern' form is traditionally slower and concentrates on energy lines with the obligatory pressing, squeezing, rolling, twisting, stretching, snapping and chopping. The 'southern' form is better known as the Wat Pho style and is normally rougher, but whether you can actually tell the difference I am unsure?
A traditional Thai massage is performed on the floor (on a mat), so you can easily move the client and yourself (the masseuse) into the required positions. Normally starting with lying on the back an hour long massage will cover a foot/leg, arm/hand massage, and a shoulder/neck and back massage.
The masseuse uses their whole body, although if your eyes are closed you would have no idea whether it's palms, thumbs, elbows or feet pummelling you!
What interested me in learning Thai massage over and above the oil massage which is also taught here in Thailand, is that it is a method of working with a person's energy, similar to Reiki, and bringing awareness to one point at a time. There are similarities to other types of massage, particularly, as it apparently originated in India, to Indian Ayurvedic; although the contrast of being completely clothed as opposed to stark naked is certainly something to note.
Sidenote: I had a very bizarre experience whilst in India a few years ago, following a Ayurvedic massage by 2 Indian ladies. It wasn't so much the fact that I was massaged whilst naked, by both of them whilst laying on my front and then back
and covered head to toe in oil, although if the truth be told I wasn't expecting this when I signed up for it. It was the moment afterwards when I stood up and walked away to leave, and instead found myself in a comedy style stack with legs flying and arms flapping as I slipped and fell, flat on my back, I blame the fact I was still caked in oil!
So, Thai massage… originally a very spiritual practice in Thailand, being taught and practiced in temples. Now it seems very non-spiritual, with places all over the place, including at stalls alongside the market, as well as seeming to be a
social experience, with multiple people in one room, and the (often female) masseuse's gossiping.
With a couple of weeks in Chiang Mai, I signed up for a course at Jera Massage. Initially I wasn't too sure about this place, as they had no website and the prices were much cheaper than any of the other massage schools that I found. However, it turned out I was the only student for the first few days, so had private tuition from 2 teachers and also had the opportunity to learn more about them.
Later more students arrived, and courses were running everyday and very popular.
Update: Best way to contact them, via their Facebook page here.
My teachers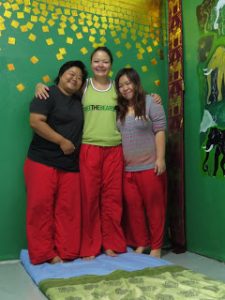 A – she has not spent her entire life giving massages, but studied IT and trained/worked for a decade or so before going to a temple to learn the massage trade. She has been running the business for 10 years, speaks decent English and has a laid back attitude. Her experience is evident from her teaching which is extremely thorough and very patient.
Wi – is from the same village as A, they grew up as friends. She studied Marketing at university and learnt massage after deciding to take voluntary redundancy from her previous employment. She has been teaching for 5 years and I found her extremely patient as well, but also fun and a great cook.
The course
I would watch one of the experts first whilst taking notes, then the moves were performed on me so I could feel the intended effects, and finally I would practice.
It was a little overwhelming at first due to the abbreviations used throughout the book but my enthusiasm soon increased as I became more confident with the positions of my hands and I was reminded less and less about "walking" or "softer" by each of my teachers.
I learnt about the energy lines of the body ("sen") and some basic pressure points and by the end of day 3 of 5 was feeling less exhausted physically and desperate to learn which sequence of moves constituted a full body massage and whether I could remember them without falling asleep in the 30 degree heat.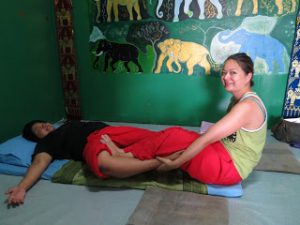 Having now completed the 5 day course, my first full body 1 hour massage took slightly less than the average (that I am told is 1.5 hrs) so I'm hoping with some practice I will soon be on the path to being able to complete a treatment without the book by my side ;).
I want to thank both A and Wi for such a great course and spending the time sharing with me some of the highlights of my time in Chiang Mai so far.
If you're just looking for a good place for a massage…
I had my first  decent Thai massage at the women's prison here in Chiang Mai, just a few days after I arrived. The inmates (not hardened criminals by any means) learn the art of Thai massage as part of their rehabilitation and those working here are due for release within 6 months. A percentage of the money from the treatments goes directly to the prisoners to save for when they are released, so although perhaps not an entirely 'charitable' cause it's one that is a bit different, plus the massage experience was good and I would definitely go back. Note that the restaurant next door is very reasonably priced, and a great place to eat whilst waiting for your massage slot.