Albania's capital Tirana, should definitely be on your list when considering a city break as it ticks most of the boxes and is cheap.
The infrastructure is still being developed, but with its quirky buildings amidst the remnants of the communist regime, there's little indication of its grey past.
It is a very pleasant city with plenty of cultural experiences and a buzz that doesn't exist anywhere else in Albania.
In the Summer months temperatures can reach 30 degrees. So, with the beach being an easy drive away, and an expanse of sand, there's the potential to couple a visit to Tirana with a lot more.
The key sights in Tirana are generally accessible all year round, so here's some of my recommendations.
Walking Tour
Always the best way to see any city and gather your bearings. A walking tour of the city is a must. We wandered on foot with a local, picking through the sights whilst getting a feel for life here.
I would recommend a free walking tour as the guides work for tips and this will suit any budget. Make sure to ask for recommendations for places to eat as well as things you like to do, as the best advice will depend on the season of your visit.
Skenderbej Square
Having seen over 100 years of protests and celebrations, this is a good place to start for first time visitors to Tirana. It's been witness to some of the nation's happiest and most tragic events.
It can get pretty hot here in the heat with so much open space without shade, but you can always duck into the National Museum of History (which has 3 floors of exhibits) and cool off.
Make sure you also stop by the Clock Tower and Et'hem Bey Mosque which remain from the Austro-Hungarian times.
Bunkers
Bunkers can be found everywhere in Albania. Many have been re-purposed but plenty remain unused.
Bunk'Art
It's been more than 25 years since the collapse of the communist regime, but there is a great deal of history to learn about. The larger bunkers in the city of Tirana have been renovated and opened to the public, to share some of what went on. Make sure you pick one to visit whilst you're there.
This huge bunker built in the outskirts of the capital mixes contemporary art with history exhibitions. With just a third of the space being utilised by the museum, it will require a couple of hours to visit.
A visit here works well with the cable car trip to Mount Dajti (see below) if you want to make a day of it.The rooms where the government and its officials would have stayed are displayed as they were needed at that time, but they were never actually used. As you wander through the many rooms and displays, it feels a little creepy and unnerving, especially with the endless signs indicating not to panic if the electricity goes off. Bring something warm to wear as it's cold down there.
Bunk'Art2
The biggest bunker in the city centre, off Skanderbeg Square, this is well presented, and not cold like its big brother Bunk'Art. I actually found it hot and stuffy inside but it is significantly smaller.
The history of the gendarmerie is displayed in the first half of the rooms, but I personally felt it went on a bit too long. The second section is much better and includes an account of the secret police activities from 1945 to 1991. Although interesting, the exhibits seem to gloss over the detail, but it's a good place to understand the basics.
The central location makes this convenient to visit and ideal if you are limited on time, but if time permits I would recommend Bunk'Art and the House of Leaves instead.
House of Leaves
Being the centre of surveillance in the past, this museum which opened in 2017, features some interesting exhibits. The items displayed here focus on the totalitarian control and its presence everywhere in Albania during that time. There is also a little information covering the other uses of the building.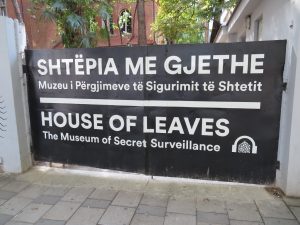 A visit here really opens your eyes to what went on, and I would highly recommend including this on your itinerary as it's not a big place and won't take long. Ask for the guided tour, although everything is in English.
The Pyramid
This derelict building, which is considered an eye sore, has a love hate relationship with the Albanians. Basically Enver (the last dictator) Hoxha's disintegrating mausoleum, but it stands for so much more.
Read up on it, stop by and see it, take pictures and maybe even climb it. This landmark may not remain, as there are some plans to develop the area, so expect things to change in the years to come.
Mount Dajti
I've lost count of the number of cities which I've visited that have a cable car to a great view. Tirana is no exception, with a trip up to Mount Dajti on the longest cable car in the Balkans (apparently). The view is good and it's quite a nice place to spend an hour or two.
From the drop of point it's about 10 minutes walk uphill through an almost residential area.To get there take a bus from near to the Et'hem Bey Mosque in the center of town. There is no bus station but you will see people waiting around, so just ask and confirm with the driver which bus and where to get off.
You can take a taxi if you want the easy option.
Have you been to Tirana, got other recommendations. Please share them.
As for the rest of the country, well, it has so much to offer, whatever your interests. Check out my posts: