Well, I'm now in Thailand, having spent the best part of 2 weeks in Lao.  You may already know what I've been up to, if you have been following along on my Travelblog as I've been periodically keeping it up to date as best I can.
The tour was reasonably fast paced and there was so much to cram in, coupled with numerous days spent travelling. Thankfully I was lucky enough to be with a really nice group and three of them in particular kept me going throughout the long days travelling – thank you guys!
So what were the highlights?
Not knowing entirely what to expect and having been to most of the other countries in Indochina, I was really taken with Lao. It's very similar to Vietnam but without the craziness and hustle and bustle. It has a much more laid back attitude (although Vietnam is laid back too) and the people are so friendly and always smiling or waving.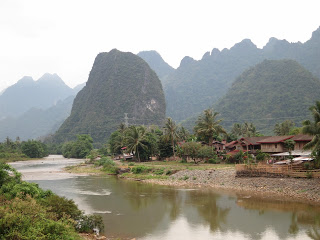 Lao has been open to tourists for about 20 years, and is fast adapting to backpackers, but it is definitely not an adventure to embark upon if you like the more luxurious travel destination.  The people are extremely poor and the average daily earnings is less than the price of a Beer Lao. There are of course more luxurious places to stay, but in my view it doesn't seem right to experience a place like this in complete luxury!
Having been caught up in the war (see previous post – UXO in Lao and a worthwhile cause), the rural areas are still suffering from uncleared ordnance, so as a tourist you do have to be mindful of this and keep to the beaten track. This was the main reason for taking a tour, plus I thought it would take the frustration and hassle out of travelling for a while. I was point blank wrong about the latter point, but that was simply down to having such a bad tour leader, however it didn't stop me experiencing a lot of what this country has to offer.
The capital Vientiane, doesn't really have that much that you can't afford not to miss, other than the buddha park. The highlight here for me was the COPE visitor centre – it's eye opening, heartbreaking and just something everyone should be aware of and help with if they can. You can read a bit more about what I got up to in Vientiane on my Travelblog – Getting charitable and key sights.
The two other key places to visit are Vang Viene and Luang Prabang, the latter being the former capital of Lao.
If you want to experience the backpacker town with numerous activities then Vang Viene is the place to spend a bit longer. It's easy enough to avoid the partying and just enjoy the mist shrouded mountain peaks or caves and villages along the way either by motorbike or buggy (as I did, see – Get a buggy and tubing if you want). Try out the almost banned 'tubing' down the river Nam Song, but it isn't what it used to be!
My recommendation of where not to miss has to be Luang Prabang, with it's almost mystical feel and midnight curfew, it's difficult to find anything negative to say about this town (at least not unless you are travelling with an irresponsible tourist!). With it's glittering temples, saffron robed monks and amazing night market there is something for everyone. Getting up at the crack of dawn to see the monks alms giving is a good way to start the day, followed by a trip to the waterfalls and bear sanctuary a short trip out of town, and that was just day 1 – see alms giving, waterfalls and a prostitute!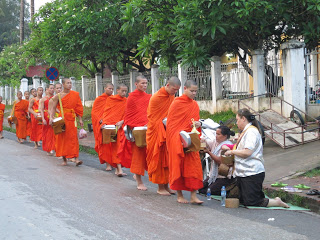 For me the bit I will remember most in Luang Prabang was stopping by a whiskey village and visiting a local school, if I had planned ahead I'm sure I could have done a little more to help here.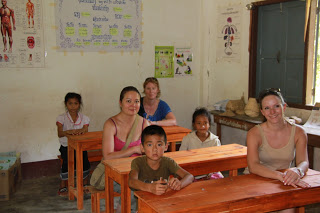 If you are planning a trip to Lao, make sure you consider the following:
– Visa's are required at the border, costing $30-$35 depending on where you are from, and there's a $2 additional fee for entering at the weekend.
– The whole of Lao is a high risk malaria area, and antimalarials are recommended. If you take a risk and go without, cover up at night and make sure you go nowhere without repellent! I have been bitten more since entering Thailand, but that was due to overlooking the bug spray.
– As I've said above be mindful of the beaten track and the risk in rural areas where the unexploded ordnance is still a significant problem.
– Toilets! Need I say more, the same situation exists through Asia. Always carry toilet paper and be prepared to get down with the locals…
In conclusion, I can assure you that travelling on a tour took a huge amount of the hassle out of the travelling and accommodation related matters, allowing plenty of time to just enjoy the experience.
For now the North and South of Lao remain unexplored by me… but I will be back; knowing it's possible to travel around here fairly easily independently and as more areas become more prepared for tourists. Maybe not during this current trip, but you never know, after all I'm just over the border currently.