Although its a capital city, chances are, unless you've landed on this post following a specific search, you probably haven't heard of Ljubljana in Slovenia.
If you have ventured into Eastern Europe however, you will know that the perceived contrast between the East and the West is very real.
Eastern Europe has such diverse history, architecture and people. The culture and traditions are endless and that is why I urge you to consider taking a trip before it becomes rammed with tourists and globalisation advances this area of the world and the crowds flood in.
Ljubljana, old town
Slovenia is a former member state of Yugoslavia, which became independent in 1991 as Yugoslavia fell apart. It is bordered by Italy, Austria, Hungary and Croatia.
Ljubljana, is one of the smallest capital cities (163.8km2) I have ever visited, but despite this, it has to be one of the prettiest.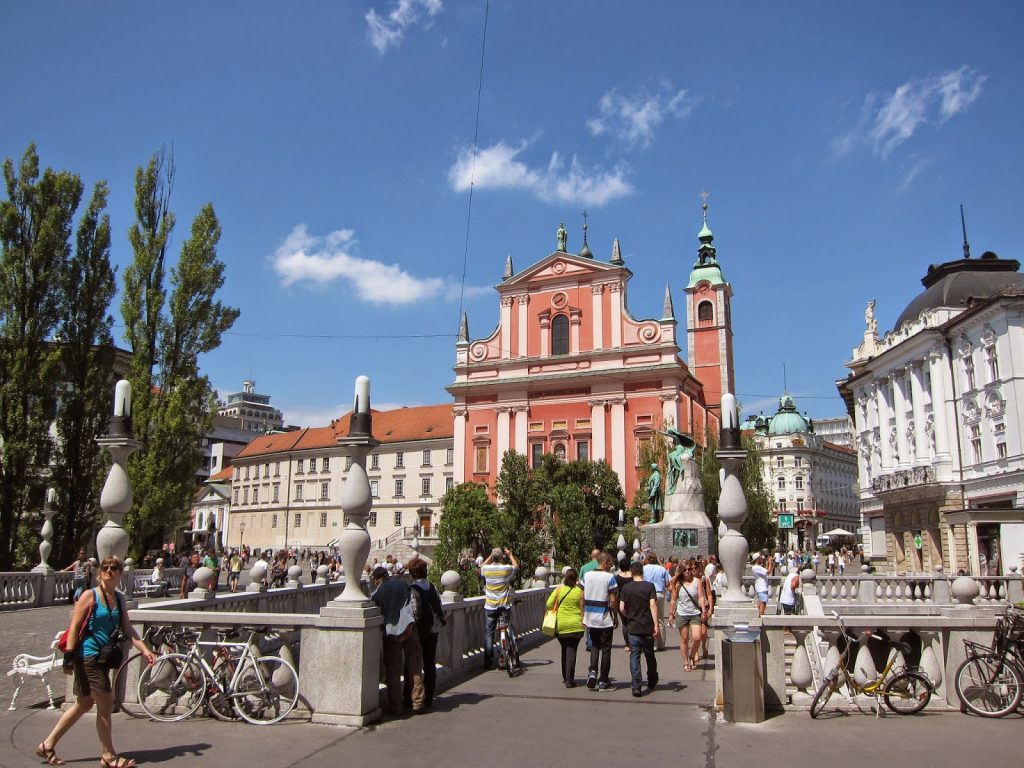 Pink church view from triple bridge
The old town is almost picture perfect, with no cars allowed, which really adds to the atmosphere. Easy to explore on foot or by bicycle, the pastel coloured buildings are a mix of baroque and art nouveau; pleasing to the eye despite lacking in any iconic landmarks.
Perched on a hill above the city is a medieval castle which is the perfect spot for views.
We spent the morning on the free walking tour, in the August heat, sitting in the shade of the cobbled streets whenever we could, listening to the stories from this tiny city. Our guide, was local, and certainly knew her stuff, but I was a little disappointed at not being given her take on the recent history experienced here.
Modern city
Having spent years as a part of the Austro-Hungarian Empire, a lot of the architecture here is beautiful. But sadly, many places of beauty around the outskirts of the old city have been marred by thoughtless vandalism, as it seems that few buildings have been spared the indignity of graffiti tags.
This sentiment is not however extended to the area of Metelkova, which in contrast, has been decorated into a beautiful and impressive living artwork by graffiti artists and sculptors and has a truly bohemian feel to it. Especially in the evening when everything comes to life.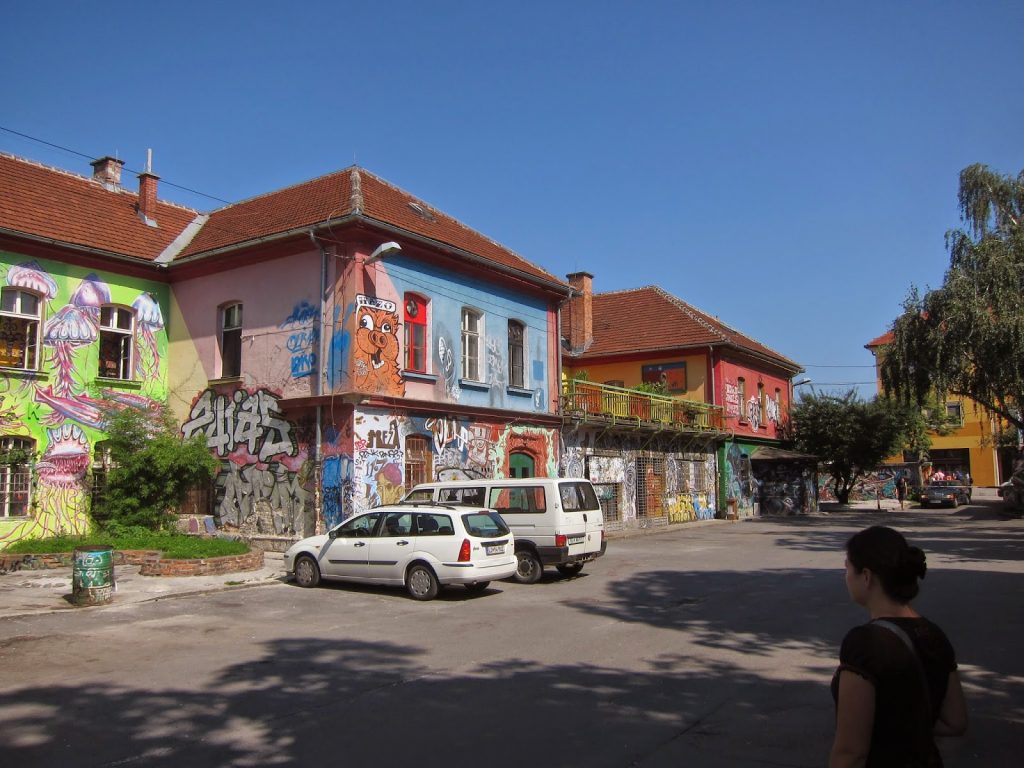 Metelkova by day
Recommendations for a day visit
The free walking tour we did is an ideal way to see this area of the city, as we were able to cover everything in just two and a half hours. Afterwards we delved into the central food market 'open kitchen' for lunch, before heading up to the castle and then jumping on a bus to our main destination, Bled.
What I really enjoyed about visiting this city is that it doesn't feel touristy. Amongst the cobblestones you will find elegant baroque buildings that have been turned into boutiques and many cafes, and restaurants, but the souvenir shops seem to merge in; as do the tourists.
There are plenty of bars and restaurants that spill out onto the quiet streets, although alcohol is apparently only served until midnight, before the party moves to the nightclubs outside the old city area.
It's well worth a visit to Ljubljana soon, before it becomes crowded like every other capital city in Europe.
Do check back for a summary of the sights of Ljubljana and more recommendations, which will follow in my next post, or like my facebook page or follow me on Twitter to keep up to date on post and other travel related advice that I pick up along the way.