I have become a bit disheartened with Lonely Planet, which has often been my guide of choice for as long as I can remember. Whereas I used to find them a reliable source of information (with the exception of the Colombia edition that faced much controversy back in 2008), I now find the quality has dropped somewhat.
Updates are clearly inefficient and often overdue. Maps are at best mysterious, at worst misleading. It's simply frustrating to not find the hotel/restaurant/site as marked, particularly when dragging your bag around in the heat, after an overnight journey.
Sometimes the information is either far too detailed or the complete opposite. Information on transport I have found unreliable time and time again, so I end up using free maps acquired locally, scaring knowledgeable tourist information staff with baffling and unintelligible questions and scouring the web for help.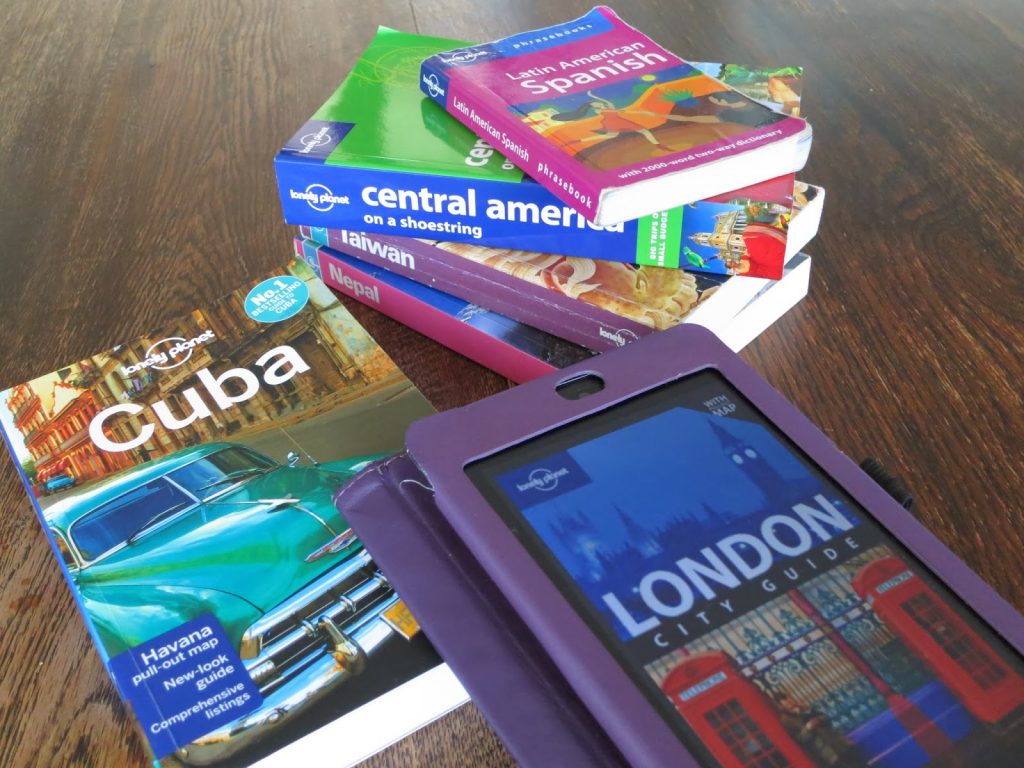 A Lonely Planet guidebook is no longer my first point of call. I do carry one of course, but sometimes I feel that is only because these days I have the luxury of being able to store them electronically. A real traveller is never seen without one!
I often now, turn to pages saved from Wikivoyage. If I have time to update the app I use Wikisherpa which stores all the Wikivoyage pages in one place. It is often more up to date as it's updated by travellers and used by travellers (including me), and that all happens much more quickly than the release of the next edition of the Lonely Planet guide.
Earlier this year I learnt of the news that Lonely Planet had been sold by the BBC and was shedding its editorial team. As well as the realisation that the writing job I always dreamt of, was quickly slipping out of reach, I could only wonder what would happen next.
Behind the scenes
I obtained some clarification last month, when I bumped into one of the Lonely Planet writers, who was updating a section of the Southeast Asia on a shoestring guide.
It seems that with the change of owners, the focus was changed to a digital strategy, more in line with their other specialisms. Although not one that has been clearly communicated as yet.
Mr Lonely Planet was of the view that the business was working on determining how to deliver the information across multiple platforms, including the traditional guidebook. There was no simple solution.
He agreed with my thoughts that the current updates were not always effective and agreed that the maps were rubbish. He even explained that they were often inherited and had recently been changed to a more acceptable format.
He sympathetically took on board my comments that this was not necessary an improvement, and he no doubt wrote down a few notes from the conversation of his own. He willingly handed me his card so that I could send on any other information that I picked up along the way.
What intrigued me most was that this writer had not advanced to using a form of electronic device to capture his information. Neither had he shown much interest in adding to the data, but merely just checked and updated what was already there. I'd overheard the discussions he had with one of his sources. I'd asked him outright about his approach. And I can conclude that he seemed dedicated to the cause, despite perhaps appearing a little behind the times.
After nearly 2 hours of standing and chatting, I learnt that being a LP guidebook author is strictly contract work and largely involves enduring long hours, while on and off the road. The travel element is based on an agreed daily budget, which ultimately results in monitoring of expenditure and often roughing it to ensure earnings as opposed to a loss at the end of the research period. There's a deadline and it ultimately becomes a stressful job. The money is usually subsidised by the numerous other projects that are also being completed by the writer.
I stumbled upon a post by another guidebook author that spells it out in more detail here: his post.
I learnt quite a bit more during that conversation. A lot of which I cannot fully recall, but what sticks in my mind is that I still wouldn't mind the opportunity to be a Lonely Planet guidebook author.
Next time I moan and groan at yet another out of date piece of information in my still favourite guidebook. I will spare a thought for what goes on behind the scenes.
Do you use a Lonely Planet guidebook when you travel? Have you tried Wikivoyage?