Having been to Morocco 3 times and spent around 5 weeks there in total, I've find it difficult to limit my recommendations for things to do when there. Many a visitor will spend time in one of the many Moroccan all inclusive hotels, as I did during my first trip. However, Morocco offers so much more. Dip into the culture or immerse yourself in local life and you will get a completely different experience. It's a destination that I recommend time and time again, a photographers dream. Just a few hours flight from the UK, here are my list of must do's in Morroco:
When to visit
Visit Morocco when it isn't too hot. The best time being: mid- Sept until early December or March to May, both cooler and it's low season. Summer (June to August) in Marrakech is very, very hot and chances are you won't want to be outside very much. Winter tends to be rainy and cool, much better suited to travelling around although temperatures can drop dramatically at night so take appropriate clothing.
Shop and bargain
Get lost in the souks of the capital, Marrakesh. You will need to be prepared to bargain hard. Take your time to experience it all and try not to get too frustrated at the sometimes aggressive sales people.
Jma El Fna, Marrakesh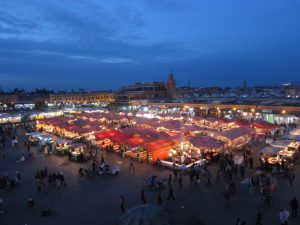 Experience Jma El Fna (Marrakesh's square and market place) during the day and night. The heat puts visitors off during the daytime but you should still stop here and take in the vastness of this space before the evening sets in. At night the snake charmers disperse and the food stalls appear. Get a spot on the balcony of Le Grand Balcon Cafe Glacier, before sunset to view from above.
Don't just visit Marrakesh
Explore places around Morocco, ie other than Marrakesh. Marrakesh is great for a stop over but as I learnt from my second and third visits, there is so much more to Morocco outside its capital.
Sahara Desert
Sleep in the desert. Spend the night in what feels like the middle of nowhere. Watch the sun set across the dunes, sit by a fire and watch the stars. Just do it, there's no other place in the world quite like the Sahara at night.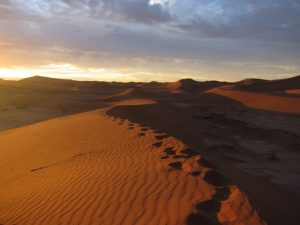 Camel Safari
Although extremely touristy, it's quite fun to spend time roaming the dunes on the hump of a smelly camel. Get yourself a "shesh" and learn to tied the traditional turban, for a typical souvenir photograph.
Visit the coast
Make sure you don't miss the beautiful city of Essouira. For great photos and deliciously fresh fish. Take time to sit back and relax whilst watching the world go by. Games of Thrones fans will head here to see Astapor in the flesh.
Travel around
Spilt your time between the North and the South, take 2 separate trips if you can. I personally preferred the South which was more natural but the North is more westernised.
Festivals
Consider whether to visit during the Muslim holy month. Shop and restaurant hours are often changed and there is less activity as most of the country is fasting from dawn to dusk. However this can be a great time to experience local life, but if it's anything like the time I spent in Malaysia during Ramadan (see my post Experiencing Malaysia during Ramadan) it can be frustrating.
Photography highlight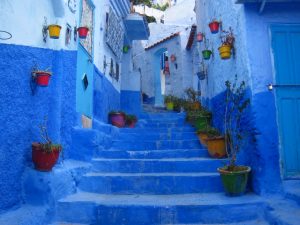 Spend hours photographing the blue city of Chefchaouen. No doubt you will have seen this iconic place all over the web. The souks are much more laid back than Marrakesh.
Traditional foods
Taste Tangia as well as Tagines. Tangia is a slow cooked meat stew cooked in a pot of the same name. Try it in Marrakesh or enjoy the numerous varieties of Tagines everywhere… home cooked is best, my favourite is probably with meat balls. Check out my post for more Must try Moroccan meals.
Take a hike
Mount Toubkal is the highest peak and will require an overnight or two. For most the Atlas Mountains can be reached fairly easily, with plenty of short hikes around the area, through Berber villages. Or the Rif Mountains are a less popular alternative.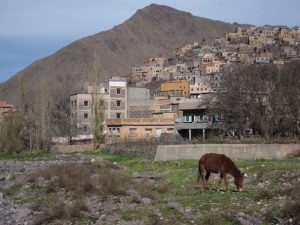 Take Care
Fes and specifically it's Medina is renowned for being somewhat unsafe as evening falls. However visit during the daytime or with a reputable guide and see it's traditional craftsmen including tanners, weavers and coppersmiths. Of course the famous tanneries are a photographers highlight.