The food in Morocco is as diverse as it's culture. With the Berber, Arabic, French and Spanish influence, wherever you travel around Morocco you can find a variety of local specialities and of course numerous versions of the originally North African Berber dish, tagine.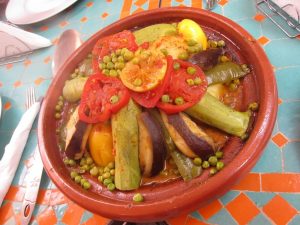 So where to start on the menu? Here's my recommendations for meals in Morocco…
Bread
Well, knobz (bread) comes with every meal and often with olives.  Sometimes there are dips or sauces and even salads, but all depending on where you choose to eat.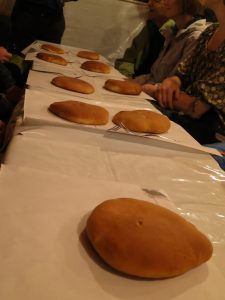 Here are some of my recommendations …
Tagine
Slow cooked lamb, chicken, beef, veggies etc. Cooked and served in the conical clay pot in which it is cooked, which allows the steam to rise, condense, and drip back down to the stew. Expect to wait for this dish as cooked fresh it will take some time; often preparation begins after breakfast.
My favourite version of the tagine is the meat balls in tomato sauce, usually served with an egg.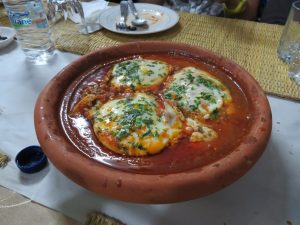 Another recommendation is the chicken with preserved lemon.
Couscous
Traditionally served on Fridays, another North African Berber dish, these small balls of steamed semolina are widely available any day.
The couscous is served with a meat and/or vegetable stew. Vegetarians be warned that the veggie version can sometimes include meat based gravy.
Pastilla
Another dish that takes time to prepare with its endless layers of thin pastry. Traditionally stuffed with pigeon but now more widely made with a chicken filling. This pie like pod is often served sprinkled with icing sugar or cinnamon so is sweet to taste.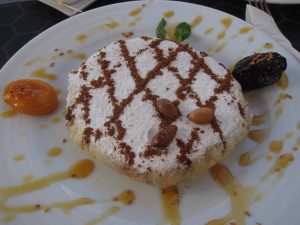 I've also spotted pastilla on the desert menu, with an adapted filling of something sweet which really suits this dish in my opinion.
Brochettes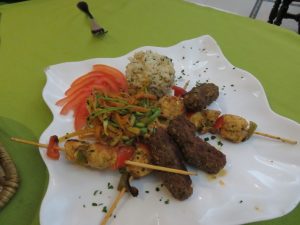 Grilled kebabs sometimes served with a salad or fries. Great to share, particularly if you go for the mixed version, although avoiding the sausage like meats is advisable (often stuffed camel spleen).
Raif
A fried, layered bread a bit like a pancake. Best served warm and eaten with your hands, just watch out as they can be a little oily so have tissues on standby.
Camel Burger
The first time I tried a camel burger was in Marrakech in a rather Westernised restaurant. It tasted like a really succulent burger, so the camel meat didn't have anything particularly distinctive that I recall.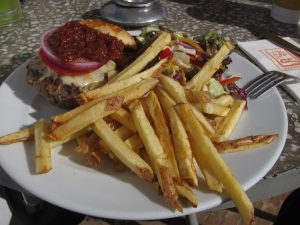 On a more recent visit, I tried the camel burger, local style, from the street food stall in the medina in Fez. Just round the corner was the camels head, hanging happily for a selfie.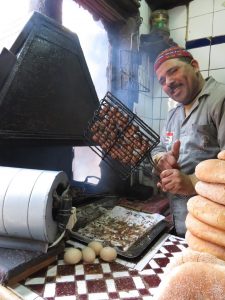 To be honest, both versions of the camel burgers I tried were very good, so just go for it and try it when you see it.
Harira
The home cooked versions are the best. Try this in a homestay or Riad and you will not be disappointed.
Often served before a main meal this chick pea soup is great for warming up. In Chefchaoeun their equivalent is made with white beans, Bissara, which is much more bland in taste – add more olive oil to taste.
Tangia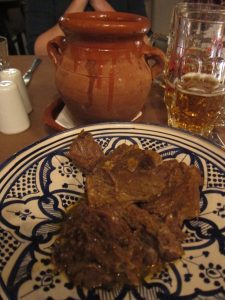 Not to be confused with tagine, although also named after the pot in which it is cooked. Traditionally cooked for hours in a clay pot the slow cooked lamb, or beef, is a speciality in Marrakech. There are no veggies so this can be quite overwhelming on its own, better shared.
Salads and dips
My favourites are olives and Zaalouk, which is eggplant/aubergine with garlic. This and several other spread like dips are a great accompaniment for the obligatory bread before a main meal.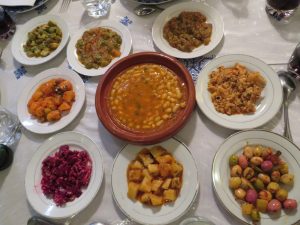 At the end of a meal another Moroccan tradition involves drinking mint tea, in fact everywhere you go there will be mint tea served. Personally I prefer mine without sugar, but the sweetness can be addictive.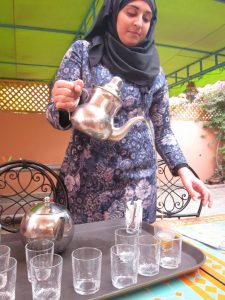 Of course there are many other dishes to try during a visit to Morocco. Have you been; have food recommendations to share?