Myanmar (formerly the British colony of Burma) has been on my shortlist for quite some time. Mostly, because I was curious to see for myself a country which had been unofficially closed up from the outside world, for decades; due to its military regime.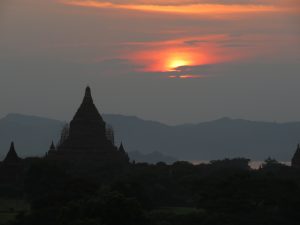 The extent of recent changes was way beyond what I had anticipated, and sadly a little disappointing. Untouched and less visited it is no longer, plan a visit as soon as you can.
In as recently as 2011, changes introduced by the military leaders, including the release of 6,000 political prisoners, have quickly extended to other reforms. This time last year the country elected the first civilian-led government in more than 50 years, and in May this year the US eased many sanctions allowing for investment opportunities.
Further changes are expected to occur fairly rapidly. Guide books continue to be out of date soon after print and so blog posts such as this are the best place to find out up-to-date info before you travel there.
As we took our first steps onto the streets of Yangon, our point of entry, and the former capital, I imagined some areas were much like Thailand 30 years ago. However, tourism and capitalism has already set in. As we moved through each destination, the tell tale signs were more or less embedded into daily life, some places more than others.
In Yangon, I cringed at the sight of the first KFC, opposite the Bogyoke market, which opened in July this year. You only need a passport to experience the first Burger King at the airport's terminal 1, departure lounge. Worst still, Pizza Hut already entered the market at the end of 2015 with twenty new outlets planned in the next 5 years.
Here are some more of the key contrasts I observed, compared to my naive expectations of this lesser travelled land.
Getting there
Recent changes to entry procedures means you can avoid lengthy waits at an embassy to ensure a visa, like we did for our previous visit.
It's now possible to apply for an e-visa online, as well as a traditional visa. Slightly more costly but much more convenient and we were accepted within 24 hours. On arrival we skipped the visa line and were just stamped through with everyone else.
There are limited flights direct from outside of Asia, but flights from key entry points such as Bangkok and Kuala Lumpur are getting cheaper, so it's not going to stretch your budget too much to get there.
Money/costs
I had read that ATMs were fairly accessible in the main cities, but due to frequent power outages they could be unreliable, so we took a small amount of US Dollars, as advised, as a backup. This was entirely unnecessary, as although US$ is the preferred currency for exchange, there was no shortage of ATMs, they were virtually everywhere, although not always functional.
The cost of travelling in Myanmar, could be comparable to that of Thailand, if you stick to local restaurants and street food and snacks. However, the hygiene scares we had heard about ahead of arrival, meant we didn't stray too far from the recommended and more touristy eateries. On the rare occasions we were brave and ate with the locals the food and drink was substantially cheaper and we didn't get sick. In fact the only time one of us experienced a dodgy tummy was after eating at one of the tourist frequented restaurants.
Accommodation
The tourist infrastructure is starting to improve with more hotels being created and others being upgraded. So availability has improved significantly in recent months.
Hotels are not cheap by comparison to the likes of Thailand and it's best not to just turn up without a reservation.
I was surprised by the cleanliness and quality of service at many of the places we stayed, and more so by the provision of Wi-Fi (although it often didn't work, but they had it!). Many places provided toothbrushes, paste and soap.
Transport
Most places are accessible by public transport so you can avoid tour groups and private excursions and experience local life.
Short journeys may be taken via the variety of local transport options, most commonly 'trucks' much like the Songtaews familiar to Thailand but agree the price in advance.
Long distance transport often needs to be booked a day or two ahead of travel to ensure a seat, although it is possible to get tickets on the day. Pay the extra for the air conditioned buses (take a sweater), and avoid the trains (these were the worst I have ever travelled on – more on that in another post) although both options will get you there, timetables can be unreliable.
Bagan is best explored by bicycle under your own steam, although motorbikes are available to hire. The alternative is a horse and cart.
Technology
The biggest surprise for me, was that everyone appears to own a smart phone, and local sim cards are cheap, with reliable connections. In fact the 3G signal was significantly better than all of the Wi-Fi provided in the hotels we stayed in, which often just didn't work.
Some of the more touristy restaurants took orders on hand held devices, although this was only in the larger cities of Yangon and Mandalay.Technology also seems fairly advanced in some places, for example the lifts in at least two of the hotels we stayed in were able to determine from your key card which floor to stop at. Note: we were staying in budget places.
Food
I had heard the food was bland, and the hygiene levels not so great. In some cases this was true, but chilli and condiments were usually available to spice things up if needed and the food was generally very nice.
Myanmar cuisine has similarities to other nearby countries. The most influential being India and China. Curries and fried rice/noodles are available on every menu.
Hygiene didn't appear to be a problem, with many places providing sealed chopsticks or boiling water when serving the cutlery.
On the streets standards were below par, but most things were cooked freshly to order and therefore could be considered safe.
Tourism and infrastructure
Sadly, it was difficult to shake the paranoia in the back of our minds. We carried anti-bacterial wipes and hand sanitiser, for use on cutlery, plates, glasses and our hands constantly. Perhaps a little too cautious.
The economy seems somewhat split and I have no doubt that tourism contributes significantly to this. Tourists are charged more than the locals for many entrance fees, although much of this goes directly to the government.
Prices were hiked up in some restaurants. Menus with prices, were full of Westerner's and both tax and service charges added. Where there were no prices advertised, the meal was cheap and much more of a local experience.Large tour buses ferry people around Government owned hotels and the key sights. This was the biggest contrast to my expectations. I envisaged places to still be visited independently, and less by large organised groups.
Tourism has become a significant part of daily life along the main tourist trail (Yangon, Bagan, Mandalay, Kalaw, Inle Lake). The most intense was Inle Lake where the numerous workshops you can visit by boat can feel a bit like a first timers tuk tuk experience in Bangkok; stops at the weaving, boat making and silversmiths compulsory.
The Burmese government is serious about sustainable tourism. However, we failed to see any improvements being implemented, new temples and pagodas were appearing everywhere but the old dilapidated ones were not being maintained. This is sure to change in Bagan with an expected UNESCO application pending.
To see the country as it is today was a surprise. It is very touristy and far more advanced than I had imagined. What will it be like in just a few years!?