After quitting my job back at the end of November, I'd budgeted to be back in the UK and looking for a job around June time. However during the last couple of weeks I've finally been able to rent out my house, so just a few days ago, I made the decision to book a one way ticket to Kuala Lumpur, Malaysia.
It was a bit tight to get some of the furniture from the house and the numerous boxes in storage moved, particularly on a day when my parents were away and everyone else was at work, but I completed the task, with time to spare to get my visas arranged too.
Straight after that I flew out to Mallorca for my friends wedding and distributed a few favours, playing chauffeur and hair stylist for a few days. Although nice to be back in warmer temperatures it was a little less than relaxing.
The bride looked amazing and it turned out as a good choice for a shot gun celebration, in fact I would  definitely go back and explore the island a little further another time.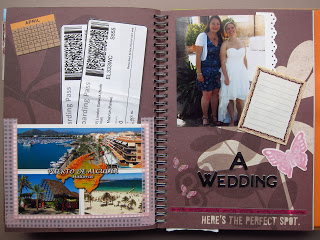 My scrapbook  pages Mallorca
Preparing to leave again
Returning to the UK once more, it was this time last week that I was frantically trying to organise my life once again. As I've said before it is almost unbelievable how many things you can occupy your time with or that need doing when you have quit your job, are renting out your house and are hoping to leave the country asap!
Hopefully I've departed leaving nothing pressing to deal with whilst I am gone. Disappointingly I ran out of time to complete the wedding (not mine) scrapbook that I started, catch up with a few people and also write an entry for a travel writing competition. The latter is still bugging me, as although I probably wouldn't win, I still had more of a chance than I have currently, after not making the entry deadline!
So, now I am adamant that wherever my upcoming travels take me, I will be ensuring that I collate as much info as possible to support any potential future travel writing opportunities. Particularly those with a prize to write a piece for the Rough Guide (or any other publication) and actually get published.
First stop and other plans
So here I am in the 31° heat of Kuala Lumpur. It's a place I have come to know well over the years (also my most visited destination at 5+ visits!), although perhaps never fully appreciated. My last visit here was in 2006, as part of my first big 'round the world' type trip, from which my travelling bug originates.
I think 7 years is long enough to see that a place has changed and get nostalgic over how it once was (?) in fact, last time I was here it was already dramatically different (see archive: KL technology monsters – don't get swallowed up 2) to my previous visit just a couple of years before that.
I'm staying with my aunt, which is always a culinary indulgence, although she is a strict vegan, but she also knows where the best places are to obtain the 'best' delicacies that KL has to offer.
Sadly my grandmother passed away on Friday night, so it is very strange that she isn't here. My aunt/uncle, cousins and mum are now here instead, as have been numerous other friends and family. There were a number of services at the house, including the funeral on Monday morning,  I've been able to get some insight into Christian Methodist Chinese traditions after someone passes away.
I now have a couple of days in KL to eat as much as possible (revisiting the sights may have to wait till I return) and of course collect at least one geocache to help boost my countries statistics. Then on Thursday I fly to Hanoi in Vietnam to start the tour through Laos that I booked some time ago.
Hanoi is another place I wanted to return to, and hopefully locate the perfume pagoda that I was unable to visit on my last trip here… although that may be a challenge that I fail, we will see.
I'm only going to be passing through Vietnam for a couple of days, which with hindsight wasn't very well thought out as the entry visa is the most expensive one I've ever purchased, plus there's the added cost of dropping off my passport at the embassy, and collecting it.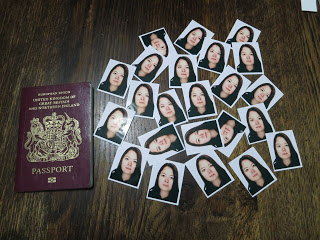 I'm armed with passport photos ready for the other visas I may require enroute!
Evidently there is an adventure to be had, so, without further dialogue I will leave you to your day. Selamat jalan.
Keep an eye out on my travelpod for more… Electric storm and fake shopping, Petaling Street is first.