Bus K6 from Kuching, arrives with plenty of time to walk the 1.3km track to the centre at the Semenggoh nature reserve. Here you can see crocodiles and maybe an orangutan or two hanging out near the feeding platforms.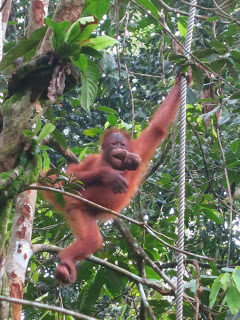 At 9am the park ranger gather's people to head to the central feeding area, just a short walk into the jungle, giving a short commentary on what to expect and requesting the noise is kept to a minimum.
Two apes, one apparently the oldest female in the park, came to feed while we were waiting for the official feeding session to begin. Then another three orangutans came down to feed on the bananas offered on the feeding platform inside the jungle and one was with baby.
The rangers clear you out very quickly after the hour is up, unfortunately there isn't much else open at the park anymore, but the orangutans are enough to make this a worthwhile visit.
I went to check out the crocodiles whilst the crowds cleared a bit, and was busy taking a picture of one of them when a ranger started calling out. I turned around to see him waving at me, and just to my right shoulder was a huge orangutan… lumbering through the edge of the forest.
It was the biggest I've ever seen, and turned out to be Ritchie, who apparently isn't very friendly, doesn't like noise and who is renowned for causing many an evacuation. He was about 15 metres from me!
I quickly followed the group of people who were heading for the bridge, desperately wanting to turn round and take a photo of the beast, but the rangers were coaxing me out as quickly as possible.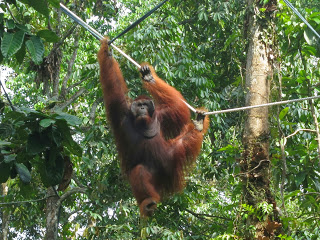 Ritchie, from a safe distance
Fortunately I got to see him back up in the trees heading for an out of reach feeding platform located at a safe distance. Still scary as he is absolutely massive.
I had planned to visit the more famous Sepilok orangutan rehabilitation centre when we reached Sabah, but our spontaneous decision to bail out of Malaysia virtually overnight has left this on my to do list.
However, I have read and heard quite a few negative reviews about the centre there and in my view the Semenggoh nature reserve is a much better place to go to see orangutans.
I can certainly say that Semenggoh was one of the highlights of my trip to Malaysian Borneo – but a visit is dependent on how lucky you are that the apes will come to feed. I don't think a no show has occurred recently, but often it's just one or two that visit at feeding time. We were exceptionally lucky.