Bako national park, near Kuching on the island of Borneo in the state of Sarawak, Malaysia, turned out quite a bit more pricey than we had budgeted for, but if you are travelling in a larger group, this won't be a problem. It is still totally worthy of a visit, and I recommend heading there overnight to be sure of sighting the famous proboscis monkeys.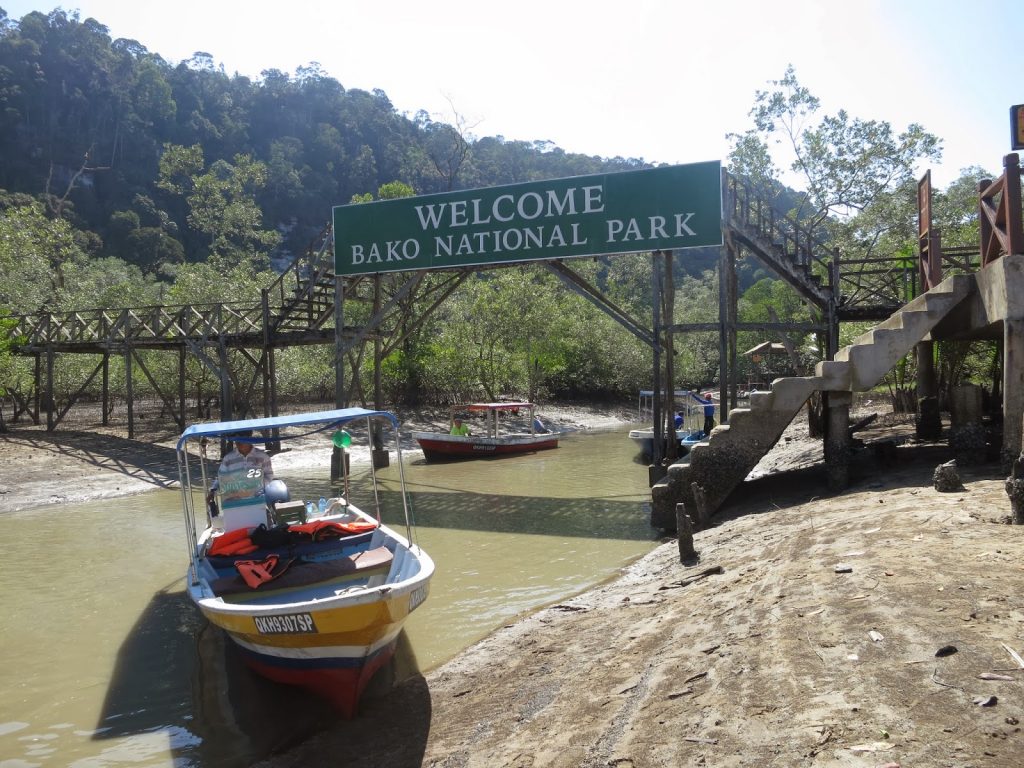 Getting there
We found transportation to get to the boat jetty easily, from the bus stop outside out hotel. Initially aiming for the local bus, we ended up negotiating a slightly faster unlicensed minibus; perfectly safe. The main bus terminal in the city centre is the source of the buses that head out to Bako village, and up to date timetables can be obtained from the Tourist Office.
Getting a boat across to Bako park isn't as straightforward as just turning up. The desk which organises speed boats for the short journey to the park, expects you to pay the rate for a whole boat (round trip, max. 5 passengers), and then share the cost by finding others to join you, offering no help or assistance in doing this.
Unfortunately when we were visited, in October 2013, it seemed most people were on arranged tours with a guide. They didn't need to arrange a boat or have to deal with the unhelpful staff. We had gotten there early, but it didn't really help.
After half an hour of trying to find others to share a boat with, we gave up and accepted defeat. Instead, agreeing to paying for the whole boat ourselves. It did, however,  mean we could return whenever we wanted the following day.
The boat takes about 20 minutes to the park entrance, which is accessible just off a beach. There are some great photo opportunities with interesting rock formations and mangroves, even before you enter the park, so have your camera ready, but be careful of possible spray as the boats speed along.
The park
Bako is Sarawak's oldest national park, although one of the smallest.  It apparently contains almost every type of vegetation found in Borneo.
I had hoped to see some of the rare proboscis monkeys that are found only in Borneo during my visit and wasn't disappointed. In fact, sighting them is easy close to the headquarters, without having to venture far.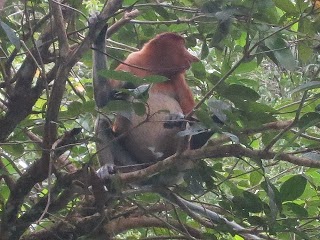 There was no information on the website, or given to us in the office when booking our accommodation, that indicated that any of the park was closed. So do check forums, ask other travellers, or stopping off at the tourist office or park office in Kuching, for the latest info. Otherwise you may be disappointed.
Telok Pandan Kecil trail
A lot of the park trails were closed during our visit – see list of trails for more.
Fortunately the one trail we had wanted to do, Telok Pandan Kecil, which takes you down to the beach, was still open.
This trail can be done in 1.5 hours. It's worth allowing time to sit and enjoy the beach, and of course the return journey.
It starts off overlapping the Lintang loop trail, around and up through intertwined tree roots, that are hard going on the legs. It then breaks out into a sandy trench that flattens out when you reach some purpose built board walks.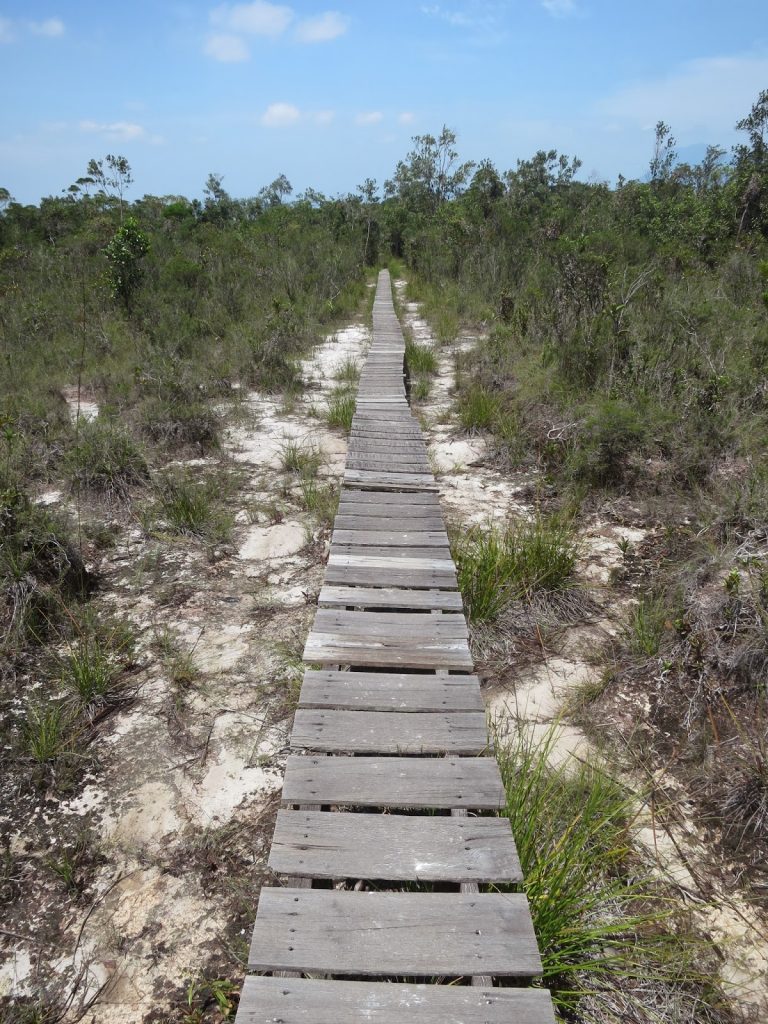 This is a long trek in the heat, but made easier by the board walks, which also protect the paths that are otherwise overly trodden and in need of some TLC.
There's a section consisting of sandstone gullies, which bring you over more board walks, and then up onto a viewpoint overlooking a cliff. Below is a secluded beach. We brought our swimming stuff to cool off here, before facing the hike back. There was a group of 3 others, the younger 2 no older than me. I think their mother was struggling with having walked so far and didn't want to face the return trek. As they were trying to get a boatman to come and collect her instead. However, it's worth noting that there is no phone signal in this area. Arrange transportation back before you depart if you think you will need it.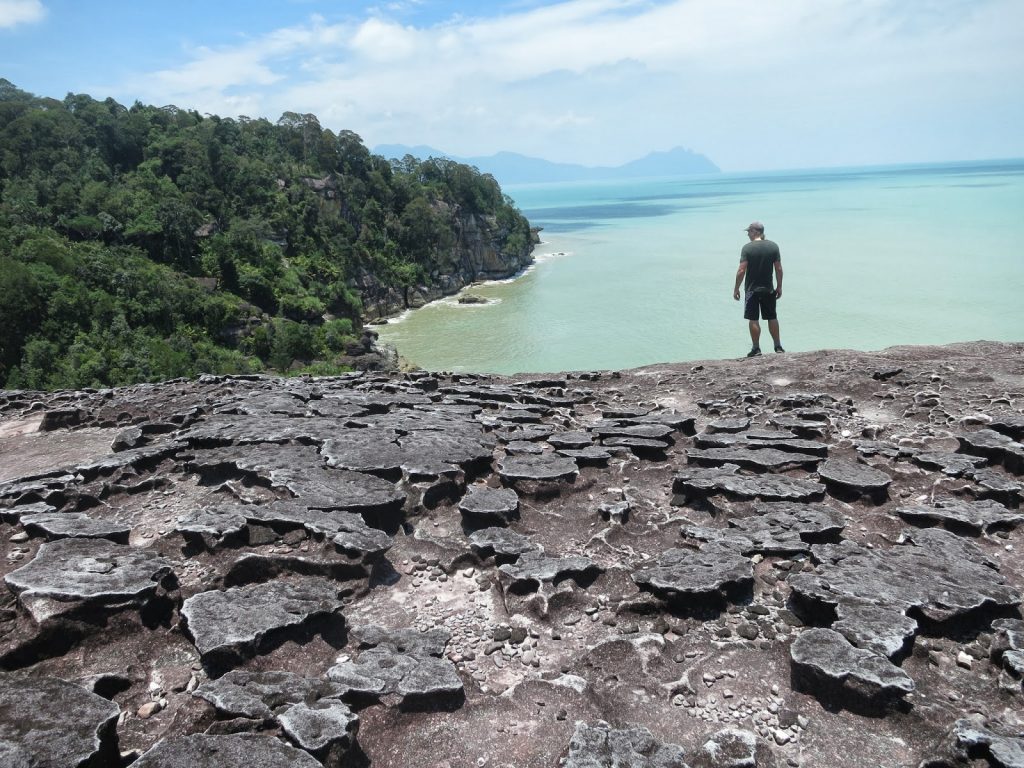 After this, we attempted the short trail out to where the proboscis monkeys hang out. However, my knee had had enough, so we returned to HQ and found a few monkeys there instead.
This is a lovely park. I can see why it's so popular, with the variety of trails and opportunities to see nearly every type of flora native to Borneo.
Cost breakdown for an overnight visit:
Unlicensed minibus: RM5 per person each way
Park entrance: RM20 per person
Boat: RM94 per boat (return)
Food: RM45 for 2 people (lunch/dinner/breakfast)
Accommodation: 4 bed dorm w/shared bathroom – RM42.40 per night
Towel hire: RM5 each
Night jungle walk: RM10 each
RM261.40 for 2 people – 2 days, 1 night (£47/USD$78)