Updated – August 2018
Transportation in London is one of the most expensive in Europe. There are numerous options for getting around and these can be confusing to a regular in London. So how visitors are meant to work it all out, I do not know! This spost should give you a good overview and how to make the most of London transport savings, but I urge you to get an Oyster card even if you're only visiting for a few days. There are other savings to be had, even for residents – check out the 2 for 1 and other discounts sections.
Travel zones
The Tube (underground), Docklands Light Railway (DLR), London overground and National Rail services in London are divided into zones. Most services operate in zones 1-6, with the Tube, London overground and National Rail also operating in zones 7-9.
Download a London zones map pdf for more details.
Travelcards
These will save you money compared to individual fares. But note that if you used a Travelcard, it must be valid for every zone you travel through.
Using a Travelcard is recommended if you're planning to hop on and off a lot on a particular day, for example stopping off to take a quick photo and then jumping back on to the tube without doing much more.
The reason for this is rather complicated, but it relates to nearby stations often being linked by out of station interchanges. I'm not going to try and explain it, rather just recommend you trust that a Travelcard will normally be cheaper and it's not worth the risk of using an Oyster card (detailed below) if you are getting on and off the tube numerous times throughout the day.
Note that Travelcards are valid for any bus journey within greater London regardless of the zone(s) it covers.
Finally, if your Travelcard includes zones 3, 4, 5 or 6 you can use it on trams too.
Oyster cards
An Oyster card is a must for saving money on transport in London and is valid in all travel zones, automatically calculating the cheapest fare.
You will need to top-up the reusable credit card sized electronic ticket, which can be used on almost all public transport modes across London.
Passengers must remember to touch in and out on an electronic reader to validate or deduct credit. Touching in or out again in error will often charge you for a continuing journey, so be careful to watch out for the validating light.
You can order an Oyster card in advance online (at the tfl website) or by telephone, or pick one up at any of the following:
London underground or London overground ticket windows;
Ticket machines at London underground stations, which accept bank notes, coins and credit or debit cards;
Oyster ticket stop agents, normally newsagents close to stations;
Selected National Rail stations;
Travel information centres;
Visit Britain outlets around the world;
Other transport operators such as EasyJet and Gatwick Express.
Each card incurs a refundable £5 deposit. Find out more at the tfl website.
Visitor Oyster
There is also a visitor Oyster available but my recommendation is to avoid these unless you will benefit from the following:
discounts and offers available at selected restaurants or shops. See the tfl website for full details;
a maximum of 4 children under 11 can travel free with an adult who has a valid visitor oyster card on tube, DLR and London overground services.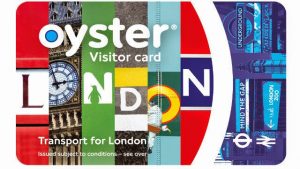 The downside of a visitor Oyster versus a standard Oyster card is that the £5 deposit is non refundable (where as noted above, the £5 deposit on a standard Oyster card is). The upside is you get a souvenir card rather than the standard blue one.
Convenience
If you're visiting London for a worthwhile period of time, with a standard Oyster card, you can sign up for online statements, auto top-up and to protect your card if stolen, so it's very convenient.
Alternatively, touch-screen ticket machines at stations, report the last eight journeys and last top-up amount.
Savings
The savings with a standard Oyster card are substantial. So even if you're only in London for a short visit, get one. Although the price difference will vary depending on your journey, on average, just 2 journeys will cover the cost of the deposit. You can get a refund if you purchase the standard Oyster card rather than the visitor one. For example the price of a single Tube fare in Zone 1 reduces from £4.90 to £2.40 with an Oyster card.
It is also possible to buy a Travelcard to put on your Oyster card (it's even cheaper than a 'paper' Travelcard), which is valid for unlimited travel for a day or week. For example if you are travelling in London for 5 or more day consecutively you can save even more.
Topping up an Oyster card with credit, that gets deducted when you touch in or out at stations, will save you more money as it's capped at less than the cost of an equivalent 'paper' day Travelcard.
See the tfl website for further details of prices.
Contactless
Many Londoners have migrated away from Oyster cards to contactless payment cards, typically Visa or Mastercard. However as a visitor this is likely to incur significant foreign transaction charges as fares are converted from pounds sterling to your local currency. So this option is best avoided.
Buses
For short journeys, it's worth considering taking the bus rather than the Tube, as the price is even lower with an Oyster card.
If you plan ahead, taking a bus can be a cheaper alternative to a sightseeing bus. Some routes run past some of the city's main sites.
For example, the 88 heads past Camden, Oxford Street, Piccadilly Circus, Trafalgar Square, Westminster Abbey, the Houses of Parliament and over the Thames.
Better still, is route 15 which passes most famous sights and still uses some original 1960's Routemaster buses.
Tip: You only need to touch the yellow card reader at the start of your journey on buses and trams.
Boats
You can also use your Oyster card on the Thames Clipper river boat service. It's a commuter service bus runs along the scenic stretch of river from the London Eye to Greenwich. Adult single fares with an Oyster card are at least 10% off.
2 for 1 offers
It's worth knowing that National Rail have a number of 2 for 1 offers. When you go by train, not just to London but around the UK.
Therefore it's worth weighing up the offers based on what you plan to do. It may be beneficial to stick with an over land train ticket inside or outside of London to take advantage of the savings available. Check out the Days Out Guide for more details.
Other discounts
If you have a 16-25, disabled, HM Forces or senior railcard you will need to do a little research to clarify whether discounts will actually be beneficial compared to Oyster caps, particularly depending on the time of day you travel.
Of you have other railcards including family & friends or a network card it is often cheaper to use them but when travelling with children there are complexities in calculating further discounts that may be determined by things such as the number of travellers in a group.
Top tip: You can get extra time by buying/renewing your 1-year 16-25 Railcard up to and including the day before your 26th birthday. With 3-year 16-25 Railcards you can buy them up until the day before your 24th birthday. This will make the expiry date the day before your 27th birthday.
There's more
So, now you know where the main savings can be made as well as have a better idea on all those transport options next time you are in London.
I've not covered everything, only what I think is useful for a visitor.
Those who commute in London or plan to utilise trams will find more ways to save with further research. Note that if you are planning to use or pass through Wimbledon tube, train or tram then prepare for extreme confusion. They have more than one type of electronic reader to deal with extended travel. There are also other stations that have similar puzzles to solve.
Have you stumbled across any other London transport savings and facts when visiting London… If so please share them?