Koh Lipe is as far South as you can get along the Andaman (West) coast of Thailand, and close to the border with Malaysia, so a popular border run destination.
Arriving from Pak Barra (on the mainland) you get dropped off at a floating jetty, more like a barge, pay the 20 baht 'entrance' fee and 50 baht for a long tail boat which will then take you to anywhere on the island.
It can be a bit chaotic, being tossed off a speed boat onto the floating jetty, but I can understand why it's organised this way: both to limit the damage caused by boats landing directly on the beach, and to allow the local people to make a living. The speedboats from the mainland or Langkawi (Malaysia) are monopolised by 2 or 3 companies.
Despite this, there are an excess of boats scattered along the beaches, particularly towards the end of the day after they have returned from trips out to other islands. A bit of a shame really.
Koh Lipe has 3 main beaches:
Pattaya beach – the main beach, the busiest and more for those who like to party;
Sunrise beach – a quieter option with marginally cheaper accommodation and a few resorts;
Sunset beach – the backpacker area with some run down accommodation, although more is being built inland from here.
We stayed at Coco Resort for a couple of days, which has a great menu as well as rustic, clean accommodation. We then moved to Viewpoint Resort, which is run by a Chow Lei family (local people known also as sea gypsies). It is located in a reasonably secluded location, down at the end of Sunrise Beach, with powdery sand and clear turquoise water, but can only be booked in person.
The waves on Sunrise Beach, can be a bit choppy around December when we were there, but it's still lovely, and just a short walk into the centre, where all the bars and restaurants are located.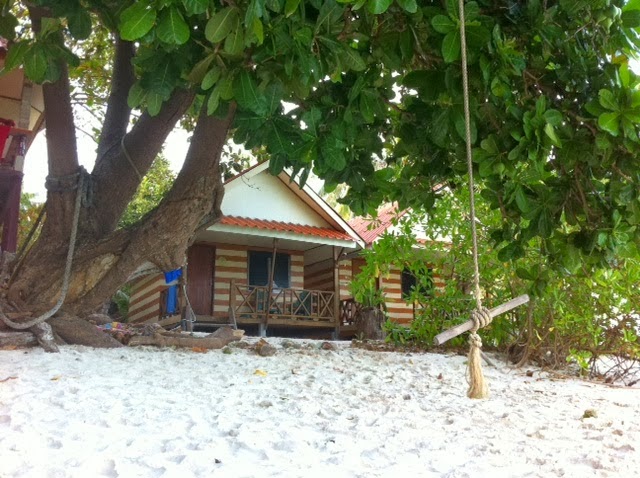 Koh Lipe, in my opinion, has to be one of the nicer islands around Thailand. There is a lot of development going on inland, but the rustic and run down feel in a few spots, still provides that true island life atmosphere.
By comparison, it's not as rustic as Ton Sai beach in Railay (near Krabi) which had far less places to eat and much cheaper and rougher accommodation.
Sadly there is already a 7/11 store in the centre of the Koh Lipe Walking Street, although still no ATM's. With this in mind, it's also worth noting that it is quite expensive here by comparison to mainland Thailand, and even some of the other islands.
However, it's still doable on a budget, just try and eat off the main Walking Street. And note that Pattaya beach prices are inflated compared to Sunrise beach, even for almost an identical meal; but alcohol is definitely a few baht more.
There isn't a great deal to do on Koh Lipe other than water sports, or diving/snorkeling. But that is a large part of what island life is about.
If you are looking for more things to do, it's easy enough to hire a boat for a trip out to the nearby islands, or for more water related activities. I'm told there are some great diving spots nearby too and certainly no shortage of tour companies offering trips.
There are a few shops around the Walking Street area, enough to fulfill any souvenir search, but prices here are again higher than the mainland for much of the same stuff.
What is nice, is the lack of traffic, as in theory, bikes/taxi bikes are not allowed to be ridden along the Walking Street after 6pm each day. During the daytime you do have to be careful when navigating this dusty cement track, as it is busy with taxi bikes delivering new arrivals, as well as pedestrians.
So, if your looking to escape the more touristy islands and/or enjoy diving/snorkeling, then this is the place for your 'almost' paradise island holiday.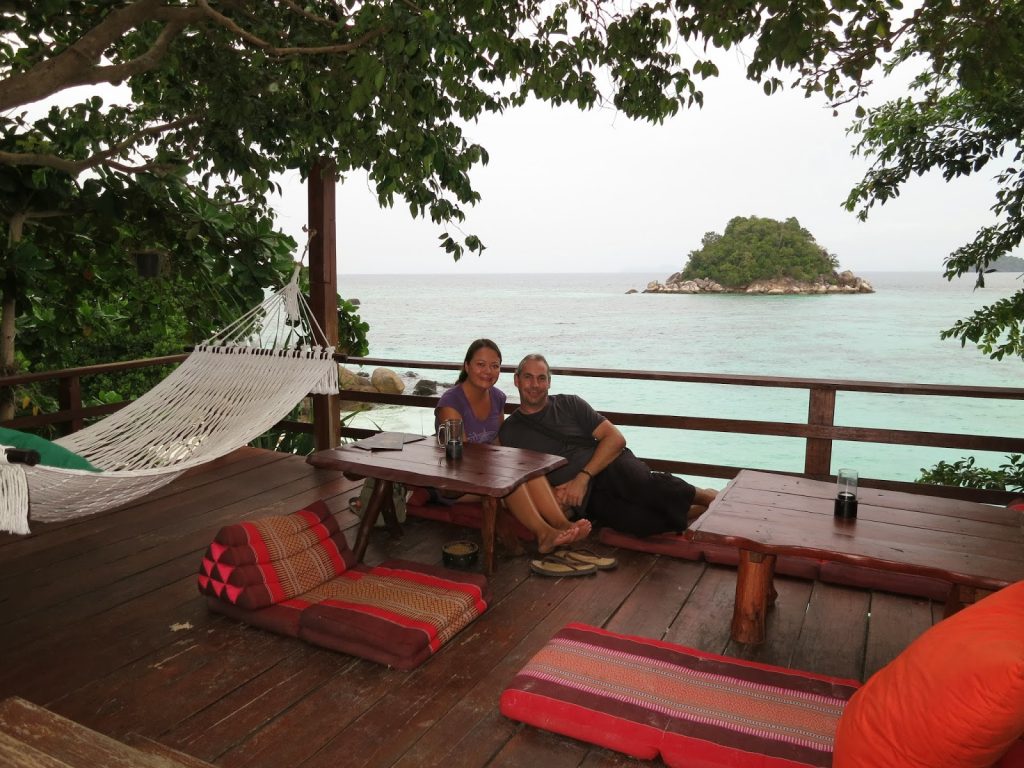 Seasickness and getting off the island
Leaving the island and heading for Langkawi, for us, was a bit of an ordeal. Arriving at 9am to meet immigration, and then having to wait for over an hour whilst our passports were taken with a bunch of others, we did wonder if we would ever leave. We also could have had breakfast during that time rather than getting up at the crack of dawn!
The ordeal continued as we waited for the boat to arrive, standing in the baking hot sun for 20 minutes, before getting back our passports and being escorted to a long tail boat which was then overloaded near to capsizing. We then needed to change to a speedboat, so were offloaded onto a floating jetty minutes later.
I thought the boatman was being funny when he said ladies and children first, until I realised why… the seating was limited to the outside edge of the boat and meant numerous people were left to sit on the floor amongst some the luggage.
As the boat departed, I wished I had sat on the floor, as the waves crashed over the roof and down onto us, soaking us to the skin and almost blinding us, it was so salty.
As I continuously wiped away the salty water from my face, I was hit with another blast, over and over. Frozen and soaking, after 10 minutes, the remaining 90 minutes of this journey was pretty awful.
People moved further inside the boat to try to escape the sea crashing onto them, but it didn't really help.
The up and down momentum, of course, caused bouts of seasickness (not me thankfully), which in such as confined space wasn't pleasant. Those clambering over bodies and bags trying desperately to make the side in time, often, didn't!
When we finally docked, we were almost an hour late, and still needed to get to immigration elsewhere on the island. We raced ahead to get our passports stamped as soon as they let us out of the minibus, and then tried desperately to find a taxi to the ferry terminal to get to Penang.
No amount of rushing helped, as we didn't make it in time, and the ferries had sold out for the later departure too. The mini bus driver then tried to rip us off, asking for 20 RM per person when a entire taxi fare wouldn't have cost much more. So, in disgust, we did a runner whilst he was unloading the luggage. Not my normal response to being over charged but we were just too fed up by then!
Luckily we were able to buy a couple of the few remaining tickets for the ferry to Kuala Perlis, and then take a bus further onto Penang.