Railay is a lovely part of Southern Thailand, with a picture perfect beach. I spent my entire time here getting wet in the rain, as I was there in the wet season, but the area is still one of the most beautiful places I have ever seen. I expect one day I'll head back, when it's dry.
If you're planning a visit, below is a short summary of the beaches in Railay, but we didn't head there for these. Read on further for the fisherman's cave and my somewhat unusual experience, climbing the hidden lagoon.
Get there
Only accessible by boat, the best way to get here is from Ao Nang, for just 100 baht per person.
Ton Sai beach
This is a good choice for accommodation, as it's cheaper than the West and East Railay beaches, although some what more rustic. Chill out and relax with a laid back vibe. Some places don't have any electricity until 6pm each day.
West Railay
To get to West Railay beach from Ton Sai during high tide, is a bit of a hike via the trail over the rocky outcrop between the two beaches. This might require some wave hopping as well, so don't try and cross at that time with a large backpack. You can also go round the back, through the woods, but it takes about 30 minutes.
East Railay
Boats from Krabi arrive here, but the area is mostly mangroves. Along the board walk are shops and restaurants but not much in the way of beach.
Phranang Beach
This beach can be accessed from East Railay. Just head through the well defined walkway, which has overhangs from the cliff; and monkeys (although they are not always there).
This is a popular spot for rock climbers and there are a few reputable places you can sign up to give it a go.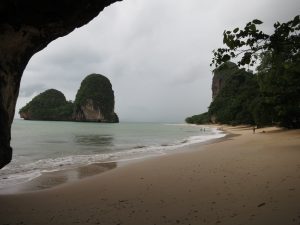 As well as the beautiful sand, Phranang beach is where you can find the legendary Princess cave where fisherman still visit to leave gifts for the spirit which lives here. In fact the cave is so overloaded with phalluses there's more than one cave.
Climbing to the lagoon
For the slightly more adventurous. The lagoon is a great place to visit for peace and quiet, as it's not only off the beaten track. It's a tricky climb.
The day we went was muddy and the ropes were sodden with mud from the rain and hard to grip. There was a lot of need to freestyle the climb, rather than aiming for the well trodden path of descent. Taking it slowly and avoiding looking down was my approach.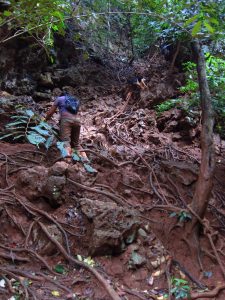 Once you get to the top you have to climb the same distance back down the other side.
It starts off gently, at about 45 degrees then becomes much steeper. Mid way there's a small pool, which can be disappointing, but it's not the lagoon.
From this point onwards there are three vertical cliffs to negotiate of about 10-15 metres each.
By the time I reached the lagoon my arms were hurting, my legs shaking and my whole body was crying. It was a wet and muddy time of year and a difficult climb. However, I would expect it to be far easier in the drier months.
The lagoon, of course, made it totally worth it. It doesn't get much better than this.
The return climb was much easier than I expected, although still a struggle for a novice climber such as myself; in the mud and rain.
Final notes
If you are planning a trip to Railay, plan to experience a different Thailand. There's a beautiful beach which lures visitors prepared to venture there via boat. However I would recommend a visit out of season when it's quiet and the Malaysian tourists are reduced.
It's also worth noting that there are some restrictions on alcohol, as the area is predominantly Muslim.
It can be busy with climbers, but it's certainly not all beaches and bathing!