Updated: May 2016
Whether I'm travelling from A to B back home in the UK, on a road trip, away for a long weekend, on holiday or taking time enjoying longer term travel, one thing I can't be without, other than my trusty tablet (these days) of course, is a map.
I have walked many trails in the Lake District using a traditional OS (Ordnance Survey) map, complimented by a compass and heavy rain, so am not adverse to old school tools.
However, these days, there are numerous map Apps for phones and tablets.I do still, from time to time, use a printed map, usually picked up at the local tourist office. These often have the key sights marked, with other information, such as transport maps/routes. I still refer to them for more detailed information when available.
Electronic maps, however, now tend to be my first point of call. As a traveller, it's most crucial to have the ability to store maps offline. Many electronic devices have their own preferred map application as standard. Most function adequately for the average user, but the offline ability can sometimes be unreliable.
iOS v's Android
As an iPhone owner, I must confess to barely using it whilst overseas. The limitations regarding battery life, cost of applications and speed of updates/downloads has been disappointing. I quickly converted to an Android user, and will now, always recommend this over Apple (iOS), so you may want to take this into account when considering my views.
Using Android immediately provided me with a wider variety of options, for everything, not just maps.
During my 9 months travelling in SE Asia during last year (2013), I tried every free map App I could find on the Play store in depth. I therefore feel I'm well placed to give my ten pence worth on recommendations to other travellers.
Each of the Apps I trialled had their advantages and disadvantages. Some had great functions that no other App had. However, one App stood out above the rest as it has more of the features and functions that I, as a serious traveller, need and use on a regular basis. So this post is dedicated to that App and why it is the best, map App for travellers, in my opinion.
Locus Map
As far as maps go, Locus quickly became one of my most used Apps whilst out and about. The great news is, it has a free version that you can try, and this is adequate for most of the functions you need. In fact I didn't upgrade to the Pro version until I returned home to the UK.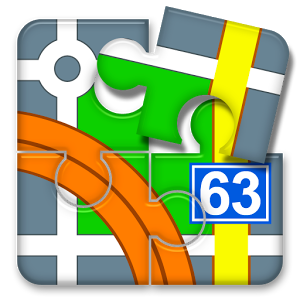 There are so many features included in this App, it's impossible to summarise them all, so I'm just going to highlight the main functions I found the most useful whilst travelling. This should provide you with a good starting point for seeing what else it can do.
Top 3 features for travellers:
1. Offline maps
Offline maps are the most important feature for a map App when travelling. You can't always have internet access wherever you are. Data roaming is expensive, and even if you have a local sim, you can't always guarantee network coverage.
Your expensive GPS device is useless without offline maps!
There are two main types of maps used in map Apps; raster and vector.
Raster Apps, like Google maps, use image tiles, which are downloaded from the internet automatically when you view them. Most raster Apps allow maps to be downloaded for offline use, but just a small area, at multiple zoom levels, can take hours to download, and uses hundreds of megabytes of storage space.
Vector maps do not use images at all. The map is in fact just a set of instructions and coordinates, and the map is actually drawn live in the device as you view it. Due to this, whole countries can be stored in just a few hundred megabytes (or as little at 20mb for small countries such as Luxembourg). This type of map is the type used in most in-car navigation devices.
Locus uses both types of maps. You can switch between several different raster maps in online mode, including OpenStreetMap and MapQuest. You can also manually configure it to use pretty much any other map set available, including Google, Yahoo, Bing etc (not configured as standard for licencing reasons). Most of these maps can be downloaded for selected areas, but as previously mentioned, this can take a fair bit of time and space.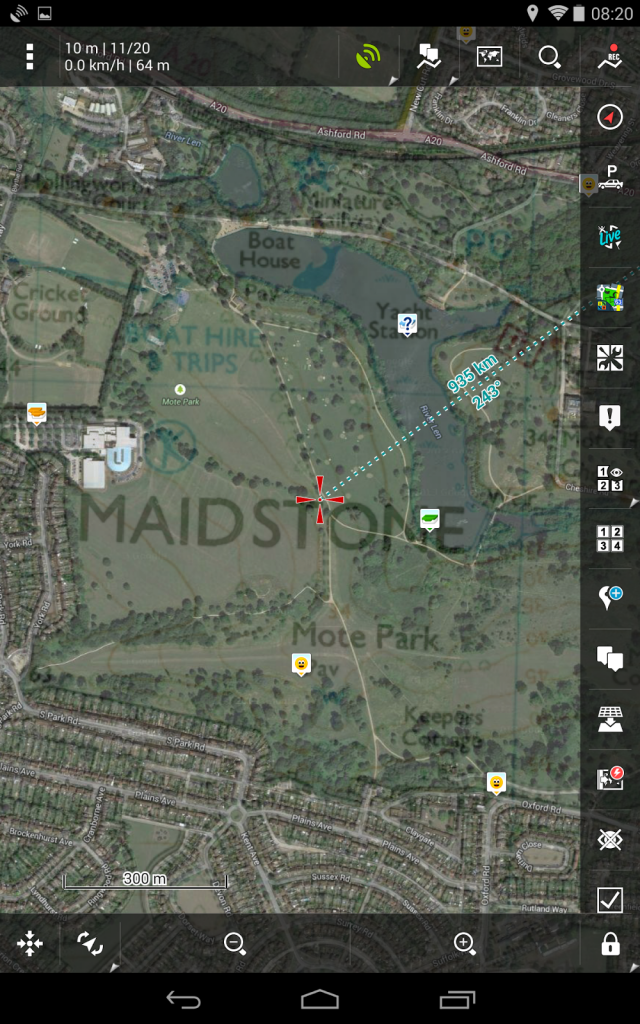 satellite with topographical overlay
Vector maps can be quickly and easily downloaded for offline use, by country or state, directly within Locus (for a low fee). This is the most convenient way of installing them.
However, if you're a little more technically minded, Locus is also compatible with openandromaps maps, which are based on the same OpenStreetMaps map data, and can be downloaded for free from various sources.
You can easily switch between maps manually, but if you have several vector maps downloaded, the App automatically switches between them when needed.
It is also possible to photograph or scan paper maps you may have, and calibrate them on your PC to be used in Locus as an offline map. This is a great way to get high detailed topographical maps into Locus. The Pro version will allow you to actually do this on the fly, directly inside the App. For example, you can take a photo of a map with your device, calibrate it directly in Locus, then use the newly calibrated map to navigate with. A great way to make use of those map boards at the entrance to National Parks!
This is all way beyond the limited ability of Google maps.
Also, the OpenStreetMaps data used to make the vector maps, is created and edited by over a million members of the public, all over the world (in the same way as Wikipedia articles are created and edited), so is arguably one of the most accurate and up to date map sources available.
2. Distance and guiding
A useful crosshair can be switched on/off, marking the map centre when you browse.  This can be used to determine your distance (as the crow flies) from the location under the crosshair.
It is also possible to turn on guidance to a selected point or POI (or Geocache), whereby a line is drawn to that point, and information on distance, bearing and time to destination is displayed.
You can even set the device to warn you when you are close to Points of Interest (such as Geocaches or Historical sites etc).
3. Power save and lock screen disable
Power saving options allow you to change the screen sleep settings, so that the screen doesn't keep shutting off while you are using it, or the opposite, so it shuts off after a few seconds of inactivity to preserve battery. You can set it to keep GPS on/or off when the screen is shut off, which can save huge amounts of battery. Locus can even override the lock screen while you are in the App, so you don't have to keep putting your code in every time you turn the screen back on (though you still will need to input the code to get to anything else in the device).
There are a huge number of other features, some of which are accessible via add-ons, to save over complicating the App, and everything can be customised, including shortcut buttons.
For example:
Navigation – offline navigation can be used as long as you calculate your route whilst online. Your calculated route will be stored for offline navigation and will guide you much like an in-car satnav.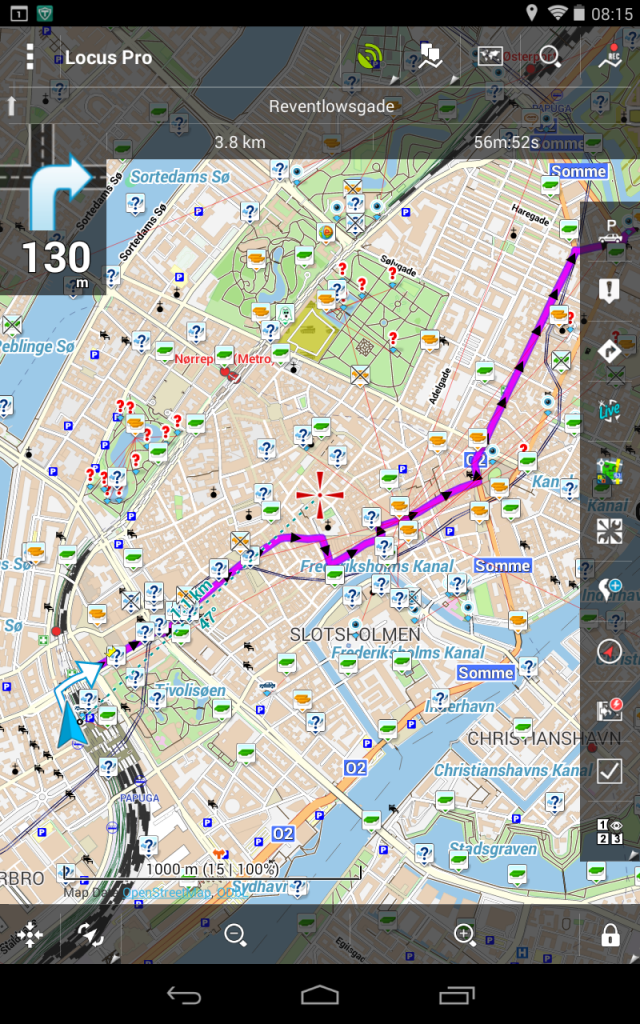 Navigation option
The lack of offline route calculation is the biggest disadvantage I have found so far in Locus. Hopefully this is a feature they will add in a future upgrade.
Track recording – press a button to track your route. This is great for hiking expeditions, or for runners, to record the route you travelled, how far you have travelled, as well as other useful information including, average speed, elevation change, and time.
Pro version: recording profiles and altitude profiles.
Geocaching – since I discovered the Pro version I haven't looked back at the other geocaching Apps on my phone or tablet! The free version of Locus allows you to use most of the features, but you can't upload your logs, or import pocket queries directly from geocaching.com, you have to download them manually.
However, whichever version you use, the import of pocket queries is fast and the use of folders means more than one query can be imported at any one time (unlike an App such as CGeo). It is also possible to remove them individually or turn them on/off too, maintaining other queries as required.
Another favourite feature for Geocaching is the way Locus displays the extra waypoints for each Geocache (parking, trail head etc) on the map without having to go into the relevant Geocache.
The only other disadvantage of this App, in my opinion, is that it isn't yet available on iOS.
So, to clarify, Locus Maps has two available versions:
The free version has all the features most people will need.
The pro version adds extra functions for POI alerts, Geocaching, track recording etc.
Priced at £5.80/$8.27, the pro version could be considered expensive, but if you look at the extra features available, you can soon justify it.
Don't believe me? Then give it a go for free… download here.