In my rush to get off and out of the UK I had no time to let people know the full details of what I've planned for my current travels… so apologies if this is the first time you are hearing about this!
To be completely honest there has been virtually no planning other than a 'back of the fag packet' calculation to see roughly how long would be needed to drive through Portugal, around the South coast of Spain and then across a bit more of Europe with a plan to head up to Belgium, back to France and across to Dover to arrive sometime around the end of March.
My car has been fully serviced, had new tyres and I'm now the proud owner of a European Breakdown cover …
Other than that, I have my backpack, a few items of clothing I wouldn't normally travel with, ie my jeans, and a small stash of craft related bits and pieces for my Smash book… ooh, and my trusty travel companion :)!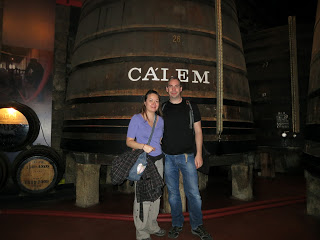 I'm currently resting up in Nazare on the coast of Portugal, it's out of season and quiet, but also not quite as warm as I hope it will be when we reach the Algarve early next week.
So far we have driven from Santander, down to Leon and over the border or Spain (via Puebla de Sanabria) into Portugal.  The highlight so far has to be Porto and the amazing Port wine… but it's only day 5, so do check out what I have been up to and check back soon for more.
To Santander – 24 shades of green (almost)
Leon – Beautiful cathedral and a cute border town
Porto – Port crawl limitations