Last month I saved London from a nuclear device!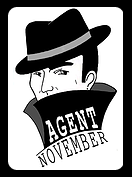 It all started when we walked into a small unassuming pub near Kings Cross. We waited for a discreet moment before shuffling up to the bar and quietly whispering our password to the barman.
His eyes swept sheepishly round the room to make sure no one was looking before subtly handing us a wax sealed envelope and immediately moving away from us.
We went to a table in the corner of the room away from prying eyes, broke the seal and began to read the contents.
An almost romantic story unfolded before us, with an intriguing twist.
First, we had to locate a number of items.
As a team we searched our surroundings, finding most of the things needed. The final item had us stumped for a few minutes. However with four pairs of eyes we retraced our tracks and eventually found what was required.
This was only stage 1, as soon after, Agent November arrived, introduced himself, and briefed us. Then it was a test of navigation skills to get us to our base in a nearby park.
Each armed with a walkie talkie we started our mission, and the clock began to tick down.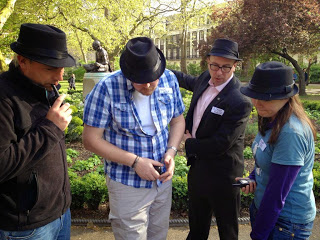 We worked as a team, dividing up the tasks, as we worked our way through each puzzle; occasionally needing a reminder not to stray too far out of the area. Once or twice I found myself so focused on the search, that I didn't take in the subtle clues that would be useful later.
Helped by the trilby hats, we were each sucked into 60 minutes of another world, completely oblivious to the real one.
As each second ticked away we found ourselves in a few tense moments as we battled through the locks, keys and codes. At one point, we were somewhat puzzled by one of the cleverly designed tools, but fortunately were able to get lucky with another clue.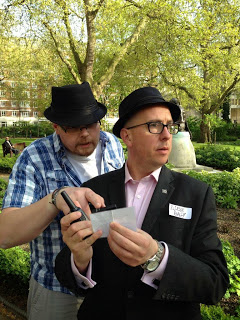 As the final minutes ticked away, a last team effort located the final answer, the one that had been staring us in the face all along. Tapping the code in, there was a click, and we all sighed at relief as the catch turned, and the timer stopped.
With a minute to spare, Major X Plow-Shun was defeated once more.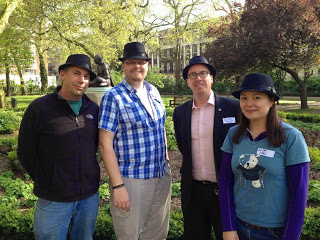 Whether you're a traveller, visitor, local, commuter, or just passing through, you have to give this a try.
Trust me, an hour with Agent November is guaranteed to end with a good few hours talking about the experience afterwards. It really was that good, as well as being quite different to some of the other timed games that I have played.
The gadgets and clues created by Agent November are well made, clever and well thought out. There's so much to say, yet I mustn't give the game away!
Just go and try this for yourself and you will not be disappointed. Check out the website here to book your group in to save London. Before it's too late!
If you enjoy timed games, then you should also consider an indoor escape room experience. See my earlier post 'Something unusual: take on the challenge at Escape Rooms, London' for another London based unusual experience.
This post joins others in my series of unusual experiences posts – see 'Fulfill your travel bug with: something unusual' for more unusual experiences and to follow along with what I get up to.
Why not join me and give something unusual a try…