Many people stopover in Singapore enroute to somewhere else or they go there on business or to meet up with or visit friends. Often visitors will stay just a few days, and my feeling is, that very few of these visitors take the time to be a tourist in the true sense of the word.
Singapore is one of Asia's most accessible destinations, better known for its shopping and eating choices rather than sights. Plus it's not really a destination for the budget traveller or back/flashpacker unless you know where to go and what to do.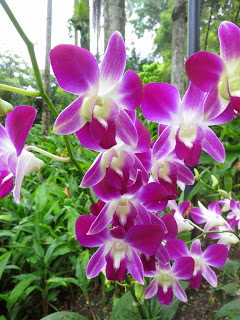 Orchard Road (famous for shopping), seems to be the first place everyone hears about, and is worth a visit; particularly if you are a fan of names like Louis Vuitton, Chanel and every other couture label.
However there is so much more on offer, and I have tried to cover some of it in a number of my posts.
If you like the outdoors, the parks and gardens are varied and well scattered across the island. I have compiled my thoughts on a few of them here: Some of Singapore's parks and gardens.
Marina Bay is where I would recommend you start if you are only in Singapore for a short time, as there's a bit of everything close by. See my post: Not just a marina: Marina Bay, Singapore.
The other areas that may appeal to those interested in a little history and/or architecture are located in two areas: the Colonial area and Chinatown.
Colonial area
City Hall and the Victoria Theatre were both scaffolded up when I was there, with renovations and signs indicating these would not be opened again until 2015. Close by, St Andrew's Cathedral is a safe retreat from all the building works and worth a quick look.
A great place to spend a couple of hours is the National Museum. I highly recommend the history gallery (S$10) which has an audio guide allowing you to experience history from a choice of perspectives.
Choose the traditional history version which takes you through the lives of famous figures such as Sir Stamford Raffles. Or there's the alternative of seeing life through the eyes of a number of the locals. Both of which you can dip in and out of, and both, if you have time, are worth experiencing fully.
The museum's living galleries with free entrance have freezing cold air conditioning so are a great place to escape the heat and cool down.
The Art museum had free entrance when I was there, as most of the galleries were under renovation. Despite this I quite enjoyed the gallery with untitled work where visitors are encouraged to give the pieces on display, a title of their own. See more on their website: http://www.singaporeartmuseum.sg
Chinatown
If you do only one cultural thing during your visit, I highly recommend taking a trip to Chinatown.
At the Heritage Centre, entire sets of bedrooms, kitchens and street scenes from the late 19th century and early 20th century have been recreated to share a slice of Singapore's history.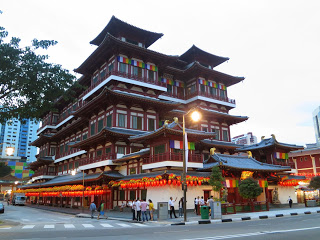 Thian Hock Keng temple
The Thian Hock Keng, Hokkien temple, is an impressive 4 floors and a roof garden. There's an interesting museum on one floor sharing the life story of Buddha. Another floor houses a Buddha tooth relic, but unfortunately photos are prohibited. Usually I would say once you've seen one Chinese temple you have seen most of them, but this one is absolutely beautiful with the Buddha statues that adorn the walls and the gold tiles which are confined to the closed off relic shrine.
If you have more time to spend in Singapore, and want to get away from the city, there are some places you can go to experience a very different Singapore. Check out my recommendations in a previous post: Singapore's misfits.
Are you planning a trip to Singapore with kids, or animal lovers. Well, then the zoo is a must for you. See my post: This has to be the best zoo in the world.
Do you have other suggestions on what to do as a tourist whilst in Singapore? I still have a short list of things I didn't manage to find the time to do, so will return there sometime.