For such a small country, the island of Singapore certainly has a lot of green areas. Amidst the large expanses of development there are some lovely parks and gardens and most of these are free. There were quite a few others I would have liked to visit as well, but here is the run down on those that we did:
1) Botanic gardens – a lovely place to walk, meet friends or enjoy a picnic. Even during the week this place is buzzing. I particularly liked the ginger garden and evolution garden. The latter offers an interesting walk through botanic evolution showing the changes from stromatelites to moss and trees. It's very well done and maintained but could do with slightly better information boards, stating what some of the individual exhibits making up the flora and fauna actually are.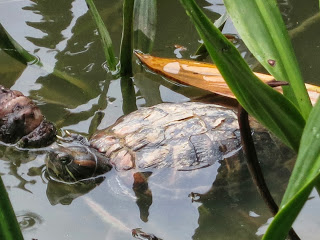 Botanic gardens, great pond life
2) Orchid garden, $5 entry ($1 for students and senior citizens). Located within the Botanic gardens.
We visited during a special event whereby students get in for free and so do those with them. It's still well worth the $5 fee despite having got in for nothing. With over 1,000 species of orchids and air conditioning, the VIP section is a must.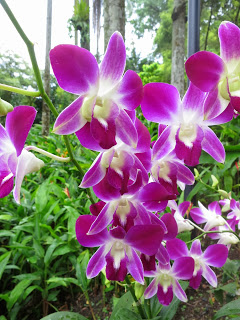 3) Sungei buloh (https://www.sbwr.org.sg) – natural mangrove/wetland reserve. It's deserted during the week but this also means free entry (only $1 at the weekend).
Take the MRT to Kranji and then bus 925 to the park, it doesn't run right to the park on weekdays only to the start of the nature trail that is currently closed for maintenance. From there it is a 15 minute walk. Alternative: the Kranji express runs every hour or so costing $3 (all day) and stops at the MRT and key points through the park itself, saving on the walk.
Sungei buloh is a good place for bird watchers, and nature lovers, but do take note of the warning on, their web page about mosquito's. I had bug spray on but was bitten everywhere that I didn't have it, including through my clothes!
We also saw plenty of giant monitor lizards, mud skippers, fish, birds, crabs, etc. If you are lucky you might see a crocodile.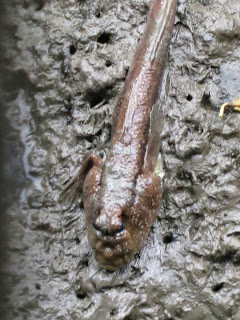 Sungei buloh, massive mud skipper
4) Southern ridge parks. This is a network of well marked trails, paved walkways, and raised wooden and metal platforms winding through Singapore's Southwestern coast, (approx 10 kilometres).
Starting with Mount Faber Park in the East or Kent Ridge Park on the West. We chose Mt Faber due to the pouring rain the day we ventured there, rather than enduring a long walk in miserable weather.
Throughout these parks there is some interesting flora and fauna to see, from tree top forest walks, zig zagging through secondary rainforest. If you are lucky you may spot tropical birds and butterflies. There is also a World War II battlefield and some magnificent panoramic views of the area.
As mentioned, we suffered a bad weather day, but it was still a lovely place to spend time walking. Two parks are joined together by bridge avoiding having to cross the road.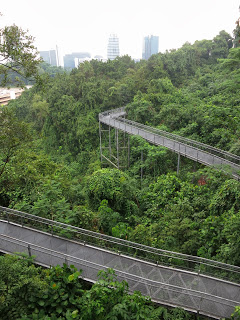 Canopy view
5) Gardens by the bay (South), opened in June 2012. It's pretty impressive and access to the gardens are free. You can take a buggy/train for just S$2 which provides some pre-recorded commentary, which will save your feet and educate. But we preferred to wander freely on foot.
As you head deeper into the gardens, prepare to see the future of sustainable energy, with man made super trees and iconic bio domes.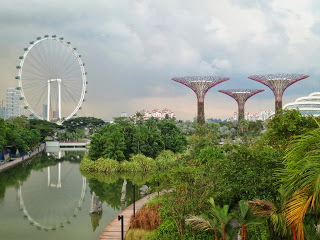 Paying for the flower and cloud forest domes is totally worth it for those who enjoy seeing cactus, plants, flowers and trees. If you have to pick only one, the 'cool' cloud forest is much more impressive and interesting, in my opinion. Tip: bring something warm to wear, as it gets chilly in there.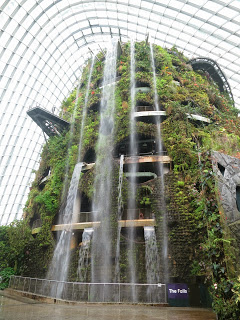 Inside the cloud forest dome
There's also a tree top walk way (S$5 fee applies), but for spectacular views, we shelled out S$18 each for access and a drink on the tree top bar – an extravagant way to enjoy sunset and night views of the city.
The whole site is self sufficient. There is a lot of information towards the end of the cloud forest dome exhibits that explain this further, but basically the energy used within the complex is generated by a combination of the solar panels, rainwater and garden waste. It's all about sustainable energy. Even the escalators join in, saving energy by only moving when you are on them.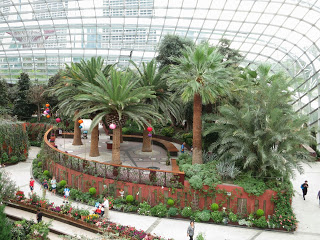 Inside the flower dome
6) Fort canning park. This was once the centre of the British administration and also Singapore's first botanic gardens founded by Sir Stamford Raffles. Check out the spice garden and various historical sites including the battle box (if you can as it was closed when we were there disappointingly).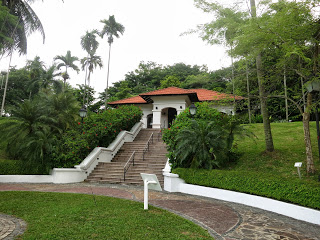 Fort Canning park, site of Sir Raffles home
7) Tiger balm gardens. This is it's old name, but more likely to lure you in due to the original owners having funded its creation from the profits of the famous 'balm'.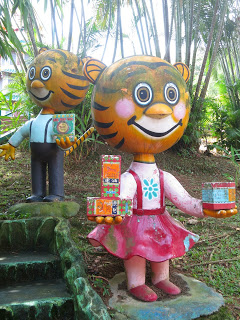 Has par villa, little Tiger balm here it seems
See the darker, more dilapidated side of the city with a visit to the bizarre cultural theme park known as Haw Par Villa.
This was not as run down as I expected after reading the reviews, however it could do with a lick of paint and the signs needs updating as they are almost illegible in some cases.
The ten courts of hell exhibition is the most interesting but the Chinese legends depicted elsewhere around the gardens are an interesting and pleasant walk too.
We were disappointed to find that the Hua Song Museum located at Haw Par Villa, closed in early 2012. This was where visitors could learn about the Chinese immigrant stories. The jury is still out on whether the Singapore tourist board (STB) will fill this gap elsewhere in the future.
8) Pasir Ris park. Located in the residential area to the Northeastern part of the island, this park offers a mangrove walk, herb garden and has an interesting collection of geocaches.
We chose to wander on foot as geocaches tend to be easier to collect that way. But cyclists are also welcome  to enjoy the cycle path in a reasonably well kept area of parkland.
It's a bit out of the way if you're staying on another part of the island, but is popular at weekends with the free BBQ facilities getting filled up with families.
The water is not recommended for swimming, however just a short walk from here is the Pasir Ris sports and recreation centre where you can use the facilities for just a couple of dollars – open 7am to 10pm.