What is a bivvy bag and why do I need one? for a microadventure? And what exactly is a microadventure?
Alistair Humphreys book has been either on my coffee table or by the side of my bed since I bought it, back in April.
I've honestly been trying for ages to give a microadventure a go. However, the usual excuses of not having time were getting in the way and it was a combination of eventually getting my hands on a bivvy bag and a nudge from a friend that finally got a date in the diary. Then when the day came, I just stuffed a bunch of things in a bag and trotted out the door, without a care in the world.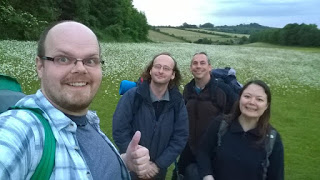 photo credit: Adam Snelgrove
The great thing is, that's what a microadventure should be about. Not really having to make plans. Just turn up and go. Literally.
Plus it fits in perfectly with my series of unusual experience posts: Fulfill your travel bug with: something unusual
You will probably find it better if you take the following:
Bivvy bag
Sleeping bag
Sleeping mat/thermalite
Snacks
Water
For my first attempt I also took:
Change of clothes
Pen knife
Hand sanitiser
Baby wipes
2 mates and 1 other half 🙂
None of the latter list were needed but I'll still take them along next time as you never know, and being a little prepared is an extra comfort when the facilities are non existent.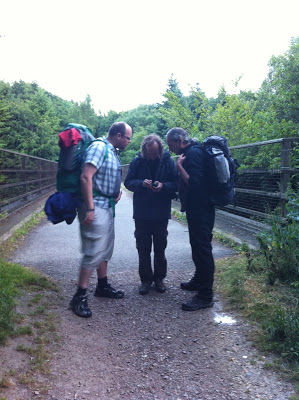 GPS dynamics
Summer Solstice spent out up on a hill was pretty amazing.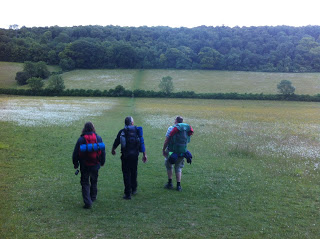 even the boys are admiring the flowers
We were lucky (thanks Adam) enough to find a beautiful viewpoint looking out over Shoreham village in Kent, which we hiked to from Badgers Mount (another nearby village). However, for the easy option, we could have just as easily trampled 10 minutes from the Shoreham village pub up the hill.
Below our chosen sleeping spot was just a bog standard country field, complete with ….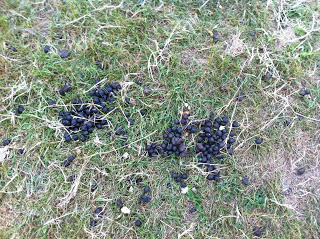 …rabbit poo
To the right was sited a poppy field in full bloom …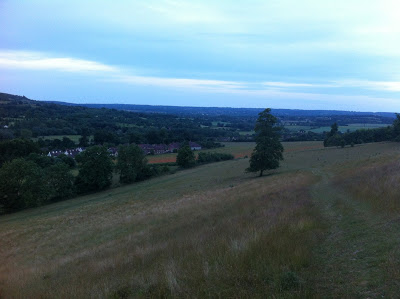 there are poppies there (mid shot)
… and on the left a memorial cross to the casualties of the first world war.
Nothing spectacular, not far from home and just a little bit different; and nice.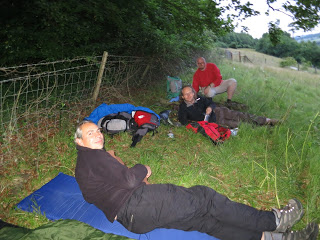 note the slope
Knowing it was going to rain in the early hours we picked a spot along the tree covered fence line.
In hindsight something a little more flat would have allowed for more sleep. As laying on a slope meant the inevitable sliding down (bivvy bags are slippery buggers!), and this is potentially a hazard if your fellow microadventurers are suffering the same. Imagine almost constant sliding coupled with the rustling of plastic (bivvy bags are giant plastic sheaths and not particularly noise free).
As night drew in and darkness peacefully descended, it really was quite pleasant. There were no stars to watch, merely clouds that later turned to rain, but that didn't matter… I was finally experiencing my first microadventure!
The pitter patter as the rain came was almost comforting. By 3am the downpour had yet to penetrate the leaves above us, and we were doing so well.
Around 4am there was a definitive drip drip that slowly changed to a drop drop drop.
As I pulled on the toggles of my bivvy, leaving just my face poking out, I soon became aware of how damp it was getting outside my bivvied cocoon.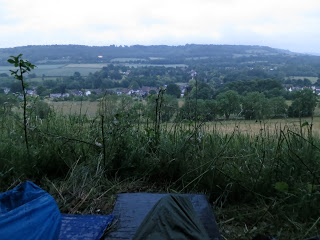 A bivvy with a view
The sun was up, albeit behind clouds, Alistair had declined to join us for our adventure (busy skinny dipping in Scotland and at a wedding apparently ;)!) so the four of us concluded it was time to get up, pack up and make a run for it…
… I was back home by 6am, with plenty of time to get some extra shut eye, recover, shower and also make it to my desk by 9! I was definitely feeling a little bit unlike anything I've felt before…
Roll on the next microadventure!
If you're thinking, it's not for you, don't knock it until you've tried it! I've had a few friends shake their heads at my latest exploits, but they are the ones that are missing out on some down time the good old fashioned way.
Go on… just do it… go sleep on a hill!